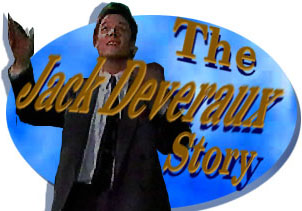 oldEpisode Three-hundred-one: Jennifer's
Rape Trial Part VII: Mickie Draws up
Jack and Eve's Divorce Papers. Kimberly
Has Bugged Lawrence, and Hears Him
Admit He Raped Jennifer; She Gets it on Tape.
---
[Air date late June 1991]
SCENE ONE: KIMBERLY IS STILL LISTENING TO LAWRENCE AND GREGORY. LAWRENCE TELLS GREGORY THAT HE THINKS IT IS SHANE THAT HAS HIM BUGGED. KIMBERLY IS RELIEVED THAT HE DOES NOT SUSPECT HER.
---
SCENE TWO: GREGORY WANTS LAWRENCE TO GET HIM OUT BUT LAWRENCE REFUSES AND LEAVES THE JAIL.
---
SCENE THREE: AT THE COURTHOUSE, JENNIFER IS WAITING FOR JACK TO COME BACK. KAYLA GIVES HER A PEP TALK AND JENNIFER TELLS HER THAT SHE IS SUSPICIOUS OF KIMBERLY.

JENNIFER: Jack thinks that she's against us. He's sure of it.

KAYLA: Well what about you?

JENNIFER: I don't know. I don't know what to think. I've known Kimberly all my life. I mean is it possible to know somebody that long and think they're a good person and be wrong.

KAYLA: No I don't think you're wrong. I think at heart Kimberly is a wonderful person. But some things are happening in her life right now.

JENNIFER: Well Kayla, I understand that....

JACK: Hello good people.

JENNIFER: Jack, I'm glad you didn't forget about our meeting with Uncle Mickey.

JACK: Absolutely not. How could I forget the day that my two words would be in the same sentence, Eve and divorce.

JENNIFER: Ah, did you take care of what you had to do?

JACK: Yes and no.

THEY CANNOT MENTION KIMBERLY'S NAME BECAUSE KAYLA IS THERE.

JENNIFER: What? What's the matter?

JACK: Nothing, it's.... nothing.

KAYLA: Does this nothing have something to do with Kimberly?

JACK: We went to her current place of residence, the home of Lawrence Alamain.

KAYLA: We?

JACK: Yes, we. Shane and myself. I found him on Kimberly's doorstep.

JENNIFER: What happened? Did you talk to Kimberly?

JACK: Actually.... no. She.... ah...well the bird flew the coop. Actually her maid said she left earlier in the day with an overnight bag.

KAYLA: Then she moved out.

JACK: She moved out for a couple of hours, I'd say.

KAYLA: What do you mean by that?

JACK: Well apparently she checked into a.... well for a lack of a kinder and gentler term, a no tell motel.

JENNIFER: Wait a minute, why would Kimberly check into a motel Jack?

JACK: Well it wasn't exactly for an hour of prayer and meditation.

JENNIFER: Come on Jack.

JACK: Look, sometimes people get their jollies out of having trysts at low rent districts.

JENNIFER: Come on. You don't think Kimberly would go to this much trouble....

JACK: I don't know what she's doing, alright. If you want anymore information or details, you'll have to go to Shane.

KAYLA: Shane?

KAYLA SUSPECTS THAT SHANE IS STILL SEEING KIM.

JACK: Yes, Shane followed her to the motel.

KAYLA: Do you happen to know what the name of that motel was?

JACK: It's a lovely little bed and breakfast down on Whitmore Street, the Mid-town Motel.

KAYLA: Thank you.

KAYLA LEAVES TO SEE SHANE AND KIMBERLY.
---
SCENE FOUR: AT THE MOTEL, LAWRENCE LEAVES THE JAIL AND GOES OUTSIDE TO TALK TO HIS BUTLER. THERE HE ADMITS THAT HE HAS RAPED JENNIFER BUT AS THE TAPE IS DESTROYED, HE WILL BE CLEARED. KIMBERLY IS VERY UPSET AND GETS MORE SO BECAUSE HE GLOATS ABOUT HOW HE PERSUADED KIMBERLY TO STEAL THE LETTER SO THAT IT COULD BE USED AS EVIDENCE TO CLEAR HIM. SHE KNOWS NOW THAT HE DOES NOT CARE ABOUT HER AND HAS BEEN LEADING HER ON. KIMBERLY HAD STARTED TO HAVE FEELINGS FOR LAWRENCE AND SHE GETS VERY UPSET AND BEGINS TO CRY WHEN SHE HEARS THAT HE REALLY DID RAPE JENNIFER AND REALLY DOES NOT FEEL ANY REGRET ABOUT IT.
---
SCENE FIVE: SHANE ARRIVES AND FINDS HER CRYING. SHE THEN TELLS HIM WHAT SHE HAS HEARD FROM LAWRENCE AND THAT SHE HAS IT ON TAPE.
---
SCENE SIX: AT THE COURTHOUSE, JACK, JENNIFER, EVE, AND FRANKIE TO MEET WITH MICKEY TOO ABOUT THE DIVORCE. JULIE IS HAPPY.

JULIE: And they say the course of true love never does run smooth.

MICKEY: Oh hello everybody, I hope I haven't kept you waiting.

JENNIFER: Oh no, this is great. And thanks for meeting us here. We didn't have enough time in the break to go to your office.

MICKEY: Oh no problem. I love to assist in happy occasions and I think this divorce is probably one happiest occasions of my entire practice.

JACK: Hands down.

EVE: One thing I definitely won't miss are your snide remarks Jack. That's for sure.

FRANKIE: Come on Eve.

EVE: He took every chance he could to make me feel bad.

JACK: This from she who oozes the milk of human kindness.

FRANKIE: Oh come on that's not fair. She's changed.

JACK: Francoise....

JENNIFER: She has. She's willing to give you a divorce.

FRANKIE: Not to mention, this is the first time in her life that money is not important.

JULIE: She has come a long way.

FRANKIE: Jack she's not asking for a settlement, alimony, nothing, alright. So stop teasing her.

JULIE: A veritable woman of the future.

MICKEY: Alright, the good news is that your divorce is in the works. I just have a few preliminary papers to go over and we'll take it from there.

JENNIFER: Well good news is usually followed by bad news Uncle Mickey.

JACK: That's my line!

MICKEY: Well there is bad news if you all think this is going to be an overnight decision. I mean that's not the way the system works. It takes time. I know there are travel plans in the works.

EVE: Yes.

JACK: Um, perhaps we could kind of rush things along for humanitarian reasons. You see I'm married to a boa constrictor....

EVE: Jack! Nobody wants to get out of this marriage more than me, alright.

JENNIFER: Alright, we all want to get out of this as fast as possible. Is there anything that we can do to speed it up?

MICKEY: Let's look over these papers and make sure everything is up to snuff, okay.

JENNIFER: Okay.

JACK: If you would.

JULIE CALLS EVE ASIDE FOR A COUPLE OF MINUTES.

JULIE: You've been a trifle less honest, haven't you?

EVE: I haven't lied about anything.

JULIE: Not today. But your beloved still doesn't know the whole truth, does he?

EVE: Julie I hate to break the news to you but Frankie knows everything.

JULIE: Does he?

EVE: Yes I told him how you tried to bribe me into divorcing Jack and I also told him that I decided to turn you down.

JULIE: Really?

EVE: Yes, Julie, I don't need your money. I'm going to give Jack a divorce because I think it's the right thing to do.

JULIE: Have you given this any serious thought?

EVE: I have. Frankie and I are going to be happy without money.

JULIE: Well that sentence is half right.

EVE: We are Julie, we are going to be so happy. If we're dirt.... poor, we're going to be happy. (Beat) I have to go talk to Frankie.

EVE IS HAVING SECOND THOUGHTS ABOUT MONEY AND IS TRYING TO COME UP WITH ANOTHER WAY TO KEEP NICK'S INHERITANCE.
---
SEVEN: THE COURT RESUMES A SHORT TIME LATER AND JENNIFER IS SURE THAT LAWRENCE IS GOING TO GET OFF. GLYNNIS ATTEMPTS TO STALL BY CALLING ANOTHER WITNESS BUT THE JUDGE DENIES THE REQUEST. MARCHAND THEN BEGINS HIS SUMMATION. JACK IS DEPRESSED THINKING THAT THERE IS NOTHING MORE THEY CAN DO.

JACK: Excuse me I'm no legal eagle but he certainly made it sound like....

GLYNNIS: I know what he made it sound like. That's his job, now let me do mine.

GLYNNIS IS ABOUT TO START HER SUMMATION WHEN SHANE BUSTS IN AND ASKS TO SPEAK TO HER.

SHANE: I think I've got a witness that could turn this whole thing around for us.

JENNIFER: Shane why didn't you tell us this before?

SHANE: Because I didn't know before.

JACK: I think we should just go for it because we're not doing so great as it is.

GLYNNIS: I think the judge already knows I've been stalling.

JACK: How? Then just go for it, do it. Do it!

THEY ALL NOD AND GLYNNIS ASKS THE JUDGE IF SHE CAN CALL ANOTHER WITNESS.
---
SCENE EIGHT: OUTSIDE, SHANE ASKS KIMBERLY IF SHE IS READY TO TESTIFY AND SHE AGREES. AT THAT MOMENT, TARRINGTON, SHANE'S BOSS COMES ALONG AND TELLS HER THAT SHE CANNOT TESTIFY AGAINST LAWRENCE BECAUSE IT WILL RUIN THEIR CASE.
[Transcribed by Carol Vaughan
added material by Sally A. Wilson]
---