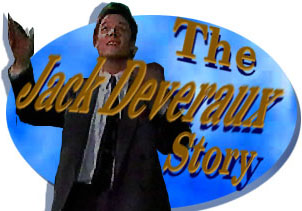 oldEpisode Three-hundred-five: Jack Still
Is Unable to Speak. He Visits Jo to Invite
Her to the Wedding. the Guys Throw Jack
a Surprise Bachelor Party, While the
Gals Throw a Bridal Shower for Jennifer.
---
[Air date late June 1991]
SCENE ONE: IT IS THE NEXT DAY, TANNER HAS COME TO THE SPECTATOR TO TALK TO BRIAN AND VERN. ROMAN ARRIVES NEXT. VERN HAS DECIDED TO ARRANGE A BACHELOR PARTY FOR JACK. TANNER COMPLAINS THAT HE IS NOT FRIENDS WITH THE GUY BUT BRIAN SAYS THAT *NOBODY* IS, BUT THEY HAVE MALE OBLIGATION TO GIVE HIM A PARTY.
---
SCENE TWO: AT THE HOSPITAL, JULIE AND KAYLA ARRIVE AND FIND ISABELLA AND CARLY. THEY ASK THEM TO A BRIDAL SHOWER FOR JENNIFER THAT AFTERNOON AT WINGS.
---
SCENE THREE: AT THE PENTHOUSE, JACK IS READING A BOOK ON THE PSYCHOSOMATIC SYNDROME. EVE IS PACING.

EVE: Instead of taking your wedding vows you should take a vow of silence and become a monk. Then you won't ever have to get your voice back again.

JACK GLARES AT HER.

EVE: Or maybe you and Jen could do your whole wedding in mime! Yes you could dress up in costumes. You could put white make-up on your faces. I mean this wedding is turning out to be a circus anyway. Why not really go for it?

JACK SLAMS THE BOOK SHUT AND GLARES AT HER AGAIN.

EVE: I'm sorry honey. I was just trying to help.

JENNIFER COMES IN THE DOOR.

EVE: Just trying to help honey. I know you can't talk but....

JENNIFER: Jack I don't know if I'm going to have enough time to get everything done. I have a zillion things that I have to do. But before I do I want to know one thing. Did you get your voice back yet?

JACK TAKES A DEEP BREATH AND TRIES REALLY HARD TO GET A SOUND OUT BUT NOTHING HAPPENS.


JENNIFER: Then that does it Jack. The wedding is off.

JACK LOOKS VERY SAD AND DISAPPOINTED AND WALKS OVER TO JENNIFER.

EVE: How embarrassing. I mean after you invited all those people to the wedding, on TV no less. And now it's off. What are you going to tell everyone? It's terrible.

JACK TURNS TO EVE BUT REALIZES THAT HE CANNOT SAY WHAT HE WOULD LIKE TO SAY.

EVE: I'm sorry Jack. I didn't mean to rub it in. I didn't. I didn't. What?

HE PUTS HIS ARM AROUND HER AND TRIES TO EASE HER TOWARDS THE BALCONY.

EVE: Where are you taking me? Don't touch me. Where are we going, where are we going? What, to the balcony? Is that where you're taking me? You want me to go on the balcony.

JACK WAVES HIS ARM FOR HER TO GO OUTSIDE.

JENNIFER: I think he'd like you to jump off the balcony, Eve.

EVE: Alright, I'll leave you two to talk or mime this thing out.

EVE GOES TO HER ROOM. JACK STARTS TO WRITE.

JENNIFER:

What, I hear that squeaking pen . What is it Jack? What are you writing?
JACK WRITES, "CAN'T CANCEL."

JENNIFER: Jack that's really sweet. But I mean I realize that I'm partly to blame for this happening to you. I shouldn't have let Madeline tape your proposal. I had no idea she was going to put it on the air and sell it to every other TV station and put it on cable. I had no idea. (Beat) What, what?

JACK RUNS TO THE DESK AND RUMMAGES THROUGH SOMEPAPERS UNTIL HE FINDS A TELEGRAM WHICH HE HANDS TO JENNIFER.

JENNIFER: What is that? What does it say? (Beat) Rejisa Gorbechov (sp?) wants to come to our wedding?

JACK SHRUGS.

JENNIFER: Jack this is getting out way of hand. We have four thousand RSVPs and the calls are still coming in. I'm sorry. I didn't mean to do this to you.

JACK WRITES, "IT'S OKAY."

JENNIFER: It's okay. Well that's easy for you to say. No you can't say anything which brings up another point. Jack how are we supposed to get married if you can't even talk?

JACK START TO WRITE ANOTHER MESSAGE.

JENNIFER: Don't! Don't start writing please. This isn't going to work. I can't read your hand writing. Please. Stop, give me that. I'm going to call my Uncle Mickey right now and we are going to get those divorce papers and you are going to sign them and we are going to elope...tonight!

JACK MOUTHS "TONIGHT?" THEN HE STARTS ON ANOTHER SIGN. HE DRAWS TWO BIG DICE AND THEN SLOWLY CROSSES THEM OUT.

JENNIFER: I get the point. You don't want to elope to Las Vegas. But are you ready to get married in front of thousands of people Jack? I mean have you done anything about inviting Adrienne? Have you talked to Adrienne? What about Jo? Did you talk to the doctors to see if they'd release her for the wedding?

JACK SHAKES HIS HEAD AND THEN NODS AND BEGINS WRITING.

JENNIFER: Oh you will? You can't even talk. How are you going to do that?

JACK WRITES, "ACTIONS!"

JENNIFER: Oh actions! Actions speak louder than words. Is that what you're trying to tell me Jack? I don't think so. Actions are not going to....

HE GRABS HER AND GIVES HER A PASSIONATE KISS ON THE MOUTH.


JENNIFER: Maybe you're right. You know I think that is the most sensible thing you have ever said to me.

JACK MOUTHS: Thank you.

JENNIFER: I'll see you later. Alright, I'm going to meet Carly at the fair grounds and then I'll see you later. Alright Jack, here we go, this is going to work. This wedding is going to happen Jack.

JENNIFER LEAVES AND THE PHONE RINGS. JACK PICKS IT UP BUT CANOT ANSWER. FRANKIE HAS BEEN ASKED TO GET JACK TO THE BACHELOR PARTY.

FRANKIE: Jack are you there? Jack if you're there, tap once for yes.

JACK TAPS TWICE.

FRANKIE: Oh that's very funny, very funny. Jack, the reason I'm calling is I want to see what you were up to. I thought we'd get together later, say seven o'clock Cheat'n Heart, couple a beers, time to bury the old hatchet, what do you say?

JACK HANGS UP.

FRANKIE: The nerve of that guy.

MARCUS: What did he say.... I mean what did he tap?

FRANKIE: He turned me down.

MARCUS: Oh no, he was just kidding.

FRANKIE: I don't think so Marcus.

MARCUS: Oh yeah, I think so. He'll be there, don't worry about it.
---
SCENE FOUR: MEANWHILE AT THE ARENA, JENNIFER AND CARLY ARE INSPECTING THE FACILITIES. IT IS HUGE AND JENNIFER HAS TO GET DRESSED IN AN CLOWN'S DRESSING ROOM. CARLY THINKS THE WHOLE THING IS WEIRD BUT SHE CAN IMAGINE JACK AND JENNIFER GETTING MARRIED THERE. THE WILD WEST ORGANIZER TELLS JENNIFER THAT HIS SHOW STARTS AT TWO O'CLOCK SHARP AND THE WEDDING MUST BE OVER BY THEN.
---
SCENE FIVE: AT THE SPECTATOR, VERN IS FINALIZING THE PLANS FOR THE BACHELOR PARTY WHEN JACK ARRIVES.

VERN: Come on Jack, Jack. How are you doing? I'm really glad you're here. I'm glad you're here buddy.

JACK IS SUSPICIOUS OF VERN'S GOOD HUMOR.

JACK MOUTHS: Why?

VERN: Why? Well I was on my to the penthouse. You saved me the trip. Jennifer called earlier and said you might need some help with some things today so I blocked out my whole day and I said to myself, I'm going to help my buddy Jack. And when we're done, I'm going to buy you a drink at the Cheat'n Heart. Howˇs that?

JACK WRITES, "DISTURB ME AND YOU'RE FIRED!"

VERN: Disturb me and you're fired! Now what the hell is that supposed to mean? You know a simple thank you would suffice Jack, you ingrate. What's the matter with you? JACK? Oh geez!

JACK PROPS UP HIS WHITE BOARD COMPLETE WITH MESSAGE OUTSIDE HIS OFFICE THEN WALKS IN AND SLAMS THE DOOR.
---
SCENE SIX: AT THE LOFT, JENNIFER HAS HER FINAL FITTING FOR THE DRESS WHILE JULIE, ISABELLA AND CARLY ARE THERE TALKING ABOUT THE IMPORTANT GUESTS LIKE JANE PAULEY AND NANCY REAGAN. JENNIFER SAYS THAT SHE IS GOING OUT FOR A DRIVE TO RELAX BUT CARLY HAS A BETTER IDEA TO KEEP HER BUSY. SHE TAKES HER TO BUY SHOES WHILE THE OTHERS GO TO WINGS TO ORGANIZE THE SHOWER. JENNIFER DECIDES TO CALL JACK FIRST.

VERN: Spectator.

JENNIFER: Vern hi, it's Jennifer. I was wondering if Jack got there okay.

VERN: Er, yeah, yeah.

JENNIFER: Well how's he doing?

VERN: Well fine I guess.

JENNIFER: You guess? I thought that you were supposed to be helping him Vern.

VERN: Well I tried Jenny, I tried.

JENNIFER: Vern what's going on?

VERN: Well he locked himself in the office and he won't come out.

JENNIFER: He what? Will you get him on the phone for me?

VERN: Well what's the point Jenny girl, he can't talk.

JENNIFER: No he can't talk. I want to talk to him.

VERN: Okay, I'll see if I can budge him.

JENNIFER: Okay.

VERN GOES TO JACK'S DOOR AND FINDS IT UNLOCKED AND JACK HAS GONE.

VERN: Jennifer, Jack can't come to the phone right now.

JENNIFER: Why not?

VERN: Cause he's gone.

JENNIFER: He's gone where?

VERN: I don't know.
---
SCENE SEVEN: MEANWHILE JACK HAS GONE TO BAYVIEW TO SEE JO AT BAYVIEW.

JO: It's so good to see you son. Oh I heard all about what happened to Lawrence Alamain. I'm so happy for you and Jennifer.

JACK NODS.

JO: What is this about you not being able to talk? When your chauffeur called he said you had something.... hysterical laryngitis. What on earth is that?


JACK WRITES, "DON'T ASK!"

JO: Don't ask. Okay. But I know that didn't come here for a chat because you can't. So why are you here?

JACK HANDS HER A LETTER.

JO: Me?

SHE OPENS IT AND BEGINS TO READ IT ALOUD.

JO: "I'm writing this because as you know by now I can't tell you. But I'm requesting the honor of your presence at the...." (Her voice starts to shake) "I'm requesting the honor of your presence at the marriage of Jack Deveraux and Jennifer Rose Horton." (Beat) Oh you're really going to do it. You're going to get married after all of this time.

JACK NODS.

JO: Oh Jack, that's why you can't talk.


JACK NODS AGAIN. JO CONTINUES TO READ THE LETTER.

JO: "We didn't have time to print up formal invitations because the wedding is set for the day after tomorrow. Two days." (To Jack) Two days? "I know it's late notice but it would mean so much to me if you'd be.... there. In fact I won't go through with it unless you are." (Beat) Oh son!

JACK HOLDS UP HIS LATEST SIGN, "GOTTA HAVE SOMEONE ON THE GROOM'S SIDE." HE SIGNALS HER TO KEEP READING.

JO: Okay. I'll read it to myself.

JACK WALKS OVER TO STAND BEHIND HER AND HIS VOICE TAKES OVER THE READING IN HIS MIND.

JACK: Don't worry about not being able to get out of here for the wedding. I've already arranged for everything from Neil Curtis. I'll pick you up but you'll be discharged for the day. I figured you wouldn't mind that and Neil's glad to do it too. You never gave up on Miss Horton and me, even when I did again and again. You believed in us and that made me believe too. That's why you ought to be there. So all that's left is for you to say that you agree to come. What do you say? Will you.... Mother?

JO: Of course I'll come. Oh of course.

SHE TAKES HIM IN HER ARMS.

JO: And I'll be the proudest mother in the whole place.

JACK SLOWLY PUTS HIS ARM AROUND HER.

---
SCENE EIGHT: AT THE PENTHOUSE, EVE CALLS A MEETING WITH MICKEY SO THAT SHE CAN LOOK OVER HER TRUST FROM NICK. MICKEY SAYS HE HAS TO GO TO JACK'S BACHELOR PARTY AND HE MENTIONS THE SHOWER AS WELL. EVE IS ANNOYED AND HURT THAT NOBODY ASKED HER.
---
SCENE NINE: AT WINGS, EVERYBODY IS READY FOR JENNIFER TO ARRIVE. THE CAKE IS DECORATED WITH AN ISLAND IN THE MIDDLE WITH A SMALL BRIDE AND GROOM ON TOP. THEY HAVE DECORATED WITH TOY TRAIN AND FIRE TRUCK. AND A CRUISE SHIP. THERE IS ONE OF THOSE THINGS THAT HAS A SCENE AND WHEN YOU SHAKE IT, FLAKES MAKE IT LOOK LIKE IT IS SNOWING. JENNIFER WALKS IN AND MADELINE IS THERE TO GREET HER AS THEY YELL SURPRISE.
---
SCENE TEN: AT THE CHEATIN HEART VERN IS THERE WITH THE OTHER GUYS ALL HOPING THAT JACK TURNS UP. AS VERN IS TELLING THEM NOT TO MAKE ANY CRACKS ABOUT JACK LOSING HIS VOICE, JACK OPENS THE DOOR. HE SEES THE CROWD AND IS ABOUT TO LEAVE BUT THEY ALL SEE HIM.

CROWD: Hey, hey, hey, hey!

TANNER DRAGS JACK BACK INTO THE BAR.

VERN: Hey Jack, you're here. Okay guys, ready.

CROWD: SURPRISE!

JACK GETS HALF A SMILE ON HIS FACE AND HOLDS UP A SIGN. "I'M SHOCKED."

VERN: What is it, what is it? Hey, you're shocked. We surprised you after all, huh?

JACK NODS.

FRANKIE: Look everyone, he's dumbstruck.

TANNER: Or maybe he's just dumb.

VERN: Alright guys, how about a rousing chorus of For He's a Jolly Good Fellow?

THE ALL START MOANING. JACK SITS AT THE BAR AND WIPES HIS WHITE BOARD CLEAN.

MARCUS: How about something a little bit more appropriate like Silent Night?

CROWD: YEAH!

JACK HALF GRINS AGAIN.

ROMAN: Jack seeing as how the cat got your tongue, maybe a little bit of the hair of the dog will loosen it up a bit, pal.

HE HANDS JACK A DRINK WHICH HE IS *MORE* THAN HAPPY TO TAKE.

TOM: Excuse me gentlemen. Jack in the immortal words of silent Cal Coolidge, "Tthey can't hang you for what you don't say."

MICKEY LAUGHS OUT LOUD AND EVERYBODY ELSE THINKS IT IS A LAME JOKE.

FRANKIE: Yeah well how about a speech?

CROWD: SPEECH, SPEECH!


JACK FINISHES THE DRINK IN ONE GO AND SIGHS.

ROMAN WALKS OVER TO VERN AND FRANKIE.

ROMAN: Okay guys, who blew it. Deveraux was on to us here. I want to know how he figured it out. Who blew it.

FRANKIE: I have no idea. I just asked him over for a couple of beers.

VERN: Yeah so did I.

ROMAN: Well then I'd have to say considering nobody asks Jack to go anywhere, two invitations to the same place, well that's a dead giveaway.

FRANKIE: Yeah.

VERN: Oh come on Roman. Jack's got friends and I'm proud to be one of them.

FRANKIE: Really?

ROMAN: Oh he's alone.

VERN GOES BACK TO THE BAR TO TALK TO JACK.

VERN: Hey Chuck, fill it up again okay and same for my old buddy Jack, here.

CHUCK: One virgin and one silencer on the rocks.

JACK SHAKES HIS HEAD AT ALL THE WEAK JOKES GOING AROUND.

VERN: Ah, he didn't mean it personally Jack.

JACK SIGNALS TO A GROUP OF MEN DRINKING IN THE CORNER.

VERN: Who are all these people?

JACK NODS.

VERN: Well there's your future grandfather and uncle and Roman and Frankie.

JACK POINTS AGAIN TO A GROUP LAUGHING.

VERN: HUH! The guys who work for you Jack! They're employees of The Spectator, didn't you know that?

JACK MOUTHS: No.

VERN: Oh boy. I guess a few introductions are in order right. Hey listen, Jennifer called earlier. She's a little worried about you. I think she wanted you to try to pick out your best man today. You better give her a call.

JACK FROWNS AND LOOKS TO VERN FOR SUGGESTIONS.

VERN: Suggestion? Ah.... what about....

HE WHISPERS A NAME IN JACK'S EAR.

VERN: Ah, anyway, ask Jennifer what she thinks about. She's a little worried. Give her a call, right.

HE HANDS JACKTHE PHONE AND JACK LOOKS AT IT WONDERING WHAT TO DO. HE LOOKS SAD THAT HE CANNOT CALL HER AND PUTS THE PHONE DOWN.
---
SCENE ELEVEN: AT WINGS, JENNIFER IS OPENING GIFTS. SHE GETS A TOASTER FROM JULIE, A FIRE EXTINGUISHER FROM CARLY, AND BAKINING TRAY FROM ALICE SO THAT SHE CANNOT COMPETE WITH ALICE'S DONUTS. THEN THE LAST GIFT IS FROM MADELINE AND IT IS A RED LACE TEDDY FOR THE WEDDING NIGHT.

JENNIFER: I think this is for Jack. I don't know, it might fit him.

THE PARTY CONTINUES. MAGGIE AND JENNIFER TALK, SHE HOPES THAT SHE AND JACK ARE AS HAPPY AS MAGGIE AND MICKIE. ALICE THEN TELLS JENNIFER SHE IS SO HAPPY THAT SHE FINALLY GOT WHAT SHE WANTED. ALICE SAYS THAT SHE HOPES THAT JENNIFER AND JACK ARE AS SUCCESSFUL IN THEIR DOMESTIC LIFE AS THEY WERE DURING ALL THEIR ADVENTURES. ALICE LEAVES. JENNIFER PICKS UP THE TOY FIRE ENGINE AND SAYS TO HERSELF THAT ALL SHE WANTS IS TO MAKE JACK AS HAPPY AS HE HAS MADE HER.
---
SCENE TWELVE: AT THE PENTHOUSE, EVE IS ANGRY THAT NOBODY HAS INVITED HER TO THE PARTY SO SHE GETS MARCHAND, LAWRENCE'S LAWYER OVER TO SEE IF THERE IS A WAY TO KEEP NICK'S MONEY AFTER HER DIVORCE FROM JACK. HE SAYS SHE CANNOT KEEP THE MONEY AND THE AMOUNT THEY SPENT TO BUY THE SPECTATOR MUST BE RETURNED TO THE TRUST OR HE WILL. LOSE THE PAPER. EVE THEN DAYDREAMS ABOUT JACK AND JENNIFER IN FINANCIAL RUIN....

JACK IS DRESSED AS A BUM AND IS HOLDING UP A SIGN THAT READS "WILL PUBLISH NEWSPAPER FOR FOOD!" THERE ARE TWO KIDS RUNNING AROUND HIM CALLING DADDY. THEY GRAB HIS ARMS.

JACK: Publish for food, publish for food.

KIDS: Daddy?

JACK: What?

KIDS: I'm hungry, I'm hungry.

JACK: I don't care. Get a job.

OVER AT THE GARBAGE, JENNIFER, ALSO DRESSED IN RAGS, HAS TWO MORE KIDS AND THEY ARE ALL FIGHTING OVER FOOD SCRAPS.

JENNIFER: Come on there's plenty of leftover for everybody okay. Don't fight over this. You stop disturbing your father while he's trying to eke out a living.

JACK BEGS FROM A PASSERBY.

GUY: I don't have any work for you.

JACK: Oh please.

GUY: But here's a little something for the missus and the kids.

JACK: Hey!

THE GUY DROPS THE COIN AND JACK LEAPS AT IT ALONG WITH JENNIFER AND THEIR FOUR RAGGED KIDS. THEY SCRAMBLE OVER THE GROUND FOR IT AND JACK WINS, CAPTURING THE COIN.

JACK: Let me have it, wait a minute.

JACK BITES THE COIN TO SEE IF IT IS REAL.


JACK: YES! YESSSSS!!!!!

EVE COMES BACK TO REALITY WITH A VERY BIG EVIL GRIN ON HER FACE. SHE LETS MARCHAND LEAVE AND IS VERY HAPPY WITH THE NEWS THAT JACK HAS TO REPAY ALL THE MONEY HE USED FOR THE PAPER BACK INTO NICK'S ESTATE.
---
SCENE THIRTEEN: AT THE BAR, JACK IS HAVING ANOTHER DRINK WHEN TANNER, BRIAN AND ROMAN SAY GOODBYE. MICKEY LEAVES TOO WITH VERN COMPLAINING THAT THEY ALL PICK ON HIM. TOM COMES OVER TO TALK TO JACK.

TOM: Jack, I was once a nervous bridegroom, quite a few years ago. I didn't lose my voice but I did develop a twitch and was afraid I couldn't get through my vows. But I did. You will too and you and Jennifer will have a just as happy and wonderful a life as Alice and I have had. Because you're not just man and wife, you're both best friends.

JACK SMILES AT TOM'S WORDS AS HE WALKS AWAY. THEN MARCUS COMES OVER TO TALK TO HIM.

MARCUS: Hey Jack, you know Doc Horton's right. You know Steve and Kayla had that type of marriage too. Don't worry you'll be alright.

MARCUS TURNS TO LEAVE BUT JACK GRABS HIS ARM. HE HANDS MARCUS A NOTE WRITTEN ON A BAR NAPKIN. MARCUS READS IT ALOUD.

MARCUS: "Look I know we're not really close. Heheheh. But the groom needs a favor. The gentleman that was supposed to be my best man couldn't be here...but you were pretty close to him and I thought you could be my best man."

JACK LOOKS UP AT MARCUS, ASKING WITH HIS EYES.


MARCUS IS VERY MOVED.

MARCUS: Yes, I'll fill in for Steve. I'll be your best man. Thank you.

JACK NODS AND SMILES.

MARCUS: What do you say we call it a night? You've got a big day tomorrow. Come on.

MARCUS ESCORTS JACK OUT AND THEY SHAKE HANDS AT THE DOOR.
---
SCENE FOURTEEN: JACK ARRIVES BACK AT THE PENTHOUSE LOOKING TIRED AND SICK OF HAVING NO VOICE. HE IS ABOUT TO USE HIS KEY WHEN JENNIFER OPENS THE DOOR AND DRAGS HIM IN.

JENNIFER: Get in here Jack. Why didn't you call me?

HE PRETENDS TO HOLD UP A PHONE AND MOUTH WORDS.

JENNIFER: Okay, why didn't you have somebody else call me Jack? Did you accomplish anything?

JACK NODS.

JENNIFER: What?

JACK MOUTHS: Jo.

JENNIFER: Jo? You talked to.... you didn't talk to Jo, you saw Jo. Is she coming?

JACK NODS.

JENNIFER: Jack that's great. She's coming to the wedding. Well I know how important it is for you to have your mom at the wedding. But that couldn't have taken up your whole day. So what about the tuxedo, did you pick that up? What about the photographer, what about the license, what about the rings, what about the limousine? What about.... I had to go to the caterer then I had to pick up shoes and....

JACK TAKES HER NOTES AND THROWS THEM IN THE AIR.

JENNIFER: Oh please don't throw my list Jack. That....

JACK PUTS HIS ARM AROUND HER AND PULLS HER DOWN ON THE COUCH. SHE RELAXES FOR A COUPLE OF SECONDS.

JENNIFER: I cannot relax. We are getting married in 48 hours Jack and the whole....


HE PUTS HIS HAND OVER HER MOUTH. SHE STOPS TALKING AND HE TAKES IT AWAY.

JENNIFER: .... and the whole list, nothing is checked and....

HE PUTS HIS HAND BACK OVER THE MOUTH AND SIGNALS HER TO SLOW DOWN. THE SLUMP DOWN WITH THEIR HEADS TOUCHING.

JENNIFER: If you put your hand on my mouth one more time Jack Dev....

HE TURNS AND KISSES HER HARD ON THE MOUTH.
THEY CONTINUE TO KISS FOR A WHILE LONGER THEN SHE RELAXES AND HE KISSES HER HAND.

JENNIFER: I just want to say one thing about making that....

HE TURNS AND KISSES HER AGAIN. THEN HE PUTS HIS FINGER OVER HIS LIPS AND SHE COPIES HIM. SHE RESTS HER HEAD ON HIS CHEST.

JENNIFER: I'm not going to say another word Jack.

HE PUTS HIS FINGER OVER HER LIPS AND THEY BOTH SHUT THEIR EYES AND SMILE.


HE LEANS UP AND GENTLY KISSES HER HAIR.
[Transcribed by Carol Vaughan
added material by Sally A. Wilson]
---
---