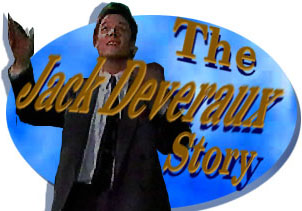 oldEpisode Three-hundred-six: The
Day Before the Wedding: Jack and
Eve Divorce; Jack Goes to Arena to Try
and Get His Voice Back; He Is Mistaken
for Someone Else, And Is Locked up.
---
[Air date late June 1991]
SCENE ONE: IT IS THE DAY BEFORE THE WEDDING, JACK AND JENNIFER ARE AT MICKEY'S OFFICE WAITING FOR THE FINAL DIVORCE DECREE.

MICKEY: Well two happy people and why not? In a few minutes, Jack is going to be a free man.

JENNIFER: That's right.

JACK IS WRITING A MESSAGE ON HIS WHITE BOARD.

JENNIFER: What are you writing Jack?

THE SIGNS READS, "TIL TOMORROW!" JACK HAS ALSO DONE A CHARACATURE OF HIMSELF ON THE BOARD.

JENNIFER: You better stop that. You better be kidding.

JACK NODS AND SMILES.

MICKEY: Why don't we sit down? Any word on when the voice is coming back?

JACK SHAKES HIS HEAD.

JENNIFER: Well the doctors say it could be anytime now. I mean it could be right here. Once Jack and Eve sign those papers that's one less thing to worry about so it could back as suddenly as it disappeared. Isn't that right Jack?

HE SMILES AT HER BUT WE CAN SEE HE IS NOT SO SURE.

JENNIFER: Where is Eve?

MICKEY: I'm sure she'll be here in a minute.

SUDDENLY IN COME EVE AND FRANKIE.

EVE: Hi. I hope we haven't kept everybody waiting.

JENNIFER: Oh no, not at all. We were just chatting with Uncle Mickey. We hardly noticed the time Eve.

MICKEY: Well now that we're all here we can get started. I have the papers here for an uncontested divorce. Of course that means that both parties agree.

EVE: Yes, yes. It's great to agree.

MICKEY: Yes and the conditions of the agreement are spelled out.

EVE: Mickey, I hope you made it absolutely clear that I ask nothing from Jack.

MICKEY: Oh yes, yes, as you requested.

EVE: Whatever money came your way during our marriage, that's for you to keep and enjoy with your wife because Frankie and I are going to make it on our own.

MICKEY: That's very admirable.

JENNIFER: Yes, yes it is. Okay what do we do now?

MICKEY: Oh okay, well right now is just sign the papers if you two will come down here.

EVE: Just sign.

MICKEY: Eve here and Jack. Here we are.

THEY BOTH SIGN SIMULTANEOUSLY THEN SWAP DOCUMENTS AND SIGN AGAIN.

EVE: There, is that all?

MICKEY: Normally at this point I would say some words of encouragement and condolence but I think I'll let it pass.

JENNIFER: So you're saying this is all over with? This is it?

MICKEY: Well the judge has to execute the papers, sign everything but for all intents and purposes the marriage between Eve Donovan Deveraux and Jack Deveraux is dissolved. You are divorced.

JENNIFER: Oh Jack, Jack, you're free, you're free.

EVE: Frankie I'm free, I'm free.

THEY BOTH HUG THEIR RESPECTIVE PARTNERS.

MICKEY: Well I have to say this is the happiest divorce I've ever presided over.

EVE: Well I'm always one to co-operate. Best of luck Jack.

IN THE CORNER JACK AND JENNIFER ARE HOLDING EACH OTHER AND STARING INTO EACH OTHER'S EYES COMPLETELY UNAWARE OF ANYBODY ELSE IN THE ROOM.

EVE: JACK? Best of luck.

FINALLY THEY LOOK OVER TO FRANKIE AND EVE. EVE EXTENDS HER HAND AND JACK CAREFULLY LETS JUST HIS FINGERS TOUCH HERS.

EVE: Heheheh.

JENNIFER: Uncle Mickey thank you so much for everything.

MICKEY: My pleasure, I'll see you at the wedding.

JENNIFER: Okay. Frankie, Eve.

FRANKIE: Jack, Jen.

JENNIFER LEAVES AND JACK HOLDS OUT HIS SIGN FOR FRANKIE TO SEE; HE LAUGHS

FRANKIE: Oh. JENNIFER: See you at the wedding.

OUTSIDE JENNIFER STOPS TO TALK TO JACK.

JENNIFER: Jack can you believe it? Now there is not one thing coming between us and our marriage.

HE JUST LOOKS AT HER.

JENNIFER: You know what, maybe you can talk now. Try it. Just try to say something. No I know what you can say. Say "I count the minutes until I make you mine forever."


JACK THINKS ABOUT IT AND THEN SHAKES HIS HEAD.

JENNIFER: It's alright Jack. I mean you don't have to feel bad. I mean there is one more thing that we have to get through today that is probably causing a little stress for both of us.

JACK LOOKS A BIT PUZZLED.

JENNIFER: Lawrence's sentencing, remember. I mean once we hear about that, maybe your voice will come back just like that.

JACK CLICKS HIS FINGERS, HOPING SHE IS RIGHT.

JENNIFER: Yeah, yeah, I really think so. And luckily they moved the hearing up and we have to thank Shane for that.
---
SCENE TWO: JACK AND JENNIFER ARE BACK AT THE LOFT WHERE SHE CONTINUES WITH HER LIST OF THINGS TO DO.

JENNIFER: Okay, the florist lost our order. The caterer wants to use half the waiters that we need. My dress isn't ready and what.... Jack give me this board okay. Jack what are we going to do? I need your help. The groom is supposed to take care of the flowers so who is the florist who you normally use?

JACK SCRATCHES HIS HEAD.

JACK MOUTHS: I don't.

JENNIFER: Oh you don't use a florist. You go to people's houses and you pick the flowers out of their bushes and out of their lawns. Is that what you're telling me? Don't. Don't even do that Jack. Don't answer me. I don't know what we're going to do. Tomorrow we're getting married and it's going to be a huge mess. It's supposed to be the most romantic day of my life and it's not going to be. It's going to be a catastrophe. I do not even have a dress to wear.

JACK RUNS OVER TO HER WITH A SIGN, "EVERYDAY WITH YOU IS .... "


JENNIFER: Everyday with you is.... a "catastrophe"? Is that what you're saying?

JACK SHAKES HIS HEAD.

JENNIFER: I know Jack. Everyday with you is romantic. (Beat) That's very sweet. I just wish you could pitch in and help.

HE PUTS DOWN THE BOARD AND SPREADS HIS ARMS AS IF HE IS READY, WILLING AND ABLE.

JENNIFER: Did you call the musicians?

JACK SHAKES HIS HEAD.

JENNIFER: No. Did you call the minister?

JACK SHAKES HIS HEAD.

JENNIFER: No. Okay, how many calls didn't you make Jack?

JACK SIGNALS NONE.

JENNIFER: You didn't make any calls cause you can't talk. I know that you can't talk but what did you say to me the other day? You said, Jennifer actions....

HE IS TRYING TO CORRECT HER BUT SHE REMEMBERS HERSELF.

JENNIFER: .... Miss Horton, actions speak louder than words. Is that what you said to me?

JACK IS UPSET AT JENNIFER'S MOOD, HE PUTS HIS HANDS ON HER SHOULDERS AND MASSAGES HER.

JENNIFER: I'm sorry, I'm sorry Jack. Maybe if we just wait and hear from Shane at the courthouse and hear what's happening with Lawrence our troubles will be over.
---
SCENE THREE: JENNIFER DECIDES TO LOOK FOR A FLORIST. SHE'S LOOKING THROUGH THE YELLOW PAGES.

JENNIFER: Alright let's see, okay we've got Acme Florists. We could try them.

JACK MOVES HER FINGER DOWN THE PAGE.

JENNIFER: Affordable Florist.... that...that is just so typical of you Jack. Affordable Florist. I don't want Affordable Florist. It will look terrible.

THE PHONE RINGS AND JENNIFER GETS IT.

JENNIFER: Hello.

SHANE: Hi Jennifer, it's Shane.

JENNIFER: Shane, hi. Jack it's Shane. Did the judge pass sentence on Lawrence?

SHANE: Yes he did and Alamain's going to prison. So you and Jack can get married without that hanging over you.

JENNIFER: So Lawrence is going to pay for what he did?

SHANE: Oh yes, he certainly will and Jennifer you can take credit for that. It couldn't have been easy coming forward the way you did but you did and you saw it through to the end and you should be very proud of yourself. And I have one suggestion for you both. You go out there and have yourselves one bloody marvelous wedding. The whole town's looking forward to it so enjoy every minute of it.

JENNIFER: Oh Shane thank you so much. This is really wonderful news.

SHANE: Okay, talk to you soon.

JENNIFER: Okay. Bye, bye.

SHE HANGS UP AND TURNS TO JACK AND THEN LEAPS INTO HIS ARMS.

JENNIFER: We did it! We did it Jack! I can't believe we did it.

JACK POINTS TO HER.

JENNIFER: No, no. I couldn't have done it in a million years without you. You know what, we're a team. We're a great team. You know what Jack, I think maybe you could talk now. Let's just try and see if you can talk. Let's just see if you can open your mouth and speak. Just speak!

JACK OPENS HIS MOUTH BUT NOTHING COMES OUT.

JENNIFER: Try it again. Just

SPEAK! AGAIN, NOTHING COMES OUT. SHE GRABS HIS LAPELS AND YELLS IN HIS FACE.

JENNIFER: You listen to me Jack, alright. Eve gave you a divorce, Lawrence is out of our lives forever so what is wrong with you? What is the problem?

JACK SHRUGS THEN LOOKS SAD.

JENNIFER: Alright, just let me tell you something okay. Since the beginning of this hysterical laryngitis....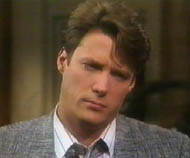 JACK FLASHES HER AN INNOCENT LOOK.

JENNIFER (CONT.): ....don't look at me like that okay, since the beginning I have been supportive, I have been understanding and yes at times I have been amused. But it's over, I am not amused anymore. If you don't want to marry me Jack, just tell me. I will accept that alright.

JACK FRANTICALLY BEGINS TO WRITE.

JENNIFER: That's it. You don't love me. You don't love me enough to marry me so that's why you're not talking. If you loved me you would be able to speak Jack.

SHE PICKS UP HER BAG AND LEAVES BEFORE HE'S FINISHED. THE SIGN HE IS HOLDING SAYS: "PERHAPS I LOVE YOU MORE THAN WORDS CAN SAY.... "
---
SCENE FOUR: JENNIFER, ANGRY THAT JACK STILL CANNOT TALK, AND NERVOUS ABOUT THE WEDDING, HAS JUST LEFT JACK'S PENTHOUSE. JACK IS LEFT ALONE AND SAD, HOLDING HIS SIGN. GRADUALLY IN HIS MIND, HARPER AND DUKE COME INTO THE SCENE. THEY ARE DRESSED IN SKI GEAR.

DUKE: Isn't that sweeeeet? Dooobie, doobie, da. Take a shot at that Harpie.

HARPER: Oh too much sugar's bad for my system. Hello son.

DUKE: Thought you got rid of us kid?

HARPER: Yeah, show's you how wrong you can be.

DUKE: Yeah look at him. Same old kid. He's consistent. Nothing's happening.

HARPER: We were on our way to take in some skiing and we heard the big news about the wedding.



JACK MOUTHS: June?

DUKE: Yes, that's right. Skiing in June. We're going to slush off to the Southern Hemisphere where the weather is reversed. Their winter is our summer, you got it?

HARPER: He doesn't know what you're talking about.

DUKE: Oh. He doesn't know. This is a real dead loss here. I mean I'm dead and he's a real loss.

THE BOTH LAUGH AT JACK.

HARPER: It's a good thing Jennifer finally figured that out for herself.

DUKE: That's right, that's right. She could have had this dummy for a husband.

HARPER: Hey speaking of dummies....

DUKE: Or not speaking of them, whatever.

HARPER: .... yeah. I ran into Edgar Bergen the other day and he's in the market for a new sidekick. How about it son?

DUKE: Oh that's beautiful. Listen kid, take him up on it, please. I mean you blew the whole thing with the girl already. You could become Bergenís favorite dummy.

HARPER: Yeah. That's looks like a yes to me. What do you think? Let's you and I go tell Eddie. We'll be right back son.

DUKE: Senator, Senator, wait a minute, are you putting words in this kids mouth?

HARPER: Somebody has to. Hello, my name is Jack Deveraux.

AS HE IS SPEAKING, DUKE MOUTHS THE WORDS LIKE A VENTRILOQUIST'S DUMMY.

DUKE: Now the lips move, I saw them.

HARPER: So did Bergenís.

JACK IS SOMEWHAT AMUSED BY THESE TWO.

DUKE: Well that's alright. Let's go slush 'em, slush 'em.

DUKE BEGINS TO HOWL LIKE A WOLF AND HARPER LAUGHS AS THEY SLOWLY DISSOLVE AWAY FROM JACK'S CONSCIOUSNESS.

JACK WRITES ONE MORE THING ON THE SIGN AND LEAVES IT PROPPED UP ON A CHAIR. THEN HE WALKS OUT WITH A DEFINITE PURPOSE IN MIND. IN THE CORNER OF THE SIGN, HE HAS ADDED: "ACTIONS SPEAK!"
---
SCENE FIVE: A SHORT TIME LATER JENNIFER COMES BACK TO THE PENTHOUSE.

JENNIFER: Jack, Jack I'm sorry about before. I wasn't mad at you. I was mad at the s....

EVE: Oh no, what did Little Boy Blue do wrong now? I hope he hasn't lost anymore body functions because if you ask me he hasn't got many to spare. Where is Jack?

EVE: I ate him up and I spit out the bones!

JENNIFER IS NOT AMUSED.

JENNIFER (CONT.): He wasn't here when I got here. He probably got cold feet.

JENNIFER: Eve, don't you have some packing that you need to do?

EVE: Oh I'm sure I do and if I look hard I'm sure I'll find some.

SHE TOSSES THE REMOTE CONTROL TO JENNIFER. JENNIFER THEN FLICKS ON THE TV WHERE THERE IS A NEWS BROADCAST ABOUT HOW SALEM IS BUILDING UP TO THE BIG DAY TOMORROW. THEY ALSO ANNOUNCE THAT THE WILD WEST SHOW BEGINS IMMEDIATELY AFTER THE WEDDING AND STARS WILD BILL MAHONEY. JENNIFER SITS DOWN AND LEANS BACK. THE BOARD JACK LEFT IS BEHIND HER.

JENNIFER: Oh boy, this stupid board.

SHE PULLS IT OUT FROM BEHIND HER AND READS HIS MESSAGE.

JENNIFER: Perhaps I love you more that words can say. Actions speak? (Beat) Oh Jack where did you go? Where are you Jack?

JENNIFER LEAVES TO FIND HIM.
---
SCENE SIX: MEANWHILE JACK HAS GONE TO THE ARENA TO SEE WHERE THE WEDDING WILL TAKE PLACE AND SEE IF IT BRINGS HIS VOICE BACK. HE WALKS ACROSS THE FAIR GROUND AND STANDS WHERE HE WILL BE STANDING TOMORROW. HE TRIES HIS VOICE AGAIN BUT NOTHING COMES OUT.


HE THEN WANDERS INTO THE BACK WHERE THE DRESSING ROOMS ARE AND FINDS AN OLD BOTTLE OF WHISKY WHICH HE PICKS UP. IT IS 3:45 IN THE AFTERNOON. SUDDENLY IN COMES THE WILD WEST SHOW ORGANIZER, MR. CRENNA.

CRENNA: Billy, is that you? Where the hell you been? Why you missed this morning's rehearsal. How do you expect to take over as lead stunt man if you don't turn up for rehearsals?

JACK WAVES AT THE GUY TRYING TO TELL HIM THAT HE IS NOT WILD BILL MAHONEY.

CRENNA: You don't look like much of a cowboy. From New York City or any place else for that matter.

JACK IS BUSY SIGNALING.

CRENNA: But I hear you bring in the crowds. So you shape up and you shape up now. What you jerking around for boy? You got some sort of itch?

JACK IS GETTING EXCITED.

CRENNA: You don't talk much do you? That's what I hear. However the word is it's a toss up what you like more, the women or the booze.

JACK SHAKES HIS HEAD.

CRENNA: That's why they call you Wild Bill. Why the last job you had, you got drunk the night before the show and didn't show up till it was all over. And look at you, you've already started. You can't even wait for the sun to go down. Well listen my friend, we got ways to take care of you. Salem's waiting to see Wild Bill Mahoney tomorrow afternoon and that's who they're going to see. Now you stay right in here and you don't even move.

HE THROWS JACK DOWN AND KEEPS PUSHING HIM BACK EVERYTIME HE TRIES TO GET UP AND SIGNAL.

CRENNA: If I let you out on your own, you'll get passin' out drunk for sure. Now listen, you stay here and you be ready for tomorrow's performance as sharp as a new blade. And don't you worry, I'll open up first thing in the morning for you, for tomorrow's performance. Now you take it easy, settle down and get a good night's sleep.

JACK MAKES A GRAB AT HIM.

CRENNA: Hey, boy you come back here. You got good reflexes boy but you stay in here and you sleep it off. Hey, it sure as hell beats jail.

THE GUY GOES OUT AND LOCKS THE DOOR. JACK FRANTICALLY TRIES TO TURN THE KNOB BUT HE CANNOT. HE REALIZES THAT HE IS LOCKED IN.
---
SCENE SEVEN: JENNIFER IS GETTING REALLY NERVOUS AND GOES TO THE HOSPITAL LOOKING FOR JACK. CARLY TELLS HER THAT JACK IS PROBABLY COOLING OFF SOMEPLACE. JENNIFER REMEMBER'S JACK'S NOTE. SHE THANKS CARLY. IT SHE RUNS OFF TO FIND JACK.
---
SCENE EIGHT: JENNIFER ARRIVES AT THE ARENA, THINKING THAT JACK MUST HAVE GONE THERE, TRYING TO FACE HIS FEAR. SHE GOES THERE AND FINDS THE ORGANIZER.

JENNIFER: Hi, you're Mr. Crenna aren't you?

CRENNA: Yeah, you're the bride aren't you?

JENNIFER: Yes. You didn't happen to see the groom did you? He's real tall with brown hair and....

CRENNA: Sorry, the only people are with the show.

CRENNA WALKS OUT AND JENNIFER HAS A LAST LOOK AROUND.
---
SCENE NINE: MEANWHILE IN THE LOCKED ROOM, JACK IS TRYING TO MAKE A NOISE. IN HIS MIND HARPER AND DUKE REAPPEAR.

HARPER: Surprise!

DUKE: We're back. We've got bad news for you Jack. Bergen doesn't want you.

HARPER: Yeah, he thinks you're too dumb.

DUKE: I'm afraid you blew it this time Jack. Really big, really big.

HARPER: Talk about ways of getting out of a wedding? Don't bother denying it even. There is no way you want to tie the knot. You're too scared to marry the girl.

DUKE: What is it with you, what are you afraid of? Let us hear it?

HARPER: Yeah, are you afraid to be happy? That you might be too happy? That you love Jennifer too much?

DUKE: You know something, this kid is a big loser than we gave him credit for. Give him the booby prize.

HARPER: Because he is one prize booby himself.

DUKE: Let's get out of here. MUSH!

THEY BOTH START HOOTING AND HOWLING AS THE DISAPPEAR FROM JACK'S MIND.

JACK SLOWLY SINKS TO THE GROUND BEHIND THE LOCKED DOOR. HIS HEAD ROLLS BACK AND HE BUMPS IT.
---
SCENE TEN: OUTSIDE JENNIFER IS REALLY CONFUSED BECAUSE HE HAS NOT THERE.
[Transcribed by Carol Vaughan
added material by Sally A. Wilson]
---
---