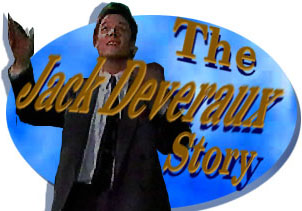 oldEpisode Three-hundred-forty-four: Jack
Has Fallen into Hawk's Trap, He Plans on
Getting Involved with the Illegal Stock Scam.
Jennifer Is Sad to See Hawk Go; This Pleases Him.
---
[Air date early October1991]
SCENE ONE: EARLY MORNING AT THE PENTHOUSE AND JACK AND JENNIFER ARE STILL IN THEIR PAJAMAS AND ROBES. JENNIFER IS ON THE PHONE AS JACK COMES OUT OF THE BEDROOM.

JACK: Good news from Wall Street. If the figures are correct we're on a one way roller coaster and I do mean up.

JENNIFER PUTS DOWN THE PHONE AND LOOKS VERY DEPRESSED.

JACK: Jennifer what's the matter? That couldn't have been the broker.

JENNIFER: No, no, it was the hospital. I was calling about Carly.

JACK FEELS GUILTY FOR NOT THINKING OF THAT FIRST.

JACK: Yes. Um, tell me what happened. She's not?

JENNIFER: No! No, she's still unconscious and she's still critical.

JACK: Well you mean there's no improvement?

JENNIFER: No, grandpa said that Bo's been with her all night. He won't even leave for a minute.

JACK: Well that's understandable. Under the situation, it's completely understandable.

SUDDENLY JENNIFER RUNS TO HIM AND WRAPS HER ARMS AROUND HIM.

JENNIFER: I don't know what I'd do without you.

JACK: What you'd do without me?

JENNIFER: I mean I don't know what I would do if anything ever happened to you.

JACK: Oh come on now. There's nothing to worry about. I'm not going anywhere. I'm not going anywhere at all.

HE SETTLES JENNIFER DOWN ON THE SOFA.

JACK: If you drink this, it'll help you feel a lot better.

HE HANDS HER AN ORANGE JUICE.

JENNIFER: Well I'm not really sick but I appreciate it anyway.

JACK: Well I thought you need a little fortification today. I am assuming that you're going to be around all those germs at the hospital.

JENNIFER: I am. I'm going to the hospital. Even if Carly doesn't realize I'm there, I want to be there for her.

JACK: Well, if she does happen to wake up you tell her I said hello.

JENNIFER: I will but maybe you can stop by and tell her yourself.

JACK DOES NOT ANSWER.

JENNIFER: What, you have a busy day?

JACK: Ah, I suppose you could call it rather hectic, yes.

JENNIFER: What, you have some kind of big story?

JACK: Um, yes, somewhat crucial. It's.... ah, you can call it "How the Deveraux° are Going to Keep out of Financial Straights Forever." (Beat) You see I, ah.... I have this stock and I've been watching it and it's.... hopefully going to.... to move today.

JENNIFER: Jack you know what, I'm not crazy about all of this.

JACK: Crazy about what?

JENNIFER: About this whole stockmarket thing. I mean this could be very dangerous for us. It's like gambling.

JACK: Jennifer, I know what I'm doing. (Beat) I really do.

JENNIFER: Okay.

JACK: I do.

HE GENTLY CUPS HER FACE IN HIS HANDS AND KISSES HER.

JACK: Trust me. (Beat) I better get ready for work. Now you.... you say hello to Carly for me if she wakes up.

JENNIFER: I will.

JACK: I'll call.

JENNIFER: Okay.

JACK: Don't look so glum, alright. This whole.... this whole market thing is going to be good for us. I really feel that. I do.

HE RUNS IN THE BEDROOM TO GET DRESSED.

JENNIFER: I don't.

JENNIFER USES THE KEY AROUND HER NECK TO UNLOCK HER DIARY. SHE BEGINS TO READ WHERE SHE WAS UP TO.

I don't remember when I've been so confused about a lot of things. Carly's lying there fighting for her life and I feel so helpless to do anything about it. My marriage is.... I don't know what. Sometimes I think it's perfect. I feel it's solid, something I can count on. But then sometimes Jack is so hard to understand. So hard to get through to. And I wish.... I really wish it wasn't always such a struggle. (Beat) I wish I didn't have to work so hard for us to feel close. (Beat) And.... now there's Hawk. I don't think he's ready to leave. I would never tell Jack in a million years because he's jealous but I feel like Hawk and I have become friends. He's someone I can talk to. Someone who's always willing to listen and he never seems to have a bad thing to say about anyone. He's just so.... easy to trust.

SHE PICKS UP HER PEN AND WRITES.

Maybe he won't go. I hope not. But if he does I'll miss him.
---
SCENE TWO: LATER THAT DAY WHILE JENNIFER IS AT THE HOSPITAL, HAWK MAKES SURE THAT HE ACCIDENTALLY RUNS INTO JENNIFER. HE GIVES HER LOTS OF SYMPATHY ABOUT CARLY AND SAYS ALL THE RIGHT THINGS TO MANIPULATE JENNIFER. SHE BELIEVES EVERY WORD HE SAYS WITHOUT QUESTION.
---
SCENE THREE: DOWN AT THE SPECTATOR, JACK HAS ASKED DENISE, THE BROKER, TO COME SEE HIM.

JACK: Thank you for coming Ms. Murphy.

DENISE: Oh I was in the neighborhood and it's Denise, remember.

JACK: Yes, Denise, of course, Denise.

DENISE: So, Jack, what can I do for you?

JACK: Well I thought perhaps you could tell me a bit about a broker in New York. His name is Paul Wedder.

DENISE: Paul Wedder? Where did you ever come up with that name?

JACK: Well he's worked with a mutual acquaintance of ours, Baby Howie Hawkins.

DENISE: Hawk? Hawk uses Wedder?

JACK: Well is there something wrong with that?

DENISE: Well you bet there's something wrong with that. Paul Wedder is the biggest crook on the east coast and if Hawk is involved with him, I'm through doing business with Hawk.

JACK: Well, I never heard that he was a crook. I mean of course there was a few rumors here and there but....

DENISE: But nothing. You can believe every last one of them. Paul's into anything he can get his hands on for the easy money, the quick buck. And he's racked up quite a bit, let me tell you.

JACK: Yes, I heard that was somewhere in the millions.

DENISE: Easy.

JACK: Easy?

DENISE: Huh, huh. He shuffles bonds like they're a deck of cards, sells on margin. And it never seems to bother him if it's entirely illegal.

JACK: Well if this is all common knowledge why hasn't the man been arrested?

DENISE: Because no one's ever been able to catch him and the word on the street is that probably won't change.

JACK: Why not?

DENISE: I don't know. Either he's the luckiest guy on earth or he's very well connected.

JACK: Fascinating.

DENISE: Why are you so interested Jack?

JACK: Oh I'm not really interested. I heard his name mentioned and I was curious.

DENISE: Jack I haven't known you very long but I think I know you well enough to see that money is very important to you.

JACK: Money's important to everyone Ms Murphy.

DENISE: Well it depends on the kind of money that you're talking about. If it's Paul Wedder's money, believe me it's not worth it. I hope you're not thinking about....

JACK: Oh no, no, no. I wouldn't dream of doing something like that. The last thing I'd want to do is lie down with dogs, so to speak. Of course, if everything you're saying is true, then it will be Baby Howie waking up with the fleas. Thank you very much for coming.

DENISE: Hawk will if he continues to deal with Wedder.

JACK: Yes, it seems guilt by association is just as bad as out and out guilt. Thank you very much for coming.

DENISE: My pleasure.

DENISE LEAVES AND JACK THINKS OVER WHAT SHE SAID.
---
SCENE FOUR: A BIT LATER, HAWK ARRIVES AT THE SPECTATOR TO SEE JACK. HE WALKS STRAIGHT INTO JACK'S OFFICE AND SLAMS THE DOOR.

JACK: Well Baby Howie, come with more stock tips I presume.

HAWK: Don't hold your breath Jack. Listen I'd like to know what you were doing telling Denise Murphy about Paul Wedder. For all I know she's probably blown the whistle to the S.E.C.

JACK: And why would she do that?

HAWK: Because she happens to be a straight arrow by-the-book kind of lady and I know that she doesn't really care for the way Paul does business.

JACK: Oh I wouldn't worry a thing. I didn't say a word. Have a cup of coffee, please.

HAWK: Jack I don't want any coffee. Did you.... did you mention to her Wedder's name? You did, didn't you?

JACK: I most certainly did. I mentioned it was mentioned to me and I mentioned it to her to see what she thought of the name and the man.

HAWK: That's it? You didn't say anything about the scam?

JACK: I didn't say a thing. All I know about this.... this scam is that there is this man Wedder who sells stocks on the Japanese Exchange and then turns around and sells the same stocks to the New York Exchange before the computers have a change to record the transaction. Now that's it in a nutshell isn't it?

HAWK: Well, I guess it doesn't really matter now. Shoot, I didn't even know it was illegal until you told me about it. But don't worry, I called up Wedder and told him I was going to be backing off.

JACK: Backing off? As in.... you're not going to be dealing with him anymore.

HAWK: No way Jack. Listen after you and I spoke about it, I said I got too much to lose here. If Chauncey Powell ever caught wind of me doing this he.... I could just kiss my grandpa's billions goodbye forever. He'd never let me collect my inheritance. No sir, no sir, I tell you right now, I'm not going to take that kind of chance Jack. I'd have be crazy now, wouldn't I?

JACK: Yes, yes, you're certainly right. (Beat) I think you made a very wise choice my friend. Very wise choice indeed.

HAWK KNOWS THAT JACK IS THINKING OTHERWISE.

JACK: So you actually told Wedder that you weren't going to do business with him anymore?

HAWK: You bet I did.

JACK: Well what did he say? Was he upset?

HAWK: Well Jack, I could actually I couldn't care less. I mean this man is an outlaw. I think the best thing for us to do is forget we ever heard the name Paul Wedder, right?

JACK: Right, absolutely right.

HAWK: Well, alright, well Jack, I'll see you around.

THEY SHAKE HANDS.

JACK: See you around, take care.

THE PHONE RINGS.

HAWK: Sure.

JACK: Oh that's my phone. Hello, Spectator, you plug 'em, we print 'em.
---
SCENE FIVE: OUTSIDE IN THE MAIN OFFICE, GINGER IS TRYING TO PLACE ANOTHER AD IN THE SPECTATOR SO THAT SHE CAN FIND HER DAUGHTER. HAWK SEES HER AS HE LEAVES JACK'S OFFICE AND HE HIDES.

INSIDE JACK'S OFFICE.

JACK: MISS.... AH, MISS KELLY, GET IN HERE. I NEED YOU.

THE WOMAN TAKING GINGER'S AD RUNS INTO JACK'S OFFICE AND BEFORE HE LEAVES HAWK TAKES THE COPY AND SCREWS IT UP IN HIS POCKET.
---
SCENE SIX: LATER JACK STILL HAS THE BROKER ON HIS MIND. HE KEEPS TAKING OUT THE BUSINESS CARD AND LOOKING AT IT. AFTER MUCH THOUGHT, HE DECIDES TO CALL HIM.

JACK: Alright.

HE DIALS THE NUMBER ON THE CARD.

WEDDER: Yeah, Wedder here.

JACK: Ah, Paul Wedder, this is Jack Deveraux. I'm a.... I'm a friend of Howard Alston Hawkins III.

WEDDER: Yeah.

JACK: Well you see it's like this. I have some liquid assets I'm ready to do some things with and I thought perhaps you and I could do some business.

WEDDER: Yeah well I know Hawkins but I'm not taking on any new clients right now. Sorry.

WEDDER HANGS UP ON JACK WHICH LEAVES HIM WANTING MORE, JUST AS HAWK PLANNED.
---
SCENE SEVEN: JENNIFER GOES BACK TO THE PENTHOUSE JUST AS HAWK IS ABOUT TO LEAVE. SHE EXPRESSES HER DISAPPOINTMENT BUT ONCE AGAIN FALLS FOR ALL OF HAWK'S WORDS ABOUT HOW CLOSE THEY HAVE BECOME. SHE GOES TO TAKE A BATH AND ONCE AGAIN HE BREAKS INTO HER DIARY TO READ HER SECRET THOUGHTS. HE READS WHAT SHE HAS WRITTEN ABOUT HER MARRIAGE AND ALSO ABOUT HIMSELF. HE IS VERY SATISFIED WITH HIS PLAN SO FAR.
[Transcribed by Carol Vaughan
added material by Sally A. Wilson]
---
---