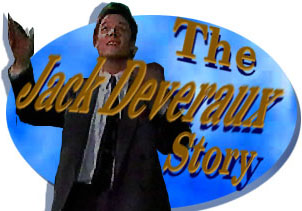 oldEpisode Three-hundred-forty-five: Jack Wants
to Take Jennifer for a Romantic Getaway;
Hawk Does not Like This Because Their Scam
Is Set to Come to an End the Next Day, So He
Manipulates Jack to Prevent Him from Going.
---
[Air date early October1991]
SCENE ONE: THE NEXT DAY, JACK IS AT WORK WHEN JENNIFER ARRIVES TO SEE HIM.

VERN: Well look we've got a second page to do Jack.

JACK: I know that. Listen, I know exactly what....

JENNIFER: Hi, let's have it Jack. I want to know what's going on, alright. I got your message at the hospital and I can't understand what could be so important that it couldn't wait until we both got home later.

VERN: Excuse me, this looks like a private conversation and I'm leaving.

JACK: Ah....

VERN: Oh Jack, good luck.

VERN LEAVES.

JENNIFER: Good luck?

JACK: Ah, it's a figure of speech. Step right over here. I think you better calm down. I know you're upset about Carly.

JENNIFER: Yes I am upset. I can't understand why you dragged me away from the hospital like this.

JACK: Just tell me one thing. Carly's getting better isn't she? I mean she really is, she's starting to feel a little better.

JENNIFER: She's holding her own.

JACK: Yes.

JENNIFER: But she's still on the critical list.

JACK: And you? What about you?

JENNIFER: I want to get back to the hospital and be with her so if you can just tell me what this is all about then I can do that Jack.

JACK: Certainly, let's get right down to it. (Beat) I need your help.

JENNIFER: You need my help right now? It can't wait maybe for another time, a better time.

JACK: I'd appreciate it if it was right now.

JENNIFER: Alright, alright, what's the problem?

JACK: The problem is I can't tell you right now. It would be better if I told you somewhere else. See I made reservations at a restaurant and I....

JENNIFER PULLS A FACE.

JACK: Now.... now don't freak out on me. Humor me for a minute.

JENNIFER: Wait a minute, reservations at a restaurant? It better be worth it....

JACK: It will be worth it.

JENNIFER: .... if we're going to all the way to a restaurant because I won't be able to be near Carly.

JACK: It will be. I just.... I just need to get a few things here. You will understand everything as soon as we get there. I hope you don't mind, I made reservations at The Sand Dollar.

JENNIFER: I don't mind as long as you tell me what's going on when we get there.

JACK: Sure, it'll be great.

AS THEY LEAVE THEY PASS THE JANITOR AND JACK CALLS OUT TO HIM.

JACK: Oh will you change things in there. I'm running low on newspaper.
---
SCENE TWO: MEANWHILE HAWK IS MEETING WITH HOWARD, CHAUNCEY AND DESIRÉE AND PUTTING THE FINAL TOUCHES TO THEIR BIG PLAN WHICH WILL END TOMORROW.
---
SCENE THREE: JACK AND JENNIFER ARRIVE AT THE SAND DOLLAR AND JACK SEATS JENNIFER.

JENNIFER: Alright Jack, start explaining.

JACK: Certainly, just allow me to sit down first. Perhaps we could look at the menus and see the specials.

JENNIFER: No, we're not going to look at the menu Jack.

JACK: Alright, you want to know what this is about, you want to know what this is all about?

JENNIFER: Yes.

JACK: It's about you.

JENNIFER: Me?

JACK: Yes. I happen to know that you're very.... well things have been very difficult for you ever since.... ever since Lawrence got paroled and since.... since Carly had her accident and I just want you to know that I want to help.

JENNIFER: Jack, that's very sweet but I don't know how.

JACK: I think it's time for us to take a little break, just a little one.

JENNIFER: I wish I could do that but I'm not leaving Carly's side. I wouldn't be able to relax.

JACK: Look, just a couple of days in the country. Just right outside town. We could come right back if anything happened.

JENNIFER: No, I can't do that. I can't.

JACK: There will be a car standing by in case we need to come right back to town. How about that? Now I am telling you Carly needs you more when she wakes up than she needs right you now when she's out. What kind of shape are you going to be in if you worry yourself into this kind of vegetable shape? By the time she wakes up you're going to be ready to take a nap. Am I right? Right?

JENNIFER: Okay you're right, you're right.

JACK: Good, right. (Beat) Yeah right, I'm right.

JENNIFER: I'm sorry. I shouldn't have got angry about this in the first place. I just get upset sometimes. I wish that sometimes you would just say what you feel, right out and then it would make things a lot easier Jack.

JACK LOOKS DISAPPOINTED.

JENNIFER: But at least you do feel and you are there for me. What happened to Carly makes that very clear. Is that time is very short and we have to make the most of every minute that we have together.

JACK: Absolutely, absolutely and that's why I want to seize this moment, alright. I'm going to call that travel agent and get a whole bunch of travel brochures for those bed and breakfast places.

JENNIFER: Alright, Jack, wait.

JACK: No, no, no, I'll be right back. I....

JENNIFER: No, I'm not finished with you yet.

SHE LEANS UP AND KISSES HIM.

JENNIFER: You're wonderful Jack Deveraux, do you know that?

JACK: Well I.... I have heard rumors to that effect.



JENNIFER: There's no rumors. No rumors.

JACK: Oh.

THEY KISS AGAIN AND WHILE THEY ARE DOING SO, HAWK COMES INTO THE RESTAURANT.
---
SCENE FOUR: HAWK HAS COME INTO THE SAND DOLLAR, HE IS NOT HAPPY THAT JACK AND JENNIFER ARE TOGETHER, HE IS WORRIED THAT JEOPARDIZES THEIR PLANS FOR TOMORROW. HE HIDES AND WHEN HE HEARS JACK COMING TO THE PHONE, HE PICKS IT UP HIMSELF AND PRETENDS TO TALK.

JACK: Let me make this phone call alright?

JENNIFER: Okay.

JACK: Just sit down and I'll be right back.

JACK WALKS BACK TO THE PHONES WHERE HAWK IS SUPPOSEDLY TALKING TO PAUL WEDDER. HE IS HAVING A PRETEND ARGUMENT ABOUT WEDDER NOT WANTING HIS BUSINESS ANYMORE.

JACK: Howie.

HAWK: Oh Jack, hey, what are you doing here fella, just having some dinner or what?

JACK: I guess I could ask you the same thing but then again I'm more interested in asking about that conversation you just had with that gentleman there.

HAWK: You are?

JACK: Yes, that was Paul Wedder wasn't it? The less than scrupulous broker we were talking about earlier.

HAWK: Okay look Jack, don't worry about it okay. And you certainly don't have to go telling Chauncey about it. Like I told you, I'm not doing business with Wedder anymore.

JACK: It sounds to me like he wasn't doing business with you.

HAWK: Oh heck, alright, what's the big deal. I'm not.... I'm just.... alright I admit to it Jack. You're right. I mean the guy all of a sudden got too big for his britches and now he doesn't want to take on any clients unless they can invest big time.

JACK: Huh, huh. How big is big time?

HAWK: Well it's about a minimum of $150,000 worth of stock.

HAWK GOES TO LEAVE.

JACK: Whoa, whoa, wait a minute, wait a minute. Are you about to go after Chauncey and ask him for an advance on your allowance?

HAWK: Oh don't sweat it Jack. I'm not going to ask him for any advance.

JACK: That's very wise of you.

HAWK: You know it gripes my cookies, that's all. I mean if I could just get my hands on $150 thou.

JACK: Without.... Chauncey finding out?

HAWK: Well, yeah I know, I mean shoot, I could probably just double my money. I mean I could turn $300,000.... I could probably make $300,000 in less than about ten seconds max.

JACK: Huh, huh. What about that big suitcase full of money that you were waving around? Why don't you use that?

HAWK: Wedder wouldn't touch it. I mean I've only got $75,000 in that case. I mean it's either six figures or it's no deal with him.

JACK: What would you say if I could get a hold of six figures worth of stock?

HAWK: Are you serious Jack? How could you do that?

JACK: Well I could stake you.... a loan.

HAWK: Oh shoot, no I can't do that.

JACK: Interest free of course.

HAWK: No Jack, after everything you've done for me I just can't ask you do that.

JACK: No, there is.... there's a catch.

HAWK: Catch?

JACK: The catch is you have to cut me in. I give you $150,000 worth of stock and you bring me into work with Wedder so that I can invest my own $150,000.

HAWK: Your own? Jack I thought you didn't want to get your hands dirty with this kind of thing.

JACK: Ah, I'd rather not call it dirty. I'd rather call it a prudent business move.

HAWK: Well no, I still can't.... I can't go and no, I don't think so.

JACK: Look, you said that this man was looking for high rollers.

HAWK: Yeah.

JACK: You bring him business, your business and my business. We're the high rollers. I mean.... do us both a favor. (Beat) Do me a favor. You owe me.

HAWK HESITATES JUST LONG ENOUGH TO SOUND SINCERE.

HAWK: Ah shoot, alright Jack. I mean that's true enough. I do owe you. I tell you what I'll go ahead and talk to him.

JACK: Good. Okay let's call him right now.

JACK PICKS UP THE PHONE.

HAWK: Ah Jack, we can't call him now. I mean I.... we got to give this guy a chance to simmer down. He was really upset. I tell you what, I'm going to call him later and I'm going to give him the whole sales pitch and everything and I'll get back to you with an answer.

IT IS OBVIOUS THAT JACK STILL DOES NOT COMPLETELY TRUST HAWK BUT THE POSSIBILITY OF SUCH GREAT PROFITS HAVE CLOUDED HIS JUDGMENT.

JACK: That sounds like a deal to me Howie.

HAWK: Me too Jack, me too.

JACK GOES BACK TO HAVE LUNCH WITH JENNIFER.
---
SCENE FIVE: A BIT LATER, HAWK COMES OVER AS IF HE IS JUST ARRIVED.

HAWK: Howdie folks.

JENNIFER: Hey, Hawk, you know we've been thinking about you.

JACK: Yes, we have. I take it you wouldn't mind joining us?

HAWK: Yeah, well I do think I've got a minute or two here.

JENNIFER: Oh well come on over. How have you been, you know, since you moved out and everything?

HAWK: Well actually I couldn't be doing better but I do miss the conversation and the view.

HE GRINS AT JENNIFER AND JACK HALF SMILES.

JACK: Hmmm.

HAWK: Oh, I can't complain. As a matter of fact I just got off the phone with a friend of mine back in Montana from the ranch. He's got a business deal that he wants me to get in on.

JACK KNOWS EXACTLY WHAT HAWK IS TALKING ABOUT.


JENNIFER: Really? Well that's sounds great.

JACK: Not to mention potentially lucrative.

HAWK: Yep, it could very well be.

JACK: Well when is this little deal of yours getting off the ground?

HAWK: Ah, actually right away. Tomorrow at the latest.

JACK TRIES TO LAUGH BUT HE IS A BIT SHOCKED AT HOW QUICK THINGS ARE MOVING.

JACK: Tomorrow?

HAWK: Yeah.

JACK: Oh, you might not have enough time to.... get it together by tomorrow.

HAWK: Well that's true enough Jack but you see the problem is, my friend, he's getting ready to leave the States and he's going to be gone for about two to three months maybe.

JACK: Well, we certainly hope you're able to get things together in time.

HAWK: Yeah, well, I have no choice actually. If I want in on the deal I've got to be ready.

JACK: Right, strike while the iron is hot. That's my motto. Always has been.

JENNIFER: It has?

JACK: Yes. And speaking of which I better get back to work. I have a paper to put to bed so I can get up in the morning. I'll see you in a just couple of hours, alright.

JENNIFER: Alright.

JACK KISSES HER AND TURNS TO HAWK.

JACK: And you I'll see.... well who knows when I'll see you.

HAWK: Yeah. Jack thanks again for everything.

JACK: Thank you, take care of yourself. I hope everything goes well for you.

HAWK: Yeah thank you.

JACK: I mean....

JENNIFER: Huh?

JACK: Ah, something in my throat but I'll be alright.

HAWK: Thank you Jack.

JACK: Goodbye.

JACK RUNS OUT AND HAWK IS ABOUT TO LEAVE. HOWEVER JENNIFER SAYS THAT SHE HAS A FEW EXTRA THINGS OF HIS BACK AT THE PENTHOUSE AND ASKS HAWK TO COME BACK AND GET THEM.
---
SCENE SIX: JENNIFER AND HAWK ARRIVE AT PENTHOUSE. HAWK IS CONNIVING AND SMOOTH AS USUAL. JENNIFER BELIEVES ALL HIS SMOOTH TALK ABOUT HOW THEY FEEL LIKE FAMILY. HE MAKES A POINT OF A LONG GOODBYE, MAKING HER FEEL AS IF SHE IS LOSING MORE THAN SHE IS. HE LOOKS AT HER INTENTLY AND GIVES HER A SMALL GIFT OF JELLYBEANS. SHE IS DEFINITELY CAUGHT IN HIS TRAP.

[Transcribed by Carol Vaughan
added material by Sally A. Wilson]

---

---