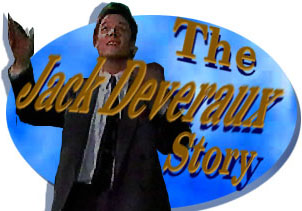 oldEpisode Three-hundred-forty-seven: Jack
and Jennifer Say Goodbye at the Airport,
It Seems as If They Both Sense That
Something Bad Will Occur. Jack and Hawk
Are Meeting with Wedder, When Things Go Badly.
---
[Air date early October 1991]
SCENE ONE: IS THE NEXT MORNING AND JACK IS GETTING READY TO LEAVE FOR NEW YORK. HE IS CHECKING THAT THE SECURITIES ARE STILL SAFE IN HIS BRIEFCASE. THE PHONE RINGS.

JACK: Hello, Deveraux residence. How are you doing this fine morning?

HAWK: Just making sure we're still on for the New York trip today.

JACK: Oh absolutely, absolutely.

HAWK: Great. Listen we're on Trans Global, Flight 714. That leaves at 11:35.

JACK: 714 at 11:35. I already got that.

HAWK: Make sure you do. Look Wedder is leaving town tonight and we can't afford to miss this flight or else the whole thing is right down the tubes, Jack.

HAWK IS PUSHING ALL THE RIGHT BUTTONS TO ENSNARE JACK.

JACK: Don't worry, I'll be there.

JENNIFER CALLS FROM ANOTHER ROOM.

JENNIFER: Jack?

JACK: Anyway, I will talk to you later.
---
SCENE TWO: JENNIFER COMES INTO THE LIVINGROOM, AND JACK HAS TO ACT QUICKLY SO SHE DOES NOT KNOW WHAT IS REALLY HAPPENING.

JENNIFER: Jack?

JACK: Thank you for those reservations and make sure that I get my frequent flyer mileage okay. I want to make sure that I get that domestic upgrade, okay to first class. Thank you, goodbye.

JENNIFER: Wait, ah, Jack, is that the airline?

JACK: Yes.

JENNIFER: Oh I'm sorry that you hung before I had a chance to tell you.

JACK: Tell me what?

JENNIFER: I changed my mind about your trip.

JACK: You changed your mind? You're going to ask me to cancel my flight?

JENNIFER: No. no, no, I'm not going to ask you to cancel. I have a better idea. I'm going to go with you.

JACK: You.... you want to come with me to New York?

JENNIFER: Yeah, that's not a problem is it?

JACK: Well ah.... no, no. It's.... it's not really a problem at all. It's just that it could be a big waste of time and money you know.

JENNIFER: Now Jack, how can you say that? We would be together in New York, one of the most exciting cities in the world.

JACK: Yes that is true but it wouldn't make any difference to us. You see, I'd be locked up in offices all day doing business and you'd be.... well I mean you said yourself, you didn't want to be so far away from Carly. Isn't that right?

JENNIFER: Yeah that's right but I figured it's such a short flight, it really wouldn't make a difference.

JACK: Well you have to remember this is air travel. We have to schedule the changes, re-routing, lost luggage....

JENNIFER: I get the picture.

JACK: Look I have another picture for us both to look at. You stay right here on the terra firma and when I come winging back from New York, the Big Apple, we'll both go off together to that bed and breakfast that we were talking about.

JENNIFER: You mean tonight?

JACK: What, is there a problem? Is that too soon for you?

JENNIFER: No, no that's perfect.

JACK: Perfect! Good, good. I'm glad we have that settled.

JENNIFER: Good, I'm glad too considering the way you just finessed me.

JACK: What do you mean I finessed you? I'm trying to please you.

JENNIFER: No, no, Jack, you are up to something. I can feel it.

JACK: You know you didn't use to have this suspicious nature.

JENNIFER: I didn't use to be married to you.

JACK: Right. Well let me tell you something. You knew what you were getting into when you took the big plunge.

JENNIFER: You're right, you're right, I did. So I guess I'm just going to have to follow through with whatever it is that you've got planned and hope that I don't live to regret it.

JACK: You won't regret it. Trust me! (Beat) Huh?

HE HOLDS HER IN A BIG HUG.

JENNIFER: Do I have a choice?

JACK: Heheheh.
---
SCENE THREE: JACK AND JENNIFER ARRIVE AT SALEM AIRPORT.

JACK: Come on hurry up. We're go....

JENNIFER: Look Jack, I know I said that I trust you about this but I don't.... I don't think you should be doing this.

JACK: Doing what? I'm just going on a simple business trip.

JENNIFER: No, I have a really bad feeling about it, alright.

JACK: You have a bad feeling. Is this a premonition? I mean I think you're being silly.

JENNIFER: What if something horrible happened while you were away?

JACK: What do you mean? Nothing horrible is going to happen. I guarantee it. As a matter of fact.... it could be quite the opposite when I get back.

JENNIFER IS REALLY WORRIED ABOUT THIS TRIP AND SHE HER EYES FILL WITH TEARS.

JENNIFER: Well I'll miss you, Jack.

JACK: What do you mean? You won't even have time to miss me. I'll be there, I'll be back before you even know it.

JENNIFER: That is not true. I will miss you! I know when you're not with me.

JACK STARTS TO FEEL THE SAME REGRET AT LEAVING. HE IS MOVED BY THE DEPTHS OF HER FEELINGS FOR HIM.


JACK:I can't argue with that. (Beat) I.... I guess I better get on board.

JENNIFER SIGHS.

JENNIFER: Well do you have your ticket?

JACK LOOKS IN HIS COAT POCKET.

JACK: Yes, I have my.... I have my.... of course I have my ticket. Yeah, they brought it to the Penthouse.

HE CAN SEE HOW UPSET SHE IS GETTING.

JACK: So this is it.

JENNIFER: Yeah, I guess it is. (Beat) I just want you to remember Jack, that I love. I love you very much.

JACK: I.... I....

JENNIFER: I know, I know, you love me very much too.

JACK HESITATES FOR A FEW SECONDS.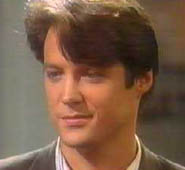 JACK: I do love you. (Beat) I do love you very very much.

SHE SMILES EVEN THOUGH SHE IS SAD THAT HE IS GOING. THEN SHE RUNS INTO HIS ARMS AND THEY KISS. AS THEY SEPARATE, SHE STARES UP INTO HIS FACE.

JACK: Ah, what are you looking at?

JENNIFER: I'm looking at my husband.

JACK: You're husband with lipstick on his....

JENNIFER: My husband who I love very much and who I'm hoping will use common sense and good judgment on this trip. And above all, be careful.

JACK: Ah.... where is this coming from? There is nothing to worry about.

JENNIFER: What do you mean there is nothing to worry about? You just told me that you loved me Jack. You actually said the words. Now if that's not something to worry about then....

JACK: Forgive me but I feel like your logic is a little off.

JENNIFER: Jack, everything about this trip is a little off. That.... that's why I'm concerned.

JACK: Alright, you brought this on yourself. Don't blame if you start seeing those gray hairs. (Beat) I really, I.... I think it's time to get on the plane now.

JENNIFER: They didn't even call your flight yet Jack.

JACK: Well you know, it's the.... it's these goodbyes, you know. They get.... you know they really kill me. (Beat) I'll see you tonight.

HE GIVES HER A QUICK KISS.

JACK: Okay.

HE TURNS TO LEAVE THEN TURNS BACK, THINKING ABOUT WHETHER TO TELL HER WHAT IS GOING ON. IT ALSO SEEMS THAT IN THE BACK OF HIS MIND HE TOO HAS SOME BAD FEELING AS IF HE WILL NEVER SEE HER AGAIN.

HOWEVER HE CHANGES HIS MIND.

JENNIFER: Take care.... take care of yourself.

HER EYES ARE FULL OF TEARS AS SHE WATCHES HIM WALK AWAY.
---
SCENE FOUR: MEANWHILE HAWK HAS BEEN HIDING OUT WATCHING ALL THIS. HE DOES NOT SEEM TO LIKE HOW MUCH IN LOVE JACK AND JENNIFER OBVIOUS ARE. THOUGH HE IS PLEASED TO KNOW THAT AFTER TODAY HIS PLANS FOR JACK WILL BE FULFILLED.

AS SOON AS JENNIFER LEAVES HE GOES OVER TO JACK.

HAWK: Hey howdy Jack, ready to take off?

JACK: Yes, yes, just point me towards the plane.

JACK DOES NOT SEEM AS SURE AS HE WAS BEFORE.

HAWK: Well you're sure about this aren't you Jack? Cause if you've got any misgivings, now's the time to speak up.

JACK: No, no misgivings, none at all. (Beat) Let's do it.

HAWK: Thank you. Yeah let's do it Jack.
---
SCENE FIVE: A FEW HOURS LATER, JACK AND HAWK ARRIVE AT WEDDER'S OFFICE IN NEW YORK.

HAWK: Well here we are, right on time too Jack.

JACK: It's quite a place.

HAWK: I told you this guy was a hot shot.

JACK: Yes but you didn't tell me how hot.

WEDDER COMES OUT FROM THE BACK ROOM.

WEDDER: Oh Hawk.

HAWK: Hey Paul.

WEDDER: Good to see you.

HAWK: You too. This is the fellow I was telling you about. Jack Deveraux, Paul Wedder.

THEY SHAKE HANDS.

WEDDER: Yeah Mr. Deveraux.

JACK: Jack, please. I think if we're going to be doing business together, we can drop all the formality.

JACK IS STILL A LITTLE NERVOUS.

WEDDER: Ah, I assume you came prepared.

JACK: Yes.

JACK OPENS THE BRIEFCASE AND SHOWS WEDDER ALL THE STOCK CERTIFICATES.

JACK: Here are all the required stock certificates.

WEDDER: Yes, I think those should do quite nicely.

JACK: So what do we do know?

WEDDER: Right now, you gentlemen sit down. Let me get to work.

WEDDER SITS DOWN AT HIS COMPUTER.

WEDDER: Now you can understand that we have to move very fast. There are only seven seconds from when I make the initial sale on the Tokyo Exchange to when the computers on the New York Exchange register that sale. Now if I can beat that time, I can sell the same stock twice.

JACK HANDS WEDDER THE FIRST STOCK CERTIFICATE.

JACK: Good luck.

WEDDER: Luck.... has nothing to do with it. It takes skill and guts to make a gamble into a sure thing.

JACK: I wouldn't be parting with so many of these things if I didn't believe that same thing myself.

WEDDER: Alright gentlemen, here we go.

HE TYPES IN THE STOCK TO BE SOLD.

WEDDER: Ah, there's Tokyo.

JACK IS TENSE AND SITTING ON THE EDGE OF HIS SEAT.

WEDDER: And there's New York. (Beat) And we made it and you just doubled your money.

HAWK: YEE HAW! Jack what do you think about that, hey fella?

JACK: I think.... I think we better do it again.

JACK HANDS OVER ANOTHER STOCK.

JACK: Do it!

WEDDER: Alright.
---
SCENE SIX: BACK IN SALEM, JENNIFER IS AT ALICE'S RESTAURANT WHERE GINGER ASKS HER WHAT IS WRONG. JENNIFER SAID SHE HAS BEEN LOOKING FOR HAWK AND WHEN GINGER HEARS THIS, SHE GETS VERY NERVOUS AND SCARED AND SHE LEAVES. JENNIFER WONDERS WHAT IS GOING ON.
---
SCENE SEVEN: BACK IN NEW YORK, JACK IS NOW IN FULL SWING WITH HAWK'S ENCOURAGEMENT.

JACK: Alright. how much is that Howie? How much profit have we made?

HAWK: Ah shoot Jack, I lost track after we hit the seven figures.

WEDDER: Well, how about it? Once more with feeling?

JACK: Why stop now if we can....

JACK LOOKS IN THE BRIEFCASE AND ALL THE STOCKS ARE GONE.

JACK: Oh well, I guess that's it.

WEDDER: Well that's a shame. You still got fifteen minutes of open market left.

JACK THINKS FOR A MINUTE OR TWO THEN MAKES A BIG DECISION.

JACK: Well far be it for me to waste precious time.

HE LIFTS THE BOTTOM FLAP INSIDE THE BRIEFCASE ANOTHER FEW STOCKS.

HAWK: Well where did you get that stuff Jack?

JACK: This my friend happens to be the collateral for the loan I made to buy The Spectator.

HAWK: Why Jack, are you sure you want to bring that into this? I mean it seems awful risky to me.

JACK: Risky? You heard what the man said. There's nothing here but a sure thing. Let's do it.

HE HANDS WEDDER THE STOCK.

WEDDER: Whatever you say.

JACK IS NOW EXTREMELY NERVOUS BUT HAWK IS HAPPY. HE KNOWS THAT JACK'S ONLY WEAKNESS IS MONEY AND HE HAS PLAYED THE GAME JUST RIGHT.
---
SCENE EIGHT: JENNIFER RETURNS TO THE PENTHOUSE WHERE SHE MAKES ANOTHER ENTRY IN HER DIARY.

Now that Jack's away, I realize more than ever how much I need him. I think of myself as an independent woman but it just means so much having him there. Sharing my life with him. I miss him already and I can't wait to go away with him tonight. Just the two of alone us together.

JENNIFER: It's going to be heaven.
---
SCENE NINE: BACK IN NEW YORK, JACK IS NOW TOO NERVOUS TO SIT AND HE GOES AROUND AND WATCHES THE SCREEN AS WEDDER DOES THE DEAL.

JACK: You did it! You did it, you did it again. I can't believe you. He did it again, he did it again.

THEY ALL LAUGH.

HAWK: Holy cow Jack, you're really getting into this aren't you?

JACK: What do you mean, we're making a killing. We're making a killing here Paul, aren't we?

WEDDER: We're making a killing.

HAWK: We're making a killing Jack.

JACK: I'm going to get.... I'm going to change my plane ticket. We're going to come back. We're going to do this.... tomorrow. We're going to do it tomorrow.

WEDDER: No, no, no. I'm leaving town tonight, remember. Besides, you're out of stock certificates.

JACK: Ah, right, how much time is there left on the trading?

WEDDER: Barely five minutes.

JACK: Okay, we have to work fast.

WEDDER: What are you talking about?

JACK: You have a stock portfolio don't you?

WEDDER: Of course I do, what does that have to do with it?

JACK: I want to buy whatever I can buy, alright, whatever I can afford. I will make it worth your while. I'll make it worth your while.

JACK TAKES OUT A LARGE WAD OF CASH.

HAWK: Jack listen are you sure about this? That's a lot of money you've got there.

JACK: I'm telling you, this is all I've got left. This is what I need to buy in now. I need something to work with. Paul, you'll work with me won't you? You'll work with me?

WEDDER: Yeah I think we could probably arrange something.

JACK: Alright, good.

JACK HANDS WEDDER THE PILE OF CASH. EXACTLY AT THAT MOMENT THE DOOR OF THE OFFICE BURSTS OPEN AND TWO MEN COME IN HOLDING UP I.D.

FBI: Alright, everybody freeze. SPECIAL AGENTS FBI.

JACK: FBI!

JACK'S FACE FREEZES.

FBI: You violated the Securities Exchange Act. You're all under arrest.

JACK IS SHOCKED.
[Transcribed by Carol Vaughan
added material by Sally A. Wilson]
---
---