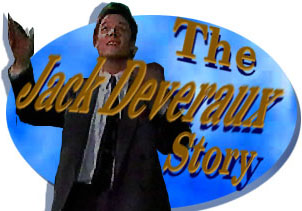 oldEpisode Three-hundred-forty-nine:
Jack and Hawk Are Hiding out in
a Barn. Jennifer Is Desperate with
Worry, Because Jack Has not Returned.
---
[Air date mid-October 1991]
SCENE ONE: IT IS THE NEXT DAY AND JACK STILL HAS NOT COME HOME. JENNIFER GOES DOWN TO THE SPECTATOR TO SEE VERN.

JENNIFER: Vern, Vern, thank heaven you're here.

VERN: Well of course I'm here Jenny girl. Where else would I be?

JENNIFER: Well I can't be sure where anyone is these days. You know Jack didn't get back from New York last night.

VERN: Well that's why he's late for work this morning, huh?

JENNIFER: Vern did you hear what I just said? I said Jack was missing.

VERN: Have you checked your safe lately?

JENNIFER: My safe? What does that have to do with anything?

VERN: Ah, nothing, nothing at all. It just automatically went to my mind. You know, something is missing, check your safe. Forget it, forget it.

JENNIFER: Well I wish I could. I wish I could forget this whole thing Vern.

VERN: Everything's going to be fine.

JENNIFER: Then why hasn't Jack called? I don't understand. Where could he be?

VERN: You know how he is about those long distance bills. Look, how about if I make a few calls to Jack's business associates. Maybe somebody will know where he is.

JENNIFER: Alright, alright, that sounds like a good idea. I'll do the same thing and we'll meet and compare notes. Meet me at my grandmother's restaurant at two.

VERN: I'll buy.

JENNIFER: Alright.

VERN: I want to see Jack go bonkers when he sees it on my expense account.

JENNIFER: Yeah, if he ever does.
---
SCENE TWO: BACK AT THE FARM, JACK IS WAKING UP IN THE BARN. HIS FIRST SIGHT IS A HEN.

JACK: Oh please, oh come on tell me this is a dream. Tell me this is a dream

SUDDENLY A WOMAN WALKS INTO THE BARN AND HOLDS A RIFLE AT JACK; HER NAME IS MISTY.

JACK: Somebody.... oh okay, hold it. Easy, easy, easy. We just got a wake up call. Howie, wake up, wake up, wake up. WAKE UP.

HAWK: Wait a minute darlin', I just need a couple of seconds to wake up from that last....

MISTY: Stand up, slowly. One false move and I'm going to blast you to kingdom come.

HAWK GETS UP AND STAND NEXT TO JACK. THEY BOTH RAISE THEIR HANDS.

HAWK: Mornin'. Ah, would you mind standing back just a tad here. You're making him nervous.

JACK: Yeah.

MISTY: What are you two varmints doing on my pa's land?

JACK: Well, ah, we're, ah, ah, tourists. Yeah, that's it. You see we're tourists and....

HAWK: Now, Jack, Jack, Jack. She doesn't believe that.

JACK: She doesn't?

SHE SHAKES HER HEAD.

MISTY: If I don't start getting some straight answers real soon, you're goin' to start seeing some straight shootin'.

JACK: You heard the lady.

HAWK: Oh well, ah, you see our car broke down a few miles back so we just figured we would just sleep here tonight and find out who the owner of the barn was and pay him for our accommodations and be right on our way.

MISTY: Where to?

HAWK: Well wherever the old rodeo is going to take me. You know, I'm a travelin° cowboy.

MISTY: Now why should I believe you?

HAWK: Well maybe not me but knowing who my friend is here. I mean you know we're not lying.

JACK IS LOOKING PUZZLED AT HAWK.

MISTY: Who's he?

HAWK: Well can you believe that? She doesn't recognize you.

JACK: Well imagine tha

HAWK: I mean here he is, here he is, a big famous movie star.

MISTY: We don't get many movies around here.

HAWK: Well I like you to meet Jack Nicholson.

JACK: Jack Nicholson!

JACK: OUCH!

HAWK KICKS JACK AND HE RESPONDS IN A JACK NICHOLSON VOICE.

JACK: Pleased to meet yah! Yeah!

MISTY: I saw a picture once of Jack Nicholson in a magazine.

HAWK: Huh, huh.

MISTY: He ain't him.

JACK: I ain't him.

HAWK: Oh did you think I said Nicholson? No I meant.... I think I said Micholson, that's with an "M," as in murder.

JACK: Oh that's great. You're a great help, you know that. HEHEHEH.

HAWK: Now you recognize him?

MISTY: No.

HAWK: Well I mean if that just don't take the cake Jack. You know out in the city, he can't even walk down the streets without a whole gang of ladies coming after him.

MISTY: Him?

HAWK: Well they'd strip him buck naked sooner than a trout would snap up a fly, just to get a little piece of him.

JACK: Not so little.

MISTY: You're cuter than he is.

HAWK: Yeah, well thank you darlin'. What's wrong with me? I need to mind my manners. Ah, they call me Hank, what's your name?

MISTY: I'm Misty.

HAWK: Misty, Misty, you got to be kidding me. You know that's my favorite song.

SHE IS IMMEDIATELY FLATTERED.

MISTY: Play Misty for Me. Yeah it was my momma's favorite song too.

JACK: Excuse me, does anyone have the time over there?

HAWK: Now Jack, come on, just because I get a little attention for a change.

MISTY: Oh my, I mean here it is past sun up and you fellows probably haven't had any breakfast. I just fixed up a whole mess of biscuits and gravy and would you all like to have some?

HAWK: Well I tell you, I mean I sure know how to pick the right barn don't I?

SHE GIGGLES AGAIN.

MISTY: Well, you just wait here. I'll be back before you know it.

AS SHE IS LEAVING, HAWK GOES OVER AND WHISPERS TO HER.

HAWK: Ah Misty, Misty, my friend Jack here, he's got this whole thing about privacy. He doesn't like people to know where he is, you know. I mean who can blame him and everything, seeing him living the kind of life that he has to live and everything.

MISTY: I won't tell a soul, even if there was a soul to tell.

SHE LEAVES TO GET THEM BREAKFAST.

JACK: Alright, you can drop the smile now before your face cracks.

HAWK: Oh, did you say something Mr. Nicholson?

JACK: I tell you one thing, I'm glad that I didn't let you off your leash while you were staying at our place.

HAWK: Oh now Jack, you're not by any chance referring to the beautiful and very loyal wife of yours.

JACK: I just wonder how long she's going to stay my wife, you know, when she finds out that I've lost every dime that we own.
---
SCENE THREE: BACK IN SALEM, JENNIFER IS AT ALICE'S WHEN MICKEY ARRIVES TO SEE HER.

MICKEY: Hi Jennifer.

JENNIFER: Hey, Uncle Mickey.

MICKEY: Listen, Vern called me a little bit ago and told me about Jack. I want you know that I'm going to be spending the rest of the afternoon on the phone trying to locate him.

JENNIFER: Thank you, thank you, Uncle Mickey.

MICKEY: I'm sure that there is some logical explanation for his not contacting you.

JENNIFER: I know. I'm sure that there is and when I find out what it is I will breathe a sigh of relief and then I will strangle him.

MICKEY: Well justifiable and I'll get it off.

JENNIFER: I love you. Thanks. I'll talk to you later, okay.
---
SCENE FOUR: BACK IN THE BARN, JACK HAS STARTED TO PACE UP AND DOWN WHILE HAWK SITS AROUND CHEWING STRAW.

HAWK: You got to learn to relax.

JACK: Well that's easy for you to say. You don't have a wife at home who's worrying herself sick about you.

HAWK: We already been through that Jack.

JACK: You know I think I could.... I could just call her and she wouldn't get in trouble if I didn't tell here anything. I mean they don't have anything on her if she doesn't know anything.

HAWK: Well they'd know if you called her.

JACK: Why, do you think they've got the lines tapped?

HAWK: Stranger things have happened.

JACK: That means they've already told her.

HAWK: What, who told who what?

JACK: The FBI. They just told her that her newly wed husband is a wanted man. (Beat) I wonder what kind of picture they're going to use for the poster.

HAWK: Now listen, I'm just as worried about this as you are too and I'm not belly aching about it either. I mean after all we didn't kill anybody.

JACK: What the hell do you think you're saying? We were in the room when Wedder shot the FBI agent. That makes us just as culpable as he is.

HAWK: I really didn't think about that. I mean that does make it pretty dismal.

JACK: It certainly does. When you shoot an FBI agent in the line of duty, that's a Federal offense. It's a Federal crime and it's a.... it's a hanging offense.

HAWK: Well they're not going to hang us.

JACK: Oh they're not?

HAWK: No, no, hanging went out years ago.

JACK: You're sure about that?

HAWK: Sure as can be.

JACK: Well sure, I mean I'm sure too. That's.... that's.... that's too inhumane.

HAWK: Yeah it's too messy too. These days they use gas.

JACK: Gas?

HAWK: Yeah you know they just toss in that canister.... SSSSSS. Hardly any mess at all.

JACK: Somebody help us.... please.
---
SCENE FIVE: BACK IN SALEM, VERN ARRIVES TO SEE JENNIFER AT ALICE'S RESTAURANT.

VERN: Well I wish I had better news for you.

JENNIFER: Well no one I spoke to has any idea where Jack is either.

VERN: Well, let's not press the panic button just yet. I still think there's a perfectly simple explanation.

JENNIFER: Oh I'm sure Jack has an explanation but simple it isn't.

VERN: Hmmm.

JENNIFER: Come on, just think, did he say anything? Was there any kind detail that he said that would clue us into to where he is?

VERN: No not really, no, no.

JENNIFER: You know Vern, I could always tell when Jack was keeping something from me. And I think my ability is extending itself to you. Now I thought before that you were hiding something and now I'm sure of it.

VERN: Hiding something?

JENNIFER: Jack would always repeat the last thing I said when he didn't want to tell me something. Now come on Vern, if you know something, you have to tell me, alright. Now I don't know where Jack is and I'm getting really scared.

VERN: Look I don't know whether this means anything honey but just before he left Jack packed up all those stock certificates he keeps in the office.

JENNIFER: Why would he do that?

VERN: Well he said he wanted to put them in the safe at home.

JENNIFER: They're not in the safe at home Vern, because I was in the safe last night. I was getting out a pair of earrings to bring to the jeweler for repair. Now if there was certificates in there, I would have seen them.

VERN: I wish I was surprised. I was afraid of this. I hope Jack knows what he's doing because those were the kind of stocks certificates that can be cashed on demand by the bearer.

JENNIFER: You mean you're saying that anybody could have these certificates and they could just go and cash them?

VERN: At the nearest bank. And if Jack is robbed or loses them, you two guys are out a hell of a lot of money.

JENNIFER: No, wait a minute Vern. I know about this. I read something about the SEC and they were instituting stronger control over the bearer bonds. Now I mean the bank has to notify the SEC if they are being cashed.

VERN: It beats me. How do you know all this stuff?

JENNIFER: Because I know. It has something to do with stock fraud and if there's any suspicion about them being stolen, the SEC reports it to the FBI. They have a special section where they handle financial crime.

VERN: You mean if you report them missing....

JENNIFER: Yes, we'll be notified as soon as someone tries to cash them in, even Jack. Come on.

VERN: Now wait a minute Jennifer, listen this is far too important to call on a public phone. Why don't we go back to The Spectator and call from there. While you're talking to Washington, I'll call the New York police and let them know what's going on.

JENNIFER: Alright that's a good idea. You know what Vern, I don't care about these certificates, I don't care about this money, I just want to know that Jack is okay, wherever he is. Alright come on.
---
SCENE SIX: BACK IN THE BARN, HAWK IS FINISHING BREAKFAST WHILE JACK IS STILL PACING.

JACK: Jennifer must be going out of her mind not hearing from me.

HAWK: Hmmm, well if you want my opinion Jack, it's probably a relief.

JACK: You know the question is how can I contact her knowing that the authorities are watching her like a Hawk? (Beat) I had to use that word.

HAWK: Has a nice ring to it, don't it?

JACK: I know what I'm going to do. I know, I am going to write a letter.

HAWK CONTINUES TO PRESS ALL JACK'S BUTTONS.

HAWK: Oh, right Jack. She'll be real grateful that you made her an accessory here after the fact. You know I can't really see our Jennifer doing real well in the women's prison, can you?

JACK: What do you expect me to do? Just sit around here and eat.... eat a bunch of hardened biscuits like somebody else we all know. No, I tell you I'm going to call Snowy or Rainy or whatever the hell her name is. I'm going to have her drive me into town and I'm going to think of something on the way.

HAWK: No, you just better lay low. I'll go into town with Misty.

JACK: How can you....

MISTY ENTERS THE BARN.

MISTY: Hi y'all. Did you enjoy your breakfast?

JACK: Oh, it was.... it was fabulous.... fabulous.

HAWK: Feathers.... I mean feathers are heavy compared to your biscuits, Miss Misty.

MISTY: Thank you.

HAWK: And such dainty little hands. Who'd ever think you could pick up anything around here other than a just a lace hankey.

MISTY: HEHEHEH. Why I can do anything around this farm a man can do.

HAWK: Why, even drive that big old truck?

MISTY: Sure thing.

HAWK: Go on. It don't even have automatic transmission.

MISTY: It don't matter.

HAWK: Prove it.

MISTY: Anytime.

HAWK: Well what do you say about right now? As far as the end of town and back. You think you can manage that?

MISTY: No trouble at all. Let me go warm up the truck for a few minutes. It's a little hornery at gettin' started at first you know.

HAWK: Huh, huh.

MISTY: Goodbye Mr. Micholson.

JACK: Ciao. It's been real.

SHE GOES OUT TO THE TRUCK.

HAWK: I'm going into town to pick up a paper. I gonna find out what's what. Meantime I don't want you doing anything.

JACK: Ah....

HAWK: HUH! Don't even think.

HAWK WALKS OUT. JACK SHOOS AWAY THE GOAT THAT IS BOTHERING HIM.

JACK: Shooo, shooo. I said I don't want your opinions.

HE THROWS IT ONE OF MISTY'S BISCUITS AND THEN THE COW MOOS AND THE WHOLE BARNYARD STARTS UP. JACK STARTS TO THROW BISCUITS AT ALL THE ANIMALS.

JACK: And that goes for you too. Alright, alright, you all asked for it. Here you go. We're going to talk about breakfast and all of you are invited because you're all very concerned.

HE SINKS TO THE FLOOR IN DEPRESSION.
[Transcribed by Carol Vaughan
added material by Sally A. Wilson]
---
---