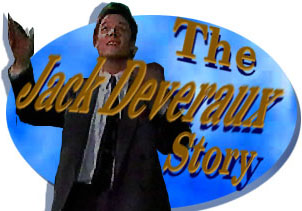 oldEpisode Three-hundred-fifty-seven: Harper and
Duke Try to Get Jack to Talk to Jennifer; Hawk
Wants Desirée to Tell Jennifer Jack Is Dead.
Jennifer Tells Alice She Thinks It Is Time to
Move on; Alice Does not Want Her to Give up Hope.
---
[Air date late November 1991]
SCENE ONE: IT IS EARLY MORNING AND JENNIFER IS GETTING READY FOR WORK WHEN HAWK DROPS BY. HE ASKS HER HOW THE SESSION WITH DESIRÉE WENT AND SHE SAYS THAT IT WAS EERIE BECAUSE SHE SAID THAT JACK WAS FAR FAR AWAY AND THEN SHE SAID SHE SAW A GHOST AND RAN OUT. HAWK TRIES TO CONVINCE JENNIFER THAT SHE IS IN DANGER FROM THE BREAK-IN AND PHONE CALLS AND SHE SAYS THAT SHE WILL CHANGE THE LOCK BUT SHE WILL NEVER CHANGE THE PHONE NUMBER AS SHE IS DEFINITELY EXPECTING TO HEAR FROM JACK. THIS DOES NOT PLEASE HAWK.
---
SCENE TWO: DOWN AT THE MEAT PLANT, JACK HAS A NEW COPY OF 10 MOST WANTED CRIMINALS.


JACK: Right, okay, let's see if I showed up in here today.

HE BROWSES THE PAGES.

JACK: Ah.... .most wanted.... .

HE HEARS THE OTHER WORKERS COMING SO HE PULLS DOWN HIS SKI MASK AND GOES BACK TO WORK. THE FOREMAN WALKS IN WITH TWO MEN IN SUITS.

FOREMAN: What can I do for you?

MAN: Somebody's on the lamb. And we think it's him.

JACK GETS A SHOCK AND TRIES TO GET OUT OF THE ROOM.

FOREMAN: Hey, hey, Buck!

JACK STOPS.

FOREMAN (CONT.): Come over here. These guys have got some questions for you.

JACK: Ah really.... .what can I do to help you?

MAN: Bad complaints about bad lamb. Somebody has been planting their carcass on the carcasses. You're just about the right size.

JACK: Really? You mean lamb as in BAAA, BAAA, BAAAA lamb?

FOREMAN: Yeah, what do you think he meant?

MAN: Yeah and if you haven't been sitting on the meat, who has?

JACK: Hey! Now wait a minute. Wait a minute.... .you guys are.... .you're meat inspectors aren't you? HEHEHEHEH. (Releaved that they are not the FEDS) That's terrific.

MAN: Since when? And what's with the mask?

FOREMAN: I've been asking that same question.

JACK: Wait a minute, I told.... .I told them all about this. I've got that skin condition, you know. You know I'm so allergic to the cold. I get this terrible rash. It gets all red and it breaks out in pimples and it's.... .it's too nasty. You don't want to see it or hear about it I'm sure. But I tell you something, if anybody's sitting on the lambs around here or bothering them in anyway you'll be the first to know.

THE FOREMAN SIGNALS THAT HE THINKS JACK IS NUTS.

MAN: Yeah, okay well keep your eyes open.

JACK: I certainly will. I mean no lamb will be sat on before it's time. That's a little meat locker humor. (Beat) Very little.... ah very little.

THE MEN ALL LEAVE.
---
SCENE THREE: AT THE MEAT PLANT, JACK LOOKS DOWN AND SEES THE SPECTATOR ON A CHAIR.

JACK: Ah, The Spectator, yes. Great. It's my paper.

HE GIVES THE NEWSPAPER A BIG KISS.

JACK (CONT.): Okay, here we go. Okay, let's see "Refrigerators, Used Cars.... .Personal's.... Personal's."

HE READS DOWN THE LIST AND AS HE DOES, HARPER AND DUKE APPEAR AGAIN.

DUKE: You are amazing Billy Boy. Did you hear that? He's got a rash. It's because of the cold.

THEY BOTH LAUGH AT JACK AGAIN.

HARPER: Oh that was a bit thin son.

JACK: Well have you got any better ideas? Come on, you give them to me. (Beat) Oh what am I talking about? Look at you two. Why are you dressed up in those kind of getups anyway?

DUKE IS IN A NATIVE AMERICAN COSTUME WITH A FEATHER IN HIS HAIR AND HARPER IS WEARING A PILGRIM COSTUME.

DUKE: It's Thanksgiving time, turkey brain.

HARPER: Yes, they're very big on themes where we come from.

JACK: Oh really. I thought they just stuck with the red cape and the pitch forks.

HARPER: Any word from Jennifer?

JACK: Ah, no, no, I was just checking.

DUKE: What's with the Want Ads kid? Looking for an apartment?

JACK: No! Look this is the only way I'm going to get word from her, through the Personal's.

HARPER: Did you ever think of going right up to her and asking her? That's how I met Cleopatra, you know.

DUKE: Yeah I knew that, yeah.

JACK: Wait a minute, what.... .don't you remember a single thing? I am a wanted man here.

DUKE: Yeah, but I can't for the life of me understand why anybody would want you the way you're behaving.

HARPER: Face it Jack, the Feds have forgotten all about you. And who could blame them. I mean the kid hardly makes a strong impression on you, huh.

JACK: Well thank you very much.

DUKE: Except for the little wifey. Now you know she's going to like them lanterns up in the belfry. Keep them glowing until Nathan Hale here gets home.

HARPER: That was Paul Revere, you dunderhead.

DUKE: Whatever.

JACK: Wait a minute, wait a minute. You think she really would? I mean with the lanterns?

DUKE: Yeah she would. That's right.

HARPER: Only one way to find out for sure son. Pay her a visit. You know you want to.

JACK: Well, I certainly have inclinations in that direction.

DUKE: No, no, no, never mind the inclinations. You've got to have the need to do it. You show up at the doorstep, you tell her you're sorry. Better still you show her you're sorry.

JACK: Well.... .yes.... .I'm sure that if I did, she.... ..you're starting it again. You're starting.... .this is just another one of your plots just to get me in more trouble.

DUKE: Would we do that to you?

HARPER: Duke, the kid's dumb, but he's not stupid.

JACK: Alright, that's it, that's it! GET OUT OF HERE, LEAVE ME ALONE. I mean it, go back to Plymouth Rock or wherever the hell you're haunting today. Go bother some other turkey.... even if it is Thanksgiving.
---
SCENE FOUR: BACK AT THE PENTHOUSE, HAWK IS STILL HANGING AROUND. HE KEEPS ASKING HER IF HE IS BEING TOO PUSHY HANGING AROUND HELPING HER WHICH FORCES HER TO THANK HIM FOR BEING THERE FOR HER. THEN SHE GETS OUT A CHECK FOR $500 AND GIVES IT TO HIM BECAUSE JACK CANNOT BE THERE TO HELP HIM GET HIS ESTATE. SHE INSISTS HE KEEPS IT BECAUSE HE IS SUCH A FINE YOUNG MAN. SHE LEAVES FOR WORK AND HAWK LEAVES TOO.
---
SCENE FIVE: AT WORK, ARNIE, THE BOSS. GIVES HER A HARD TIME ABOUT TAKING TIME OFF. THEN SHE TELLS HIM SHE HAS LOST THE TAPE FROM THE PIER. HE ARRANGES FOR HER TO VIEW THE MASTER TAPE. JUST THEN, JULIE COMES OVER AND ASKS JENNIFER TO COME TO ALICE'S FOR THANKSGIVING.

JULIE: It's a good time to be with family, don't you think?

JENNIFER: Yeah, yeah, I wish Jack were here. You know I thought we were a family.

JULIE: I know sweetheart.

JENNIFER: Well I hope I don't feel like this every holiday.

JULIE: Holidays are very tough. It gets a little better.

JENNIFER: Yeah. Well I hope so. You know Jack gave me this locket the night before he left and I can't really bear to take it off. I know that sounds a little silly.

JULIE: It doesn't sound silly to me.

JENNIFER: I just wish I knew what happened to him, you know. It's the uncertainty that is driving me crazy Julie. I mean I think about everything that we have been through together to finally be together, you know. And I thought that we were so happy. I know, I should be furious with Jack and I am. I am very furious. But I also miss him. I miss him very much.
---
SCENE SIX: MEANWHILE DOWN ON THE PIER, HAWK TALKS TO DESIRÉE ABOUT HOW SHE IS DEALING WITH JENNIFER. HE WANTS HER TO CONFIRM THAT JACK IS DEAD. SHE SAYS SHE HAS EVERYTHING UNDER CONTROL. GINGER IS ALSO ON THE PIER AND SEES THEM TALKING.
---
SCENE SEVEN: AT THE STUDIO, JENNIFER STARTS TO WATCH THE MASTER TAPE OF GINGER AT THE PIER BUT GETS TOO EMOTIONAL OVER THE FACT THAT HER DAUGHTER NEVER TURNED UP. ARNIE DECIDES TO GIVE THE STORY TO SOMEBODY ELSE.
---
SCENE EIGHT: AT THE MEAT PLANT.

JACK: Twelve o'clock and the lambs are all well.

FOREMAN: Hey Buck, good job.

JACK: Good.

THE FOREMAN LEAVES AND JACK GETS OUT THE SPECTATOR AGAIN.

JACK: Good. I'll get back to business. Alright, "Personal's, Personal's, Personal's.... Editorial."

HE STARTS TO READ IT.

JACK: "Woman convicted before trial. Was Carly Manning Kiriakis forced to flee a lynching? by Jennifer Deveraux." (Beat) "There are people in this city who have condemned Carly Manning before she ever had a chance to defend herself. I'm here to speak in her defense." (Beat) Ah.... well not bad for a news reporter but what you're doing writing in my paper, I don't know.

HE TURNS THE PAGE AND HIS EYES WIDEN.


JACK: "Jennifer Deveraux, Heroine of the News World, by Vern Scofield. When the owner of The Spectator, Jack Deveraux, disappeared a few weeks ago, he left a newspaper to die. Employees were threatened with the loss of their jobs and one of Salem's clearest voices was doomed to silence." Thank you Vern." But Jack also has a wife with more character and fortitude than anyone ever suspected. Jennifer Deveraux deserves more than this article praising her generosity. She gave her inheritance to save all those jobs and ergo this newspaper for the time being. She performed beyond the call of duty and we are truly grateful."

HARPER AND DUKE ARE BACK IN JACK'S MIND.

DUKE: That's a real one of a kind chick you've got there sonny boy.

JACK: That's past tense. One of a kind chick I had there.

HARPER: Why do you think we left a perfectly good dinner party at Miles and Priscilla Standish's? To try and convince you once more to go back to Jennifer.

DUKE: What's the worst thing that could happen?

JACK: I could get thrown out and have the police called on me.

DUKE: Besides that.

HARPER: Will you stop talking with your mouth full?

DUKE HAS BEEN EATING A TURKEY LEG.

DUKE: Who are you supposed to be, Wiley Post?

HARPER: That's Emily Post, you idiot.

DUKE: Whatever.

HARPER: Jack, you don't really think she'll give you the old Dear John treatment do you?

DUKE: That's right. She's in love with you kid, you know that. She loves you.

JACK: Oh alright, what is this hard sell? You tell me right now. What's in it for you if I got back to Jennifer?

HARPER: Absolutely nothing except maybe getting you out of this miserable place.

DUKE: That's right. If you had to find a hide out you could have picked something warmer.

JACK: I'll leave the infernos to you two, thank you.

HARPER: Jack, don't you want to be with Jennifer again?

JACK: OF COURSE I WANT TO BE WITH JENNIFER AGAIN! Look I just care about her too much to get her all mixed up in this mess anymore.

DUKE: So what are you going to do, nothing?

JACK: NO! I'm doing something right now. I'm waiting for a response on these Personalís. But I tell you something, if she's more interested in writing these big rebuttals and editorials protecting her good friend Carly Manning, than writing me one simple little message, then it's very obvious.... .it's very obvious that she doesn't want me in her life anymore.

HARPER: You don't know that.

JACK: I most certainly do. I most certainly do. Do we all remember It's a Wonderful Life, without Jack starring Jennifer Horton? I think that makes if very clear that Jennifer doesn't need me in her life.
---
SCENE NINE: BACK IN SALEM, HAWK SHOWS HOWARD THE NOTE THAT JACK LEFT; HE SAYS THAT MEANS JACK IS STILL OUT THERE AND HE HAS TO STAY IN SALEM TO FIND HIM FIRST. HOWARD TELLS HIM HE IS CRAZY AND THAT THEY SHOULD JUST SKIP THE COUNTRY WILL ALL JACK'S MONEY. HAWK SAYS THAT IF HE STAYS HE CAN ALSO GET HIS HANDS ON THE SPECTATOR WHICH IS WORTH MILLIONS. HOWARD THINKS THAT HAWK IS JUST LIKE HIS FATHER AND WILL LOSE EVERYTHING BECAUSE OF A WOMAN. HAWK LOSES IT WHEN HOWARD SAYS JENNIFER IS NO GOOD AND TELLS HIM THAT HE CARES MORE ABOUT JENNIFER THAN ANYBODY IN HIS WHOLE LIFE. NOTHING HOWARD SAYS CONVINCES HAWK TO LEAVE SALEM.
---
SCENE TEN: JENNIFER ARRIVES AT ALICE'S RESTAURANT.

JENNIFER: You know Grandma I was wondering would you mind if I invited someone to Thanksgiving Dinner?

ALICE: No, of course not, who do you want to invite?

JENNIFER: Hawk. I mean he's been such a good friend and he's all alone in town and I thought he might really enjoy having Thanksgiving Dinner with us.

GINGER HEARS THIS AND IS SUSPICIOUS BECAUSE SHE KNOWS WHO HAWK IS.

ALICE SEEMS A VERY SURPRISED AND DEFINITELY NOT HAPPY.

JENNIFER: Well is that a problem? I mean to invite Hawk?

ALICE: Ah, darling you're welcome to invite anyone you please but.... .

JENNIFER: But what? What are you thinking?

ALICE: I hate to be an old stick in the mud but do you think it's wise?

JENNIFER: Well wise to do what? Invite a friend to Thanksgiving Dinner?

ALICE: Now I know how nice Hawk has been to you but.... um, I wonder if friendship is the only thing he has in mind.

JENNIFER: Grandma, what are you saying?

ALICE: Well I don't want to be.... .I have never yet known a handsome young man who was only interested in friendship when it comes to a beautiful young married woman.

JENNIFER: Grandma, do you know what, you have been watching too many of those soap operas. Hawk and I are friends, that's it. That's all we are.

ALICE: Darling I know you believe that but I.... oh.

JENNIFER: What?

ALICE: A customer calls. I'll be right back. Don't you go away.

JENNIFER: I'm not going anywhere.

WHILE ALICE IS GONE, GINGER ASKS JENNIFER ABOUT HAWK AND ASKS WHY A MAN WHO WAS LEFT ALL THOSE MILLIONS WOULD STAY AROUND SALEM. JENNIFER TELLS HER THAT HE CANNOT GET HIS INHERITANCE BECAUSE IT IS IN A TRUST FUND UNTIL JACK COMES BACK AND AGREES TO LET HAWK HAVE THE MONEY. JENNIFER ALSO TELLS HER THAT DESIRÉE TOLD HER BACK IN LA THAT A MAN WOULD CHANGE HER LIFE. GINGER PRESUMES THAT DESIRÉE MUST KNOW THE HAWKINS FAMILY REALLY WELL. JENNIFER SAYS THAT SHE DOES NOT KNOW THEM AT ALL. GINGER IS NOW REALLY SUSPICIOUS BECAUSE SHE SAW HAWK AND DESIRÉE TALKING ON THE PIER ABOUT JACK. HOWEVER, SHE DOES NOT MENTION THIS BIT OF INFORMATION TO JENNIFER.
---
SCENE ELEVEN: BACK AT THE MEAT PLANT, JACK COMES BACK IN CARRYING A LARGE PIECE OF MEAT.

DUKE: Here he is now.

JACK TRIES TO DUCK OUT AGAIN.

DUKE: Hey, hey, Billy, Billy, we got to talk to you. It's important.

JACK: Alright, what is so important that you have to talk to me?

HARPER: Jack you have to listen to us.

DUKE: That's right. For the first time he's telling the truth.

HARPER: Gee thanks.

DUKE: Yeah okay. Listen, you want to patch things up with Jennifer? Well you better get back there and I mean fast.

JACK: What happened?

DUKE: Well.... .

JACK: Come on, if you know something, tell me. What happened?

HARPER: All we can say is that you're in danger of losing Jennifer if you don't action immediately.

DUKE: That's right, that's right. You get back to that penthouse as fast as your buns can carry you. I mean now.

JACK: Oh really, you mean now. I mean just forget about the fact that I'm a wanted man from here to New York City. You two are crazier than I am.

HARPER: Jack, we're trying to help you that's all.

DUKE: Yeah, yeah and you don't want any help. You're not going to listen to us. You want to be stubborn, right. It's all coming down on your head.

JACK: Let me tell you something. I'm not going to do anything to get anymore involved with Jennifer until I get my act back together. Till I get my money back. I can't, I won't.

DUKE: You see what I mean? Be stubborn, go ahead. Be a jerk but you're going to be sorry.

HARPER: You'll be sorry you didn't listen to us.

DUKE: You better be sorry.

THEY SLOWLY FADE OUT OF JACK'S MIND.

JACK: Sorry.... .whose sorry now?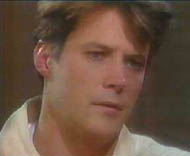 ---
SCENE TWELVE: BACK WITH JENNIFER AND ALICE.

ALICE: Darling I just feel that the more you see of Hawk, the more distance that you're putting between you and Jack.

JENNIFER: Grandma, you know Jack is the one who put the distance between us.

ALICE: I just don't want you to give up on him, that's all.

JENNIFER: You know as much as I want to, I don't seem to be able to. I mean I find hope in the littlest things, like that jade plant, you remember that?

ALICE: Yes, the one that Jack gave you.

JENNIFER: Yes, well Hawk was going to throw it out the other day because he thought it was dead. Well of course I didn't let him and I started watering it and it's fine now. It's coming back.

ALICE: Just the way Jack will.

JENNIFER: Yeah.... and then I'll kill him.

ALICE: Oh Jennifer.

JENNIFER: I'm just kidding. But in the meantime I don't think anyone should be alone on Thanksgiving and I think it would be nice for Hawk to spend Thanksgiving with us. Would that be okay?

ALICE: Of course you may. Whoever you want or whatever you want.

JENNIFER: Alright, thank you Grandma. I'll know he will enjoy it. But anyway I will talk to you later, okay.

ALICE: Goodbye dear.
[Transcribed by Carol Vaughan
added material by Sally A. Wilson]
---
---