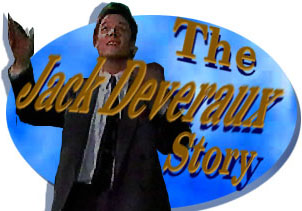 oldEpisode Three-hundred-sixty-seven:
Jack Sets out to Get His Money, the
Paper, and Most of All Jennifer Back.
---
[Air date late December 1991]
SCENE ONE: IT IS THE NEXT DAY. JENNIFER IS AT ALICE'S RESTAURANT. HAWK IS THERE TOO; HE IS TRYING TO WORM HIS WAY BACKING INTO HRE GOOD GRACES, TRYING TO CONVINCE HER TO FORGIVE HIM.

HAWK: Jennifer, can't you please try to understand what I was doing and why I was doing it?

JENNIFER: Look I already told you that there's nothing that you can say and I don't want to talk about it, period.

HAWK: But you're not being fair to me.

JENNIFER: I am not being fair? I think I'm being extremely fair considering how you lied to me.

HAWK: I didn't lie to you. I just didn't tell you what I knew.

JENNIFER: That's the same thing as lying Hawk.

HAWK: Look Jennifer I was only doing it for you. I was trying to protect you, that's all I was doing.

JENNIFER: Until you could decide whether Jack was part of the scan and had taken off with the money or not, right.

HAWK: That's exactly right because once I found out that Jack got conned just as bad as I did, I went out and I tried to find him. Only he showed up here before I could.

JENNIFER: You know I have a really hard time believing all this Hawk.

HAWK: And I know how you feel too and I would give anything just to make all this go away right now. Jennifer please, just let me try and make it up to you.

JENNIFER: You've done enough already.

HAWK: You don't understand. You don't know how bad it hurts me to think that I might lose our friendship over this. You know that I've really tried to be a good friend to you. I know you believe that.

JENNIFER: Come on Hawk.

HAWK: Jennifer, please, give me another chance on this alright. I mean can't we just start off the new year with a clean slate? I mean I promise, I'm going to make everything right again.

JENNIFER: I don't think that's possible. I really don't.

HAWK: Look, it's New Year's Eve alright. Why don't you go over to that party at Wings? Let's just try to forget all this ugliness at least for one night.

JENNIFER: Pretending to have fun at a party isn't going to change anything. And right now I really don't want to talk about second chances. I'm sorry.

HAWK: Jennifer, hey, hey, let me buy you breakfast or something.

JENNIFER: I'm not hungry, Hawk.

SHE WALKS OUT ON HIM.

MEANWHILE GINGER HAS BEEN LISTENING TO HAWK SPINNING HIS LINES AGAIN.
---
SCENE TWO: JENNIFER GOES TO THE SPECTATOR FOR A MEETING WITH VERN. JACK HAS DECIDED IT IS TIME HE CAME BACK TOO AND ARRIVES STILL DRESSED IN THE BLUE LEISURE SUIT. HE HAS ADDED A BRIGHT PINK SCARF FOR WARMTH.

JACK: I can't believe Jennifer put me in a position where I have to face my employees dressed like this.

HE GETS TO HIS OFFICE DOOR AND HEARS JENNIFER INSIDE TALKING.

JENNIFER: Vern, how can this be? I have been.... I have been paying on that loan. I thought that we were pulling out of the hole.

VERN: Yeah well so did I but unfortunately Jack ordered those presses before he left and now a payment's due.

JENNIFER: Well this is just perfect, Vern. Didn't he tell anyone that he was going to order these presses so we could cancel?

VERN: Oh I don't know Jenny girl but it couldn't happen at a worse time. What with advertising revenues way off because of the recession, not to mention the daily cost of running the paper.

JENNIFER: You know I might have enough money left in my trust fund to pay it. I don't know.

VERN: Oh.

JENNIFER: I'll have to research what I have and....

THIS BIT OF NEWS PLEASES JACK AND HE DECIDES IT IS TIME TO FACE THEM.

JACK: Vern.... how's tricks?

JACK BREEZES IN AND HANGS UP HIS SCARF THEN WALKS STRAIGHT OVER TO THE WATER JUG LIKE HE HAS NEVER LEFT. BOTH JENNIFER AND VERN ARE NOT HAPPY TO SEE HIM.

VERN: Hello Jack.

JACK: You know Jennifer, I couldn't help overhearing that there was....

JENNIFER: Overhearing what? Overhearing us talk about the expensive printing presses that you ordered. The state of art printing presses that The New York Times can't even afford. I could strangle you for that Jack. There is no reason....

VERN: Guys if you'll excuse me, I've got to....

JENNIFER: No Vern, you stay right here because he's going to need some medical assistance by the time I'm through with him.

JACK: You know....

JENNIFER: You listen....

JACK: All theatrics aside, I can see that you're mad at me. I mean anyone can see that you're mad at me. But they can also see that you still care about me...right? Otherwise, why would you spend your good trust fund money to save my newspaper.

JENNIFER: I don't believe you Jack. And where did you get that suit? I threw that suit in the garbage.

JACK: In the garbage. It's where I got it and that's why I was able to come down here and check on things.

JENNIFER: Check on what? Check on the expensive printing presses that you ordered? The ones that we can't afford to pay for Jack?

SHE THROWS THE INVOICES FOR THE PRESSES AT HIM.

JACK: I was going to pay for them with the money from the stocks.

JENNIFER: Oh that's right! You were stupid enough to believe all that, weren't you?

JACK: I will pay you back.

JENNIFER: It's a little late for that.

JACK: I said I WILL PAY YOU BACK! I'll pay everyone back as soon as I.... as soon as I pay back the people who conned me out of my money.

JENNIFER: Would you give me a break?

JACK: What do you mean, give you a break?

JENNIFER: There you go passing the buck again Jack.

JACK: HOW CAN I PASS THE BUCK WHEN I DON'T HAVE A BUCK TO PASS?

JENNIFER: When are you going to start taking responsibility for your actions in this?

JACK: I AM NOT TRYING TO SHIRK MY RESPONSIBILITIES HERE. I'M JUST TRYING TO GET BACK WHAT'S MINE.... OURS!

JENNIFER: Oh, then you won't mind spending time here working. I'm leaving.

JACK: Leaving where? Where are you going?

JENNIFER: I'm going away from you.

JACK: Wait.... Jennifer, you....

SHE GRABS HER COAT AND WALKS OUT.

JACK: Vern I am telling you I was conned out of.... Vern !

VERN IS LEAVING TOO BUT TURNS BACK FIRST AND LOOKS WITH DISGUST AT JACK.

JACK: Where are you going? Do you have anything to say to me?

VERN SHRUGS HIS SHOULDERS.

VERN: Nice suit.

JACK: What do you mean, nice suit?

VERN: Yeah, I had one just like it. I gave it to the Charity Thrift Store.

JACK REALIZES THAT WHAT HE IS WEARING, COULD HAVE BEEN VERN'S.

JACK: Wait a minute, that's it? That's all you're going to say to me?

VERN: You want to hear what I've got to say to you? Okay. You really blew it this time Jack. You put all of us in serious harms way. Me, the paper, the people that work for you and as far as Jennifer is concerned, you blew that for good. Huh, and you're only going to make her madder with all that talk about being conned.

JACK: I.... I did.... I was conned out of that money. I.... listen I'm going to get my money back. You have to understand that.

VERN: Yeah, well you do what you have to do Jack. But you understand this. You hurt that girl again like that and you'll have to answer to me. You get that?

VERN WALKS OUT AND JACK IS SURPRISED AT THE DEPTH OF VERN'S FEELINGS.
---
SCENE THREE: JACK GETS TO WORK TRYING TO GET HIS MONEY BACK. HE IS ON THE PHONE.

JACK: Listen I just want you to understand something Agent Bush. I have tried to get a hold of three different people and I hope you're the right one.

AGENT BUSH: Well it is New Years, even in Washington DC. So we're a little short handed here but I do remember hearing something about your case Mr. Deveraux.

JACK: Great, what is it?

AGENT BUSH: Just that you lost five million in stocks and one million of it was cashed immediately.

JACK: Yes.... ah, that one million, I suppose there's no chance of me getting it back?

AGENT BUSH: No, I'm afraid not.

JACK: Alright, what about the other four million? That's still out there. Tell me something, if those stocks are flagged and someone tries to cash them in, what will happen?

AGENT BUSH: We nail them.

JACK: great, great, perfect, perfect. Okay, I want you to keep in touch because I think someone is going to try to turn those stocks in very soon.

AGENT BUSH: Okay, I'll be watching.

JACK: Great, thank you very much Agent. Happy New Year.

JACK HANGS UP.

JACK: VERN, GET IN HERE!

VERN COMES INTO THE OFFICE.

VERN: You bellowed?

JACK: Yes.... no.... yes I did. Yes.

JACK IS ON THE FLOOR FIDDLING WITH THE PHONE CORD.

JACK: I need to get over to the penthouse right away and tell Jennifer something about this.

VERN: What, you need to take the phone cord with you to talk to her?

JACK: Ah.... er.... we're having a bit of a shortage in the phone department.

VERN: What?

JACK: Ah.... wait till she hears this.

VERN: What, the good news?

JACK: Yes, the good news.

HE GRABS HIS SCARF.

JACK: Baby Howie's going to try to cash in on those stocks and when he does, he's dead meat.

VERN: He is huh?

JACK: Yes. Because.... because the FBI's in on this case they are going to help me prove once and for all that he conned me out of my money.

JACK IS ABOUT TO LEAVE BUT STOPS FOR A SECOND.

JACK: Ah Vern, about that suit that you turned into the Thrift Store? What size.... oh never mind.

HE LEAVES.
---
SCENE FOUR: MEANWHILE JENNIFER GOES TO SEE CARLY AT THE HOSPITAL.

JENNIFER: I know exactly what you're saying Carly but I don't think we will ever be able to get back to exactly what we had before.

CARLY: It may take a little while but I know how hard you guys have worked to be together and I know how much you love each other.

JENNIFER: Yeah but maybe sometimes love isn't enough.

CARLY: No, sometimes it isn't but then again you'll never know unless you take the chance, right.

JENNIFER: Carly why should I take the chance? Jack didn't take the chance. I mean come on think about it. He was out there on his own and he was fine. He never once tried to contact me.

CARLY: Wait a minute, I thought he said he left you a note.

JENNIFER: I never got a note. As far as I'm concerned there was no note. That's just another one of Jack's lies.

CARLY: Jennifer, come on.

JENNIFER: You know what hurts me the most Carly? That he did this all for money. He put money above everything else. He put it above me and he put it above our marriage. I mean I knew that Jack was greedy but I thought when it came right down to it that our love was more important to him. Obviously he proved me wrong.

CARLY: Now I know how it may look but you know Jack.

JENNIFER: Yes I do. He's selfish, he's immature, he's....

CARLY: And he's very different. I mean with Jack you're never sure what you're getting. Maybe.... maybe.... he always does one thing and it means another, right?

JENNIFER: Well yes, but I don't understand why he....

CARLY: Well maybe this is just one of those cases. Maybe on the surface it appears to be one way but it's something entirely different.

JENNIFER: I don't know.

CARLY: It's a possibility, right? It's a possibility and as long as it is don't you think you owe it to yourself and your marriage to kind of check it out?

JENNIFER: Yeah. (Beat) I still think that he's a jerk. (Beat) What, you're not going to argue with me

CARLY: I have to give you some benefit of the doubt.

JENNIFER: Alright, you're right. I'm not going to make any hasty decisions. I.... but if you find out that he's in this hospital somewhere you'll know why.

CARLY: I'll have my pager handy I promise. Come on, I'll walk you out.

JENNIFER: Thanks Carly.
---
SCENE FIVE: BACK AT THE PENTHOUSE, JACK IS FITTING THE PHONE CORD TO THE DESK PHONE WHEN JENNIFER ENTERS.

JACK: Hello there.

JENNIFER: What are you doing?

JACK: We seem to have lost all the phone cords in the penthouse and I thought that I could just....

JENNIFER: We didn't lose any phone cords. I took them all out.

SHE THROWS A TANGLED MESS OF CORDS ONTO THE DESK.

JACK: You didn't want me to talk, visit or otherwise fraternize with any of my clothes down in the storage room?

JENNIFER: I thought we'd all be a lot safer if you were confined to this place. But seeing as you did manage to get out, what are you doing back? Shouldn't you be taking care of the newspaper Jack?

JACK: I came here to tell you something, something really important.

JENNIFER: Let me guess. You won the lottery and you're moving to Tahiti.

JACK: No, no, I'm serious. This is very important.

JENNIFER: Really? I would be really curious to know what you think is important Jack.

JACK: I talked to the FBI. It appears that we are going to be able to get our money back. If.... maybe not all of it but....

JENNIFER: Money, that's what I thought. That's exactly what I thought is important to you for a change.

JACK: Would you JUST GIVE ME A CHANCE FOR A SECOND? (Beat) I am not trying to get out of anything. I am not trying to blame somebody for anything. I'm just trying to get back the money that is ours. (Beat) Huh, now there is a chance that someone is going to try to cash in the remaining four million dollars of our stocks and when they do, the FBI.... the FBI is going to move in and prove that I was conned.

JENNIFER: You're incredible. Remarkable, actually.

JACK: You think so?

JENNIFER: I don't mean that as a compliment.

JACK: Oh, I see.

JENNIFER: You really believe that you're going to get this money back, this money that has been gone for months Jack.

JACK: It's not gone, you don't understand. It's right out there. Victory is in the air. I can smell it.

JENNIFER: Is that what you smell?

JACK: Jennifer.

JENNIFER: Alright, how can you be so sure that you're are going to get this money back?

JACK: I am sure because I have faith in the FBI. And once more I have.... I have faith in us. (Beat) Jennifer I know I'm right about this. I'm going to get our money back and I'm going to learn from my mistakes. (Beat) I mean you don't really think that I would risk losing you?

JENNIFER: (Beat) If and when your theory works out and we do get our money back, we'll discuss it maybe. Until then I'm not making any promises Jack.

JACK: Why not discuss it right now?

JENNIFER: Because I don't want to discuss it right now. Why don't you wait until you hear from the FBI and then we'll discuss it. Until then I don't have anything else to say.

THE PHONE RINGS.

JACK: That could be them right now. Just hold.... hold it. That could be them right now.

HE HURRIES TO ANSWER THE PHONE.

JACK: Hello, hello. (Beat) This is Jack Deveraux, yes. (Beat) Ah.... yes, it's.... it's.... it's Agent Bush. (Beat) Ah, what about.... the money? (Beat) No.... wait a minute. Wasn't there anyway that they could.... oh no. (Beat) Yes I understand, I understand. (Beat) Thank you.

JACK SIGHS AND PUTS DOWN THE PHONE.

JENNIFER: What Jack, what did he say?

JACK: Somehow they cashed in our four million.... in stocks. We're broke!

[Transcribed by Carol Vaughan
added material by Sally A. Wilson]

---

---