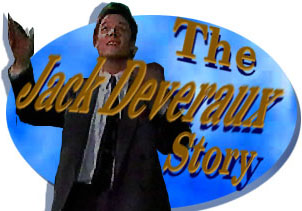 oldEpisode Four-hundred-nine: Jack
Is Especially Lonesome for Jennifer
Now That He Knows Isabella Is Dying.
Jack Makes up an Excuse to Visit Isabella.
---
[Air date mid-September 1992]
SCENE ONE: A FEW DAYS LATER AND JACK IS TALKING TO JENNIFER ON THE PHONE. HE IS CALLED HER FROM THE PHONE IN THE PARK. JACK IS ESPECIALLY LONELY NOW THAT HE KNOWS THAT ISABELLA IS DYING; HE NEEDS TO TALK TO JENNIFER.

JENNIFER: Yes, of course, I feel wonderful. Now why did you really call me?

JACK: I wanted to hear your voice.

JENNIFER: Saying anything in particular?

JACK: Oh I don't know. How about.... how about, I love you?

JENNIFER: You know I do.

JACK: You do? What?

JENNIFER: Yes, I love you Jack. What's wrong? Is something the matter?

JACK: No, no, I just.... just wanted to hear your voice.

JENNIFER: Jack, you know what, they need me on stage. Will you call me after the show? Promise?

JACK: Promise.

JENNIFER RELUCTANTLY HANGS UP.
---
SCENE TWO: JACK GOES TO VISIT JOHN AND ISABELLA. HE NEEDS TO BE CLOSE TO ISABELLA RIGHT NOW AND HE FINDS AN EXCUSE TO GO THERE.

JOHN: Hi.

JACK: Oh good, you're here. I came by earlier and there was no answer and I thought I'd come by again and take my chance.

JOHN: Yeah, well Isabella and I, we were at the park and we had a little picnic with Brady.

JACK: Mind if I come in?

JOHN: Come on.

JACK: I have an ulterior motive actually.

ISABELLA: Oh, of course you do. What is it?

JACK: Well Jennifer's show is on and my television's broken down so I thought....

JOHN: Hey! You want to watch ours?

JACK: Well....

THEY ALL LAUGH.

JACK: Yes, as a matter of fact. You're a mind reader. (To Isabella) You wouldn't mind seeing Jennifer, would you?

ISABELLA: Of course I don't mind. We've missed some of it already though, haven't we?

JACK: Well that doesn't really matter. I mean just three minutes of Jennifer is better than thirty minutes of some of other television personality, don't you think?

ISABELLA: Sit down, make yourself comfortable.
---
SCENE THREE: AT THE LOFT, IT IS TIME FOR JENNIFER'S SHOW. JOHN TURNS ON THE TV AND JACK SITS DOWN CLOSE TO ISABELLA.

JOHN: Alright, here it is, it's showtime.

JACK: Wait.... it's.... (With a look of great love and pride ) there she is. Look at her. There she is.

ISABELLA: Oh wow. She looks beautiful.

JACK POINTS AT THE TV AND ISABELLA PUTS HER ARM AROUND HIM.

CALLIOPE INTRODUCES THE TOPIC ABOUT MEN WHO ARE NEVER THERE AND CANNOT BE TRUSTED AND ALWAYS LET YOU DOWN. JACK IS WORRIED, AND LISTENS INTENTLY TO JENNIFER'S REPLY.

JENNIFER: I just think that it's really beautiful when the right people find each other and it must feel nice to be able to help them along.

THEY GO TO COMMERCIAL

JOHN TURNS THE SOUND DOWN.

ISABELLA: Oh wow, if she thinks that love is beautiful now, wait until they put her baby in her arms.

ISABELLA GETS UP AND IS OBVIOUSLY IN PAIN. SHE SLOWLY WALKS OUT OF THE ROOM AND JACK LOOKS UP AT JOHN. WITHOUT A WORD THEY BOTH UNDERSTAND THE INTENSE PAIN THEY ARE SUFFERING WITH ISABELLA DYING.
---
SCENE FOUR: WHILE HE IS STILL WITH ISABELLA AND JOHN, JACK CALLS JENNIFER BACK.

JENNIFER: Jack this better be you.

JACK: Yes it's me. Ah, we were watching your show and it was.... not bad.

JENNIFER: Oh well thanks a lot. Who's we?

JACK: We is Isabella and John. I'm watching it with them and actually Isabella would like.... would like to talk to you.

JACK DRAGS ISABELLA TO THE PHONE.

JENNIFER: Oh good, put her on Jack, quick.

ISABELLA: Hi there you. Listen he was just kidding. You were more than not bad. You were fantastic.

JENNIFER: Thanks, in spite of being as big as a house.

ISABELLA: A small and beautiful house.

JENNIFER: Yeah well I'll be really glad to put my star boarder in a cradle soon.

ISABELLA: Yeah, I'll bet. Seriously, how are you feeling?

JENNIFER: I'm a little bit more tired in the morning but that will pass too, right?

ISABELLA: Right, just rest up for the big bout ahead.

JACK LISTENS, KNOWING HOW DIFFICULT IT IS.

JENNIFER: I'm trying to but it's so hard around here, you know. I'm going to be very glad that I'm going to have you to help me.

ISABELLA: Help you?

JENNIFER: Yes, after the baby is born. You're going to help me every step of the way from infancy to high school, right?

ISABELLA IS GETTING VERY UPSET AND CANNOT TALK. SHE PUSHES THE PHONE AT JACK.
---
SCENE FIVE: STILL AT THE LOFT, REALIZING THAT WHAT JENNIFER HAS BEEN SAYING IS NOT POSSIBLE ISABELLA HAS PUSHED THE PHONE BACK TO JACK. JOHN IS HOLDING HER, AND BROKEN HEARTED JACK WATCHES SADLY. NOT WANTING TO LET JENNIFER KNOW THAT THERE IS ANYTHING WRONG HE SPEAKS, HIS VOICE IS VERY EMOTIONAL.

JACK: Hello, hello, it's me. It's me again.

JENNIFER: Hi.

JACK: Isabella had to.... she had to take care of the baby.

ISABELLA IS CRYING IN JOHN'S ARMS.

JENNIFER: Is everything all right with Brady?

JACK: Fine, fine, fine. The baby's in perfect health.

JENNIFER: Then it's John. Jack, what's wrong? I can hear it in your voice.

JACK: That's nonsense. All you're hearing is the manifestation of a physical response to.... to missing you, that's all.

JENNIFER IS NOT SO SURE.

JACK (CONT.): Listen you should go back and take your bows, alright. I'll talk to you later. Goodbye.

JACK HANGS UP.

JACK (CONT.): Alright, I.... I kept my promise. I didn't tell her.

ISABELLA SMILES AT JACK.

ISABELLA: Thank you. I just.... I don't want to worry her now. She's working so hard.

JACK AND ISABELLA LOOK AT EACH OTHER SADLY FOR A FEW SECONDS.

ISABELLA: Remember how hard you took the idea of fatherhood? You took that even harder than the idea of marriage Jack.

JACK IS TOO UPSET TO RESPOND.

ISABELLA: John wasn't like that, were you?

JOHN IS UPSET TOO.

JOHN: We shouldn't have waited so long.

ISABELLA: Waited?

JOHN: To get married. I don't know what the hell I was thinking of.

ISABELLA: Hey listen, it's all right. I'm glad it all happened exactly the way that it did. Everything, not just the wedding but everything. I don't have any regrets. I would not change a single thing.

JOHN: (Beat) I would.

AS JOHN AND ISABELLA KISS JACK WALKS OUT, UNABLE TO WATCH OR LISTEN ANYMORE.
---
SCENE SIX: A SHORT WHILE LATER, JENNIFER CALLS BACK.

JENNIFER: Isabella, hi, it's Jennifer. Is Jack still there?

ISABELLA: Hi, no he left.

JENNIFER: Good because I would really like to talk to you if you have a minute.

ISABELLA: Sure.

JENNIFER: Is Jack all right? I mean is he well?

ISABELLA: He looks wonderful.

JENNIFER: You know I could have sworn when I was talking to him earlier that he was keeping something from me.

ISABELLA: Well you know maybe Jack's not really being himself right now but, ah, I don't know, maybe you're the only one who ever knew what Jack's real self was anyway.

JENNIFER: Yeah, well whatever it is, he's very upset.

ISABELLA: (Beat) I think he's just upset because he misses you so much.

JENNIFER: Are you sure about that?

ISABELLA: Absolutely. Don't worry. Once you're home the two of you will spend the rest of your lives together. So just finish up your work and hurry home.

JENNIFER: You're right. I will Isabella, thanks. You know what, it won't be long now, huh? And kiss Brady for me, okay.

ISABELLA: Will do.

ISABELLA HANGS UP SLOWLY.
[Transcribedby Carol Vaughan
added material by Sally A. Wilson]
---
---