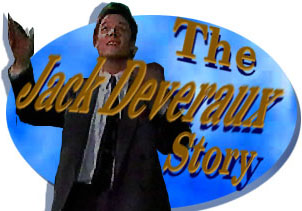 oldEpisode Four-hundred-forty-four:
The Women Throw Jennifer a Baby
Shower; While the Men Have a Party for
Jack. Later, Jack and Jennifer Frantically
Prepare to Leave for the Hospital.....
---
[Air date mid-October 1992]
SCENE ONE: THE DAY OF THE BABY SHOWER AND JENNIFER IS STANDING IN THE LIVING ROOM AT ALICE'S HOLDING A CHECK. SHE KISSES IT WITH DELIGHT. JACK WALKS IN WIPING HIS HANDS.

JACK: All right, all our worldly possessions are packed in the basement. Unfortunately they're in the way of the furnace. Let's just hope that the good doctor doesn't need to get down there and turn it on any time soon.

JENNIFER: Oh we'll be gone long before that Jack, in our own house.

JACK: Yes, when the frost is on the pumpkin and the corn is on the shuck.

JENNIFER: Such a pessimist. Take a look at that.

JACK: That's your last check.

JENNIFER: Yes, which added to our savings is enough for a down payment Jack.

JACK: Tell me something, you said something earlier about the child being able to hear anything you and I say.

JENNIFER: Yeah that's right. Why?

JACK: Well I think it's better if, um, we curtail this discussion of finances. We don't want to worry the child, do we?

JENNIFER IS PUZZLED.

JACK: Look I'm just telling you that with this check and the savings, we don't have enough to get the kind of house that we need.

JENNIFER: Are you telling me that you looked at every house on the market, Jack?

JACK: I looked at everything including horse drawn gypsy wagons.

JENNIFER: Well that sounds like a lot of fun.

JACK: Yes but how does one house a horse?

JENNIFER FROWNS.


JACK: Sorry to have let you down.

JENNIFER: Anywhere we're together is home for me Jack.

SHE GIVES HIM A BIG KISS.
---
SCENE TWO: THEY ARE STILL KISSING WHEN ALICE, JO AND CAROLINE COME IN CARRYING CAKES AND SANDWICHES. THEY SEE JACK AND JENNIFER STILL KISSING, AND SMILE AT THE LOVE THEY SEE.

ALICE: Oooooh. Well Jack, it's time that you wash up and left through the back door.

CAROLINE: Yep.

ALICE: This is a ladies' party you know.

CAROLINE: You are expected elsewhere so (In a bad German accident) aught wid you, AUGHT!

JO: But we will save some cake for you.

JACK: Yes, yes, thank you very much. Have a good time.

JENNIFER: Bye.

JACK: Yes.

ALICE: Bye.

JACK RUNS OUT.
---
SCENE THREE: THEY ARE ALL WORRIED ABOUT ISABELLA BUT THEY GO AHEAD ANYWAY. ISABELLA ARRIVES AND SHE LOOKS VERY ILL BUT SHE MANAGES TO LAST THROUGH MOST OF THE PARTY. JO ASKS JENNIFER IF SHE HAS PICKED OUT A NAME. JENNIFER TELLS HER SHE HAS BEEN LOOKING AT A BOOK ON NAMES, AND THEN JENNIFER STARTS RATTLING OFF NAMES TAHT BEGIN WITH "J." JUST THEN SHE SAYS "JULIE," JUST AS JULIE ARRIVES. CARRIE, MAGGIE AND CARLY ALSO ARRIVES. THEY OPEN GIFTS AND CARLY GIVES HER A MUSIC BOX THAT PLAYS THE SAME SONG THEY DANCED TO AT SCHOOL.
---
SCENE FOUR: MEANWHILE JACK IS DOWN AT THE BRADY PUB HAVING A BEER [AFTER THE PROBLEMS WITH THE FAKE COPS THE BRADYS DECIDED TO TURN THE FISHMARKET INTO AN IRISH PUB.].

SHAWN: All right now, John and Tom are on their way.

MICKEY: Yeah.

SHAWN: Now this is, you might say, a meeting of the fathers to initiate Mr. Deveraux into the mysteries of....

MICKEY: Fatherhood. It's pitfalls and rewards, if any.

BO: Yeah, to fatherhood.

SHAWN: To fatherhood, eh!

THEY ALL RAISE THEIR GLASSES.


JACK: Ah, what about John.... Black. I mean how is he really doing?

BO: It's kind of hard to tell. He's keeping it pretty much to himself.

JACK: I can't imagine, I mean say it was Jennifer, I'd be.... I'd be half out of my mind.

MICKEY: Which indeed you already are Jack.

THEY ALL LAUGH.

BO: Mickey, don't kick a man while he's down. Yeah he.... he's got to keep it together for the kid.

THEY ALL PAUSE TO THINK OF JOHN'S HEARTBREAK IN LOSING ISABELLA.

SHAWN: You know you will soon find out they're ain't going to be nothin' that you won't do for that baby or can't do for that baby or for the mom either, huh. I mean that includes changing a diaper at 2 am in the morning.

MICKEY: Oh yes, as I recall that was my son's favorite time to exercise his lungs. As I recall my father always said to me that I was....
---
SCENE FIVE: TOM AND JOHN COME INTO THE PUB.

TOM: What is it that I always said to you, Mickey? And don't misquote me.

MICKEY: Oh dad.

SHAWN: Hey, you're here now. Listen John, ah, we was discussing, ah, how a creature weighing, you know, less than ten pounds can totally change the life of a full grown man.

HE PATS JACK ON THE SHOULDER.

MICKEY: Yes, when he has sired that same ten pound creature.

JOHN: Well my son learned to tell time within two weeks but change, change, that's the operative word Jack.

TOM: Yeah, you fellows make me laugh. You live in the age of the plastic diaper, the throw-awayable. I used to help launder the damn things.

THEY ALL LAUGH AGAIN.

TOM: Now that's love.

BO: Doctor Horton, you put us all to shame.

JACK: It doesn't seem that hard.... really. I mean it's just a little.... less sleep, that's all.

SHAWN: You will never, never, sleep that well again. HAHAHAHAHAH. Which reminds me. Here we go. There you are lad.

HE HANDS JACK A BROWN PAPER BAG FULL OF SOMETHING.

JOHN: Nothing fancy there Jack. Just a little.... aid to maintain your image.

BO: Yeah well we all chipped in, realizing that Jack.... you're pretty much late for everything.

JACK LOOKS IN THE BAG AND STARTS PULLING OUT THINGS.

BO: Now this is the deal.

HE LEANS NEXT TO JACK'S EAR.

BO: Your deepest sleep, it's 2 o'clock in the morning and then all of a sudden....THE HEIR.... OR THE HEIRESS wakes you up with a scream.

TOM: Never forgetting to burp him or her.

MICKEY: Then you suddenly realize you're way overdue at The Spectator and....

SHAWN: Hey, you can rush out the door not bothering to change.

JOHN: Hoping your shoulder isn't covered in baby barf.

THEY ALL LAUGH LOUDLY AGAIN AS JACK UNFOLDS THE T-SHIRT THEY HAVE GIVEN HIM.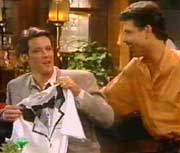 IT IS PRINTED WITH A WHITE DINNER JACKET AND BLACK BOW TIE ON IT.

JACK: Well thank you for looking out for.... for my image.

MICKEY: Check the back.

JACK TURNS IT AROUND AND THE T-SHIRT SAYS. "THAT'S MY DAD!"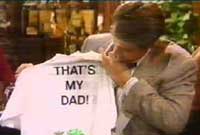 MICKEY: Oh dad.

THEY ALL SMILE AT JACK.

SHAWN: Well now look hey, the business at hand is done and buried, so let's like in the movies, hey, we'll go find the ladies, huh.

THEY ALL WALK OUT THE DOOR WITH JACK FOLLOWING WITH HIS T-SHIRT.
---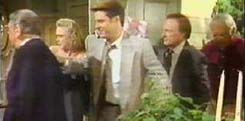 SCENE SIX: THE MEN ARRIVE AT ALICE'S AND KNOCK ON THE DOOR. THEY WALK INSIDE IN A CHAIN WITH THEIR RIGHT HANDS ON THE SHOULDER OF THE GUY IN FRONT. FIRST IS TOM, THEN JACK, MICKEY, SEAN, AND JOHN. THEY ARE ALL SINGING ONE, TWO, THREE, FOUR AS THEY MARCH IN. THE LADIES ALL SIGH IN DISAPPOINTMENT AS THE MEN LINE UP AT ATTENTION.

MICKEY: We, the fathers, greet.... and after we have made you mothers.... we tell you that we are hear to greet you and to claim our share of.... (They all salute).... the Cake!

ISABELLA: You can come in and have some cake.
---
SCENE SEVEN: DURING THE SHOWER TOM GOES OVER TO SPEAK TO ISABELLA.

TOM: It's just so good to see this room full of lovely women again. Thank you for making it possible.

ISABELLA: How gallant of you. Could I have a moment alone with you?

TOM: You can have a full hour.

ISABELLA: Thank you, come here. (Beat) You know I've been talking to John because as you know time is running short. And I've made some rather important decisions.

TOM: Yes.

ISABELLA: Well I've already set aside a large sum of money for Brady and there's still a great deal of money even after taxes to be allocated and used.

TOM: I see.

ISABELLA: I'd like to donate that money to the hospital to expand the existing cancer treatment facilities.

TOM: My dear that's just wonderful. I've wanted to update that facility since the day that it was dedicated to the memory of my grandson's wife. I just didn't have the funds.

ISABELLA: Well then it's settled. (Beat) And thank you for giving me the satisfaction of choosing such a worthwhile bequest.

TOM: Thank you sweet child. I just wish that you....

ISABELLA: Could live to see it? I will live to see it from wherever. I'll see it and I'll rejoice.

TOM: I can't wait to tell Alice.

ISABELLA: No please, don't tell anybody, not yet.

TOM: Of course, of course. But a lot of people will want to thank you.

ISABELLA: I'll know.
---
SCENE EIGHT: THE SHOWER IS STILL GOING ON, JENNIFER TELLS JULIE THAT BILL, HER FATHER, SAW THE FALSE LABOR ROUTINE ON TV AND FREAKED OUT. HE ALSO TOLD HER THAT HE MIGHT COME TO TOWN TO SEE HER. JULIE REASSURES HER THAT HER MOTHER LOVES HER TOO EVEN THOUGH SHE HAS BEEN MENTALLY ILL FOR SO LONG.
---
SCENE NINE: THE SHOWER COMES TO AN END. JENNIFER ESCORTS JOHN AND ISABELLA TO THE DOOR. SHE THANKS HER AND TELLS HER THAT NEXT TO HER WEDDING SHE THINKS THIS WAS ONE OF HER BEST DAYS. ISABELLA TELLS HER TO JUST WAIT UNTIL THE PLACE HER BABY IN HER ARMS. JOHN THINKS THAT THEY BETTER GO IT HAS BEEN A LONG DAY. JENNIFER SIGHS, KNOWING THAT ISABELLA DOES NOT HAVE MUCH LONGER. BO GETS CARLY, AND THEY ARE ABOUT TO LEAVE, WHEN JENNIFER COMES BACK INTO THE LIVING ROOM.

JENNIFER: Hey wait a minute, I want to thank you.

CARLY: Oh yeah.

JENNIFER: For helping Isabella put everything together.

CARLY: Oh it was fun.

JENNIFER: Thanks so much.

JACK: I think it was a bit more than that. Perhaps Jennifer could help you with your own baby shower sometime.

BO: Let's do a bridal shower first shall we?

JENNIFER: Of course. You put off your wedding because of Isabella, right?

CARLY: Yeah, no wedding plans until you deliver my friend.

JENNIFER: Oh, oh, now you tell me. The pressure's on. Thanks again. Thank you so much.

CARLY: Oh yeah. See ya.

JENNIFER: Okay, bye, bye.

BO: Yeah.

CARLY AND BO LEAVE.
---
SCENE TEN, WITH EVERYONE GONE, JACK AND JENNIFER ARE NOW ALONE. JENNIFER SHOWS JACK ALL THE BABY THINGS SHE GOT. SHE HOLDS UP A TINY PAIR OF FRILLY WHITE BABY SHOES.

JENNIFER: Aren't these the cutest things you've ever seen?

JACK: I'm telling you, he'll never be able to wear shoes like that.

JENNIFER: Of course not, she'll be too old to wear these when she's walking.

JACK SITS ON THE COUCH AND HURTS HIMSELF.


JACK: OUCH, what was that?

HE PULLS OUT THE MUSIC BOX THAT CARLY GAVE JENNIFER.

JENNIFER: Oh Jack, let me have that. This is going to put her to sleep.

SHE OPENS THE BOX.

JENNIFER: Hear that? Carly and I took dance class and we would always dance to this song.

JACK: Well that's nice. What about diapers? I understand that diapers are quite important.

JENNIFER: Oh yeah, we got a year's supply of diapers from John. Can you believe that?

JACK SMILES TO HIMSELF. THEY BOTH ARE DEEPLY SADDENED FOR BOTH ISABELLA AND JOHN.

JACK: He should be a great help for the future.

JENNIFER: Yeah, we're going to help him too aren't we?

JACK: I think we certainly are.
---
[Air date mid-October 1992]
SCENE ONE: AT ALICE AND TOM'S, JACK AND JENNIFER ARE FRANTICALLY GETTING READY TO LEAVE, JACK IS CARRYNG A SUITCASE. THEY RUSH INTO THE LIVINGROOM AND ALICE WONDERS WHAT IS GOING ON.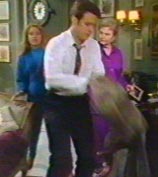 JENNIFER: Okay, are you sure you packed everything.

JACK: (Repeating her as he puts on his jacket) Everything, yes.

ALICE: What is going on?

JENNIFER: (Talking to Alice) Oh, Grandmother we're on our way to the hospital. (Turning to Jack) Okay, alright you've got the suitcase and the blanket.What about the blanket?

jJACK: It's already there.

JENNIFER: What about the outfit to bring the baby home in?

JACK: Al.. already.... Check, it's already there.

JENNIFER: Did you call the hopsital and tell them that we are on the way?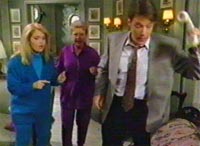 JACK PICKS UP THE PHONE SHOWS IT TO HER AND THEN HANGS IT UP.

JACK: It's already done!

JENNIFER: Alright.

ALICE: Oh Darling how do you feel?

JENNIFER HOLDS HER STOMACH.

JENNIFER: Oh Grandmother, I feel wonderful. But Jack's very nervous.

JACK: (Talking rapidly) Excuse me! But I feel just fine! In my own defense this is the first time I've been through this. But next time it'll go much better.

ALICE: Next time?

JACK WALKS OFF AS JENNIFER AND ALICE LOOK ON.

JACK: (Jack walks off) Come on Jennifer, the car's waiting!

JENNIFER: Alright Grandmother I'll see you soon.

SHE GIVES ALICE A KISS ON THE CHECK. ALICE IS CONFUSED, AS JENNIFER RUSHES OUT AFTER JACK.

ALICE: Oh Darling, what do you want me to do? Do you want me to go to the hospital.

ALICE FALLS JENNIFER AND STOPS HER.

JENNIFER: What? No....no no this is something we have to do ourselves. Okay.

JENNIFER HOLDS ALICE'S HANDS TO REASSURE HER.

JACK: (Jack shouts for the front door) JENNIFER!

JENNIFER: What?. I'm coming.... I'm coming.

JACK: THANK-YOU.

SHE GIVES ALICE ANOTHER REASSURING HUG.

JENNIFER: Goodbye.

ALICE: Goodbye.

JENNIFER: (Running towards the door, speaking to Jack) Hold on I'm coming. Go.... Go.

JACK: Alright, let's go.

JENNIFER: Go.... go.... go.... go....

JACK: Alright, let's go.... come on.... come on.

ALICE WATCHES ON AS THEY RUSH OUT THE DOOR. SHE STOPS AND STARES, AND HER EXPRESSION GETS SERIOUS AS IT FULLY SINKS IN WHAT IS HAPPENING.

ALICE: She's going to have a baby.
---
SCENE TWO: JACK AND JENNIFER COME BACK INTO THE HOUSE, JACK LOOKS AT HIS WATCH.

JENNIFER: Ooooooh, wow.

JACK: Two minutes, thirty seven seconds. Not bad for a first time.

ALICE COMES OVER TO SEE WHAT IS GOING ON, AND IS SHOCKED TO SEE THEM BACK SO QUICKLY. SHE HAD THOUGHT THAT JENNIFER WAS REALLY ABOUT TO DELIEVER. INSTEAD JACK AND JENNIFER WERE JUST PRACTICING FOR THE REAL EVENT.

JENNIFER: When the baby finally does come we should be able to shave twenty seconds off that. I hope so.

JACK: I should think so if you don't keep doing your make-up and....

ALICE: Are you telling me that this was just a rehearsal? I thought it was real. I was on my way to the hospital.

JENNIFER: Oh grandma, I'm sorry.

JACK: We....

JENNIFER: I thought you knew that we were just rehearsing. I mean when the baby finally does come we want to be ready and there's a lot to get together. There's a lot to remember and we wanted to be ready.

ALICE: Now, my dears, people have been having babies for a good many years now. They're fine. You're going to be fine too. But please just tell me what's going on. I.... well now that the crisis is passed, I'm going to go upstairs, I'm going to clean out a guest room so that you children will have a nursery.

JENNIFER: Well grandma, I'll be up to help you in a minute, okay.

JACK: That will very nice.

ALICE: Thank you. I don't need a bit of help. (Beat) And I won't lift anything heavy.

ALICE GOES UPSTAIRS.

JACK: We should be setting up our own nursery in our own home.

JENNIFER: Jack, we will. We will some day.

JACK: Some day.... yes.

HE WALKS TO THE DOOR.

JACK: I'm going to the paper, seeing if there's anything going on with Vern. And.... Lamaze class this afternoon.

JENNIFER: Okay. Goodbye.

THEY KISS.

JACK: Bye.

JACK LEAVES. THE PHONE RINGS AND IT IS CALLIOPE WHO'S IN SALEM AND NEEDS TO SEE JENNIFER.
---
SCENE THREE: A SHORT TIME LATER CALLIOPE ARRIVES. SHE TELLS JENNIFER THAT THEIR LAST RATINGS WERE UNBELIEVABLE AND THAT THE NETWORK EXECUTIVES WANT TO CONTINUE WITH THE SHOW BUT ONLY IF JENNIFER IS INVOLVED. JENNIFER HAS TO TALK IF OVER WITH JACK.
---
SCENE FOUR: LATER THAT DAY JACK HAS RETURNED HOME. JENNIFER IS TALKING TO HIM ABOUT WHAT CALLIOPE SAID.

JENNIFER: I know it sounds crazy but maybe Calliope is right. I mean maybe I should cash in on it while I can.

JACK: Well it is a career opportunity. No doubt about that. (Beat) So I'll tell you what we'll do. You will go to New York. I will tie up everything here. I'll get us out of this place. I will follow you and I will get set up at The New York Times and we will start all over.

JENNIFER: Well of course. I mean I would never go to New York without you Jack but I don't even know if this is what I want. (Beat) This is my home. This is what I like. I like being home. I want to be with my husband. I want to be with my family. That's what matters to me. Especially after everything that Isabella's going through right now.

JACK: Well I can understand that.

JENNIFER: You know I'm starting to realize that you have to treasure every moment that you have with the people that you love.

JACK: I can understand that too.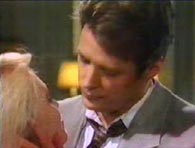 HE GENTLY HOLDS HER FACE AND KISSES HER.
[Transcribed by Carol Vaughan
added material by Sally A. Wilson]
---
---