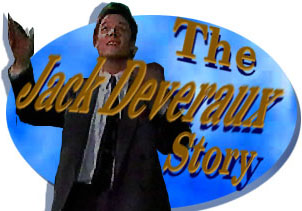 oldEpisode Four-hundred-forty-five:
Jack and Jennifer, and the Rest of
Salem, Attend Isabella's Farewell Party.
---
[Air date mid-October 1992]
SCENE ONE: ISABELLA HAS DECIDED THAT SHE WANTS TO GO BACK TO ITALY TO DIE AND AFTER MAKING HER FINAL ARRANGEMENTS ISABELLA HAS ARRANGED FOR A FAREWELL PARTY FOR HERSELF AND INVITED ALMOST ALL THE RESIDENTS OF SALEM. THEY BEGIN ASSEMBLING IN A PRIVATE ROOM AT WINGS. AS SOON AS MOST PEOPLE ARE THERE, JOHN APPROACHES VICTOR.

JOHN: All right here's the game plan, Isabella wants to play a tape guaranteed to be the highlight of the party.

VICTOR: Brady's first bath for instance.

ISABELLA: No, not exactly. We'd like for you to present it though, if you would.

VICTOR: Well I'll be glad to. What shall I tell them they are going to see?

ISABELLA: It sort of explains itself, father.

VICTOR: Well are you sure I'm the one. Maybe John....

ISABELLA: No, no, just you.

SHE KISSES HIS CHEEK THEN SHE AND JOHN MOVE TO THE BACK OF THE ROOM.

VICTOR: Friends, the guest of honor, my daughter Isabella, has requested that we view a video that's been made especially for this occasion. I don't know how long it's going to last but let me suggest that you make yourselves comfortable.

PEOPLE ARE BIT SURPRISED BUT THEY SETTLE DOWN.

JACK: Gee a video. It certainly better be good. I'm sure she'll be expecting you to give a little critique afterwards, being

the professional you are.

JENNIFER: Well if Isabella arranged for it, I'm sure it will be good.

VICTOR: Dave if you'll get the lights.
---
SCENE TWO: THE VIDEO BEGINS WITH ISABELLA TALKING TO THE PEOPLE GATHERED.

ISABELLA: Hello everyone. I hope you all are havi ng as good a time at this party as I had in arranging it with Julie and Victor's help and John of course. You see there's something that I want to say to each and everyone of you but I wasn't sure if you'd all be able to come or if we find the right moment. So you are in a way a captive audience. I hope you don't mind because this means a lot to me as I hope it will mean a lot to you.

AT THE BACK OF THE ROOM, ISABELLA GIVES A SILENT WAVE TO ALL HER FRIENDS AND LEAVES WITH JOHN FOR ITALY. NOBODY NOTICES THAT THEY HAVE LEFT. THE VIDEO CONTINUES.

ISABELLA: But now onto the business of the evening. This is in part, one great big thank you note and I wanted you all to hear it together. So first, Dr. Horton, Tom. I know that I can count on you to make my dream of the cancer center a reality. With the help of money I was lucky enough to inherit you will be able to save many people. Thank you. And Alice. Thank you for your kindness. I never knew my grandmother but I hope that she was just like you. And I would like to think that you wouldn't mind having me for a granddaughter. (Beat) Jack, my first friend in Salem. Maybe we became such good friends because we both come from broken families. Who knows. But now we're married and you have a family, you're about to have a family and I think that you can use all of those experiences you had, those hard experiences, to better love and teach your children. Oh you're going to love being a father Jack.

JENNIFER LEANS OVER AND KISSES HIS CHEEK. HE IS VERY VERY SAD AS HE WATCHES THE VIDEO.

ISABELLA: Oh I know you're scared right now but that's okay. You just wait until they put that little baby in your arms. It'll all come to you and I know that one of these days you will be Father of the Year.

TOM LAUGHS. JENNIFER GRINS BUT JACK CANNOT FORGET THAT HE IS LOSING HIS DEAREST FRIEND.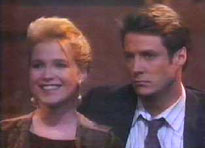 ISABELLA: Now Jennifer, how can ever repay you for all of the sweetness and the fun that you brought into my life.

JACK LOOKS ACROSS AT JENNIFER. HE LOVES HER MORE FOR HELPING HIS FRIEND.

ISABELLA: Thank you for teaching me to close the door and unplug the phone and cry my eyes out. I want Brady to come know and love your baby as much as I love you.

JACK AND JENNIFER SMILE AT EACH OTHER.
---
SCENE THREE: ISABELLA CONTINUES HER FAREWELL MESSAGE:

ISABELLA: And Marlena, you remember the talk we had about John? Well I didn't quite admit to you the hell that I went through when you first came back to Salem. I knew that the two of you had had years and I envied that. But now I know that John took Roman's place for you just as I took your place for John. And when Roman came back, John was free to love me and he does and that's why I need to ask you this. In the months ahead, he's going to have so much trouble. I mean he's patient but when I'm gone he'll be all alone. Keep a close eye on him. Not just as a therapist but as a woman who knows his little quirks and habits. Be as good a friend to him as you were a wife. People may talk but we'll know why, won't we? Promise me that you will do that for us. (Beat) And Mickey and Maggie. Stay as close together as always. And Mickey for your invaluable service I thank you too. Oh my friends, I treasure you all. I do. These past few hard weeks especially, what you have given me, words cannot even express but know.
---
SCENE FOUR: AFTER HAVING SPOKEN TO HER FRIENDS, ISABELLA NOW SPEAKS TO HER AND JOHN'S FAMILY.

ISABELLA: I think it's time to get on to my family and I think it would be wise if we start first with the Alamain branch.

VIVIEN TURNS TO LAWRENCE.

VIVIEN: Here it comes.

LAWRENCE: Hush, Vivien.

ISABELLA: Vivien, we never got a chance to know each other but I hear of the care and affection that you've given the little boy you've adopted so I know you're capable of unselfish love. In the months ahead I hope that you will remember that you have two nephews, Lawrence and John. I hope that in the future you will be able to treat them equally. Make it up to John for all those years that the Alamain family set him adrift in the world. You see it's not your money that he needs. It's a sense of belonging. And if you can love the child of a stranger, surely you can give John the love he needs too. And Lawrence, even brothers raised together can sometimes become rivals. Don't let the competition between you and my husband go any further. Trust him. Prove to him that you are worthy of his trust. Together who knows what the two of you might accomplish but as enemies you will surely destroy each other. And if you remain enemies, maybe one of the reasons is the people you choose as friends. (Beat) And now, now to the Bradys. Sean and Caroline, what better gift could I give my son than your love and your devotion. Spoil him rotten, you my blessing. And as for Bo and Roman, two better uncles I could not have asked for for Brady. Watch out for John. And don't fight over who takes Brady to basketball games or baseball games or anything else, okay. (Beat) And Carly, my dear friend. You have been a rock for me these past few weeks, easing the pains of my body and my mind. I treasure you. Know what a comfort it is to me that you and Bo are my son's godparents. And get married soon, you two. And Bo. Giving is never very easy, especially with someone like Victor. There is so much to forgive him for. He's the first to admit that though. And if he wants to change and he's truly sorry and he wants to make a better life for himself, then even god will forgive him.
---
SCENE FIVE: ISABELLA NOW SPEAKS TO HER FATHER, VICTOR.

ISABELLA: Shouldn't you too? (Beat) Victor, father. I saved you for last not because I love you any more or any less than anyone else but because I have truly come to believe that you want to put your old ways behind you. I don't want to see you die lonely and alone, hated and feared. I want you to keep the promise that you made me that you are changing. Brady Victor bears your name. I want him to be proud of it. Use all of the power that you have to make amends to the people that you've hurt. And then you will earn, you will earn all of the love that you need much much more than money. Where ever I am I'll be watching you and I'll be hoping. (Beat) Well now it is time to say goodbye. As you're watching this, John and Brady and I are on a plane on the way to Italy.

JACK LOOKS ACROSS AT THE DOOR AND REALIZES SHE HAS GONE.

ISABELLA: I won't return again to you except for in your thoughts of me and I hope that they will as happy as mine are of you. All in all I've had a very good life. God has given me all that a woman could ask for. Love and friendship and family. And the ability to enjoy them all completely. I will miss you all, even in heaven I think. John assure my place there by giving me a star. Look for me. I love you all. (Beat) Goodbye.

THE SCREEN FADES TO BLACK. THE LIGHTS SLOWLY.
---
SCENE SIX: EVERYBODY IS TOO UPSET TO SPEAK. JACK AND JENNIFER WRAP THEIR ARMS AROUND EACH OTHER IN A SILENT EXPRESSION OF GRIEF.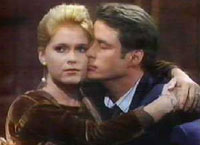 A SONG BEGINS TO PLAY, FOR ALL WE KNOW, SUNG BY ROSEMARIE CLOONEY.

For all we know,
We may never meet again.
Before you go,
Make this moment sweet again.
We won't say goodbye,
Until the last minute.
I'll hold out my hand,
And my heart will be in it.


For all we know,
This may only be a dream.
We come and go,
Like a ripple on a stream.
So love me tonight,
Tomorrow was made for now.
Tomorrow may never come
For all we know.
[Transcribed by Carol Vaughan
added material by Sally A. Wilson]
---
---