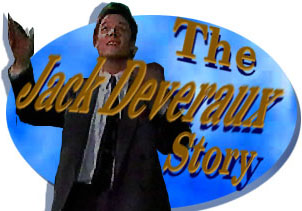 oldEpisode Four-hundred-eighty-one: Jack
Goes Back to Work as King of
The Specator
.
Victor Vows to Either Buy or Destory the
Paper. Julie Has Some Shocking News. Billie
Leaves an Anonymous Message about the Money.
---
[Air date late January, 1993]
SCENE ONE: CELEBRATION NIGHT FOR JACK AND JENNIFER AT WINGS.

JACK: Here you are madam. Everything's been set up for you. We've got champagne, caviar, breadsticks.

JENNIFER: Caviar sounds lovely. Breadsticks sound better.

JACK: Yes.

JENNIFER: This was so nice of Julie to do this for us Jack.

JACK: Oh Julie had nothing to do with this.

JENNIFER: You mean this isn't on the house?

JACK: Well not unless you include the Deveraux house. This is just a taste of things to come. Now that I'm getting The Spectator back, we're going to be living in style from here on in.

THEY TOAST WITH CHAMPAGNE FLUTES BUT JENNIFER DOES NOT LOOK CONVINCED. DAVE COMES OVER TO TAKE THEIR ORDER WHICH JACK DECIDES TO HANDLE.

JACK: I believer we'll start with Oysters Rockefeller, Caesar Salad and Chateau Briande for two.

DAVE: Excellent choices.

JACK: Thank you.

DAVE LEAVES.

JACK: I have to tell you that none of this would mean anything unless I had you here to share it with. I do want you to know that.

JENNIFER: I do know that.

JACK: Good. Now what about my offer. I want you to come back to work at The Spectator with me.

JENNIFER: You know it is very tempting going back to where we started. Where we first met, where we fell in love.

JACK: All right, that settles it. We'll just pick up where we left off.

JENNIFER: We can't do that Jack. Things are different. We're married. We have a baby. Things are very different.

JACK: Of course things are different. Things are bigger and better than ever. Life is great and good and it's time for us to share in it together.

JENNIFER: I don't know what to do right now. I think it's too soon to be making any decisions. I'm not even sure I've over the shock of being fired yet.

JACK: All right, all right, I won't pressure you. It's a great opportunity but I won't pressure you. Just be happy. That's all I want for you.

JENNIFER: I am happy. I couldn't be happier.
---
SCENE TWO: ALICE AND TOM ARE ALSO AT WINGS AND ALICE HAS A TALK WITH JENNIFER ABOUT GETTING FIRED. ALICE TELLS HER THAT IF SHE WANTS A JOB THEN SHE SHOULD GET ONE AND NOT THINK SHE HAS TO STAY HOME WITH ABBY.
---
SCENE THREE: LATER, JULIE TELLS ALICE, TOM, MAGGIE AND MICKEY THAT SHE IS LEAVING TOWN TO GO AND SEE DOUG IN SWITZERLAND.
---
SCENE FOUR: SHORT WHILE LATER VICTOR ALSO ARRIVES FOR DINNER AT WINGS.

JACK: Victor.

VICTOR: Jack.

JACK: I'd like to invite you to join Jennifer and myself for our victory celebration but I.... I'd hate to be the one to rub salt in the old wounds.

VICTOR: Well I haven't lost yet Jack. You may have pulled off a miracle and come up with the seventy-five thousand dollar binder but in the next few months you're going to have to come up with a lot more money. And as they say, lightning never strikes twice in the same place. So you're not only going to lose your seventy-five thousand dollar binder. You're going to lose The Spectator.... to me.

JACK SITS BACK DOWN WITH JENNIFER.

JACK: Talk about sore losers.

JENNIFER: Yes well he's really going to be upset when you have the next payment. Is your backer going to help you again?

JACK: The backer? No, no. Actually I'm planning on just getting my money from increased circulation, more revenues. That's how I'll make my payment.

JENNIFER: Well if all your changes work.

JACK: What do you mean if my changes work? Of course they're going to work. I've got this all planned out Jennifer. This paper is going to have the biggest circulation in the country.

JENNIFER: No, I know. I just don't want you to get ahead of yourself. You know you still have some major hurdles to overcome Jack.

JACK: And you still have some major doubts to overcome.

JENNIFER: No, no I don't. I just want you to temper your confidence with reality. I mean look what happened to me. On top of the world one minute, out of a job the next.
---
SCENE FIVE: ATER PHILIP ARRIVES FOR DINNER. ALICE ENCOURAGES JENNIFER TO TELL HIM THAT SHE WANTS HER JOB BACK. JENNIFER TAKES ALICE'S ADVICE AND TELLS PHILIP THAT SHE REALLY WOULD LIKE HER JOB BACK. PHILIP SAYS THAT IT IS TOO LATE BECAUSE THE NETWORK HAS HIRED A REPLACEMENT ALREADY.
---
SCENE SIX: VICTOR TELLS JULIE THAT WHEN JACK CANNT MAKE A PAYMENT, HE WILL BUY THE PAPER ANYWAY. IF SHE WILL NOT SELL TO HIM, HE SAID HE WILL OPEN HIS OWN PAPER AND DRIVE THE SPECTATOR OUT OF BUSINESS.
---
SCENE SEVEN: JENNIFER RETURNS TO THE TABLE AND IS OBVIOUSLY UPSET.

JENNIFER: If you've already paid the check, I would like to leave.

JACK: Did he say something to upset you?

JENNIFER: No, no, I just.... I really would like to go home.

JACK MAKES A POINT OF PUTTING $100 TIP IN A GLASS FOR DAVE.

JACK: All right, we'll be on our way.

JENNIFER: You're leaving $100 tip?

JACK: Well you have to spend it to make it and believe me there is plenty more where that came from.

BILLIE REED IS SITTING AT THE BAR.

DAVE COMES OVER TO COLLECT THE CHECK.

DAVE: Okay.

JACK: Oh and David, this is for you.

JACK HANDS DAVE $100.

DAVE: Why thanks Jack. Come back anytime.

JACK: Certainly.

DAVE LEAVES.

JACK: One more thing, if you're really interested in working in the TV wasteland, we can put together a presentation tape and send it around. Now that I've got The Spectator back my old clout will be coming back with it. I couldn't think of a better way to use it unless it was to convince you to come back to work for me.

JENNIFER: Jack you don't really need me at The Spectator.

JACK: I most certainly do. There's work to be done and it's lonely at the top and that's where I want you. Right there.

JENNIFER: I will always be there. For better or for worse, remember?

JACK: Yes but we have to agree that better is always better. In fact, it's the best. Things are going to keep getting better and better for us from now on, now that we are back in the money again.

JACK AND JENNIFER LEAVE WINGS.
---
[Air date late January, 1993]
SCENE ONE: IT IS THE NEXT DAY AND JACK AND JENNIFER ARE AT THE MALL. JACK IS PUSHING ABBY IN THE STROLLER.

JACK: You know I am hungry after all. Here lets sit down and have something to eat. What do you want? Eggs, bacon, pancakes? Maybe some waffles.

JENNIFER: But Jack, you don't have time for a big breakfast. You don't want to be late for your first day back at The Spectator.

JACK: Oh there is now chance I'm going to be late. Number one, it takes approximately eleven minutes and thirty-five seconds to get to the front steps of The Spectator from here. Number two, you know how long I've been planning, hoping and dreaming to get back my Spectator. Number three, you know I would never jeopardize this opportunity to make such a tremendous statement in front of all the employees. On the contrary, I plan to show up at least five minutes early to exemplify my determination to turn The Spectator into the best, most profitable and most respected newspaper in the country if not the world.

THEY ORDER A HUGE BREAKFAST.

JACK: I mean that. There is nothing that can stop me now. The peon days are over. I'm king of the mountain again and I can do anything I want. The best part is I love doing what I do so you can't beat that for having.... you can't beat that insensitivity, can you? Well that's just like me. Trumpeting my successes while you're sitting there still reeling from being stabbed in the back by Philip and all his cronies in Chicago.

JENNIFER: Jack, it's okay. I know you didn't mean to say that.

JACK: It's not okay. You loved doing that television show and now you can't do it not through any choice of your own. I mean one might even say that you were better at doing that television show than I was at running The Spectator.

JENNIFER: I don't think I would go that far Jack.

JACK: Well perhaps not. You could be the talk show queen of the television wasteland anytime soon, if that's what you want.

JENNIFER: You know what I want? I want to enjoy my time with Abby. As a matter of fact I am starting a new project today.

JACK: Project?

JENNIFER: Yes. Abby's Baby Book

JACK: Aaaah, yes. It's the way to record all of those milestones of childhood. It's.... let's see what we have here. We have the first step, first tooth.

JENNIFER: First word.

JACK: First smile.

JENNIFER: Efficiency and productivity.

JACK: Yes. Now first.... I suppose I should have been doing some recording of my own.

JENNIFER: Well I'm glad you weren't the totally perfect mother. It's nice to know you have a flaw or two.

JACK: As long as you always take me in at the end of a long day. I better be going.

JENNIFER: Thank you for breakfast.

JACK: Certainly. Ah, she may get agitated sometime around 10 am. I suggest a second bottle and if you need some time alone and you will, I would say you would be best to turn the radio on and....

JENNIFER: Jack, you know what? I think I know our daughter pretty well. We'll probably be fine.

JACK: Of course you will. Of course.

THEY SHARE A GENTLE LOVING KISS.

JACK: If you....

HE KISSES HER AGAIN.

JACK: If you need anything, you will call?

JENNIFER: I will. Happy first day, King Deveraux. You do know that I love you, don't you?

JACK: Yes, and I do love you.... Queen.... yes.

SHE HITS HIM. HE LEAVES WITH A BIG SMILE AND A WAVE.
---
SCENE TWO: ACK ARRIVES AT THE OFFICE AND GETS STRAIGHT ON THE PHONE. HE'S JUST HANGING UP WHEN VERN COMES TO WELCOME HIM.

VERN: Welcome back Jack.

JACK: Well thank you Vern. It's good to be back.

VERN: Listen that was some pretty fancy wheeling and dealing you were just doing there.

JACK: Oh that was just two of the biggest financial wizards this side of the Mississippi who are both very interested in my plans to streamline The Spectator.

VERN: Is that right? What's all this?

JACK: All this?

VERN: Hmmm.

JACK: Evaluations. Just a little something for every department. Pep, you know. Productivity....

VERN AND JACK: Efficiency and Profitability.

VERN: Yes a real major overhaul.

JACK: Absolutely. I couldn't take over The Spectator without planning to streamline everything and make it ready for the mean lean nineties.

VERN: Well you never lacked enthusiasm Jack. As a matter of fact this is all very impressive but may I remind you that the paper has been running pretty well this past year.

JACK: Vern, let's not look at this as a criticism of your stewardship. You did the best you could but let's remember, there's a revolution out there in the business place. We in the news business have to be in the front lines.

VERN: Well you know what they say Jack. If it ain't broke, don't fix it.

JACK: But it is broke, Vern. It's broke. Circulation is down, advertising revenue is down, labor costs are up. Look at this.

VERN: What?

JACK: Right here. This graph shows where you have brought us to.

VERN: What?

JACK: Yes, right here. Next year at this year this is where I'll have brought us to.

VERN: Does Julie know about this?

JACK: She most certainly does and she's given me 100% support. Not only that but she's going to hang around and handle the power transition until the sale is finalized.

VERN: Well the proof is in the doing, isn't it?

JACK: Yes it is. I'll prove to you, Julie and everyone else in this little town that I can do it. I will turn The Spectator round and make it great again.

JACK GETS DOWN TO WORK.
---
SCENE THREE: A SHORT TIME LATER, JUST AS HE'S COMING OUT OF THE OFFICE WITH A BUNDLE OF FILES HE BUMPS INTO BILLIE.

JACK: Aaaaah, you!

BILLIE: You! You're even dangerous when you're not behind the wheel of a car. Which reminds me. Your insurance guy never called me. My car's a mess and I want it fixed.

JACK: I beg your pardon. I'm not going to fix anything of yours. Your the one who hit me. You lost control in the rain.

BILLIE: Excuse me, you backed up into my car. You weren't even looking where you were going.

JACK: I didn't back into anything. I wasn't even in reverse yet.

BILLIE: YOU WERE HALFWAY OUT OF THE PARKING SPACE!

JACK: SSSSSSHHHH!

BILLIE: I took notes and I'm going to sue you mister. I'll sue you for everything. For pain, mental anguish, you name it. I'm going to sue.

JACK: All right!

THE STAFF HAVE ALL STOPPED WORK TO LISTEN.

JACK: Get back to work!

HE GETS OUT HIS CHECK BOOK.

JACK: This should assuage your mental anguish. More than enough. And I just want you to make sure that it does go to your little dented fender.

BILLIE: Oh is this what your Senator daddy taught you how to do? Pay off people, huh. All you little richies are all alike.

JACK: You don't have to take it.

SHE SNATCHES THE CHECK OUT OF HIS HAND.

JACK: All alike.

HE MARCHES INTO VERN'S OFFICE JUST AS VERN COMES OUT. BILLIE ASKS VERN HOW TO PUT A CLASSIFIED AD IN THE PAPER AND HE EXPLAINS THEN SAYS SHE BETTER HURRY AS SHE ONLY HAS FIVE MINUTES TO MAKE TOMORROW'S EDITION. BILLIE PLACES AN AD TO THE PERSON WHO FOUND HER MONEY.
---
SCENE FOUR: MEANWHILE, JULIE HAS SOME BAD NEWS REGARDING DOUG AND THINKS THAT SHE FLY TO SEE HIM IMMEDIATELY.
---
SCENE FIVE: A WHILE LATER, SHE IS MEETING WITH ALICE, TOM, MAGGIE AND JACK TO TELL THEM WHAT'S GOING ON. DOUG HAS BEEN IN ACCIDENT AND SHE IS ANXIOUS TO LEAVE IMMEDIATELY. MAGGIE TELLS HER THAT SHE WILL LOOK AFTER THE CLUB.

JACK: And don't worry about the newspaper. It's in good hands and I'd be pleased and honored to do whatever I can to help you out.

JULIE: Then it looks as though my decision has been made for me and you're all here for me just as you've been through every crisis in my life. Okay, I'm off. Maggie I love you. Grandma.

SHE THEN TURNS TO TOM AND HUGS HIM. JACK STANDS ASIDE BUT JULIE GIVES HIM A BIG HUG TOO.

SHE SAYS GOODBYE AND LEAVES.
---
SCENE SIX: A WHILE LATER, JACK STARTS GOING OVER THE PERSONAL SECTION.

VERN: Stop wasting your time on that personal section. We don't write that stuff. We just print it.

JACK: Yes but we can make the layout more pleasant looking and easier to read and then perhaps more people will interested in paying their money to put their ads in it.

VERN: Whatever you say.

JACK: Yes, whatever I say.

JACK GOES BACK TO READING THE ADS.

JACK: "Male professional 35, attractive. Female professional 27, attractive. Female 46, attract...." not one person is unpleasant looking or not very attractive. (Beat) "You found my treasure in an abandoned barn. But there's more where that came from. If you're interested, contact Box 7030...." my god, this ad was meant for me!
---
SCENE SEVEN: JULIE ARRIVES AT THE HOSPITAL IN SWITZERLAND. SHE FINDS DOUG ALL WRAPPED UP AND SITTING IN A WHEELCHAIR. HE LOOKS PRETTY BAD. HOWEVER, IT IS ALL A RUSE HE FAKED THE LETTER TO GET HER TO COME OVER.THEY IMMEDIATELY DECIDE TO GET BACK-TO-GET [IT WAS ALL DONE VERY QUICKLY AND NOT AT ALL DEVELOPED, THEY ONLY HAD A COUPLE OF SCENES].
[Transcribed by Carol Vaughan
added material by Sally A. Wilson]
---
---