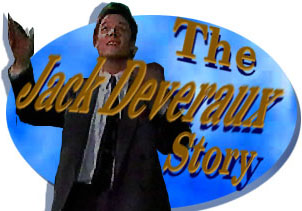 oldEpisode Four-hundred-eighty-two:
Jack Tries to Investigate Lisanne
Gardener's Death. Jack Wonders about
the Want Ad about the Money.
---
[Air date late January, 1993]
SCENE ONE: JO [JO IS NOW PLAYED BY MARILYN MCINTYRE] WALKS INTO THE OFFICES OF THE SPECTATOR CARRYING A LARGE PLANT WITH A BIG BLUE BOW ON IT. SHE LOOKS AROUND AND CAN FIND NOBODY THERE AND AS SHE IS WALKING OUT, JACK WALKS IN READING THE PAPER AND HE DOES NOT NOTICE HER.

JO: Jack, surprise!

JACK: Oh.... Jo. A plant. How green, not to mention, thoughtful.

JO: Well I thought it would make a nice welcome back to the newspaper gift.

JACK: Yes, yes. Well it is great to be back in the saddle. Thank you very much.

JO: I'm happy for you honey. I just hope all this doesn't blow up in your face.

JACK: And why would it blow up in my face?

JO: Because the down payment for the paper was made with money that wasn't yours.

JACK: Ssssh. Let's get one thing straight. I did not steal that money. I found it.

JO: And sooner or later, whoever that money belongs to is going to want it back.

JACK: You may be more right than you know.

HE SHOWS HER THE AD HE FOUND IN THE CLASSIFIEDS.

JO: You found my treasure in an abandoned barn but there's more where that came from. If you're interested, contact box no 7030. What are you going to do?

JACK RAISES HIS EYEBROWS.

JO: Now that I reread this, maybe it's just a coincidence.

JACK: No, no, no, no, it's no coincidence. You see, treasure means money, and barn of course is the real clincher there. Whoever placed this ad is after the money that I found. Unfortunately they placed the ad and the money for it on the classified editor's desk and didn't leave an ID. So I have no idea who they are. But conversely, they had to place the ad so they have no idea who I am. Ergo, I'm in the clear.

JO: You hope.

JACK: You know I always wondered where I got that sense of optimism.

JO: What are you going to do?

JACK: Do? Well I'm going to tell you what I'm going to do. I'm going to answer this ad. That seems the logical first step, don't you think?

JO: Jack, obviously these people want their money back and you don't have it to give. Of course, once they find out you took it, they'll just sue you for it.

JACK: Ah....

JO: Then you'll lose the paper, your house, your wife, your child and I'll end up darning your socks. Oh please Jack, don't do this. Just leave bad enough alone.

JACK: Let's make this first thing clear. First of all, I did not take it. I found it. Second of all, I am not going to let this person find out that I found it.

JO: Don't you think this is a ploy just to suck you in?

JACK: Absolutely. I'd be a fool not to see that. And they're be a fool if they think I'd be fool enough to fall for it. If they are that foolish, they may be actually using their own money in this other part about there's more where that came from. If they are, I plan to take advantage of that and get that money for myself because I need it. I have no other way to pay off these other bills at The Spectator. If I don't pay them off soon, I lose everything including the seventy-five thousand dollars and go right down the drain.

JO: Jack, if you're not careful....

JACK: Uh, just remember I'm a newspaper man and a good one. It's like following down any lead. You ask all the right questions, you protect your sources and you keep your nose clean. And then maybe with a little bit of luck and.... a sign from above, I may be able to get enough money to pay off the rest of The Spectator.

JO IS NOT AT ALL SURE ABOUT THAT. SHE LEAVES.
---
SCENE THREE: SHORT TIME LATER JENNIFER ARRIVES WITH ABBY. JACK IS BUSY TRYING TO SCRATCH VERN'S NAME OFF HIS OFFICE DOOR.

JENNIFER: There you are. Hello Jack.

JACK: Oh hello, hello. What brings you two by here?

JENNIFER: Oh well I thought I would show Abigail where her daddy works, huh.

JACK: Oh, well.... well that very fortuitous timing. Perhaps now I can show Vern and all the other employees that I'm not such a monster especially when I can sire such lovely progeny.

JENNIFER: Yeah whatever.

JACK: Yes.... what do you mean whatever? What's wrong?

JENNIFER: Huh! Nothing, nothing's wrong. Come on, aren't you going to show Abby your publishing enterprise. Come on, let's go see.

JACK: I suppose I can do that, yes.

AS THEY ARE TALKING, VERN AND JO COME IN, LAUGHING AND TALKING.

JACK: Jo, I thought you'd left.

JO: Well I ran into Vern on my way out and he insisted on showing me the new staff lounge. That new sofa is every bit as comfortable as you said it was.

VERN: Yes.

JACK: Well Vern didn't bother to show her the new printing presses, did you?

VERN: Oh I thought I'd save that for next time.

JO: Oh, I can't wait.
---
SCENE FOUR: BOTH JO AND VERN LOOK EXCITED AND HAPPY TO BE IN EACH OTHER'S COMPANY.

JACK: Yes. Well, while you're waiting, perhaps Vern, you'd like to take a look at my lovely progeny.

VERN: Oh she is a looker just like her mother. Not to mention her grandmother.

JACK: And not to mention she has printer's ink in her veins. You know, printer's ink, Vern.

VERN: Yes.

JACK: Someday all of this will be hers.

JACK IS TRYING DESPERATELY TO GET VERN'S ATTENTION AWAY FROM JO.

VERN: Oh come on, aren't you getting a little ahead of yourself Jack. You don't even own The Spectator yet. JACK: Not yet but it won't be much longer. I've got my ways.

HE GLANCES AT JO AND SMILES. JACK TAKES JENNIFER AND ABBY AROUND THE BUILDING TO SHOW OFF.
---
SCENE FIVE: A SHORT TIME LATER WHEN THEY RETURN, VERN IS STILL TRYING HIS CHARMS ON JO.

VERN: Well I'm a pretty good layout artist too. As a matter of fact, if you come up to my apartment sometime, I'll show you my sketches.

JO GIGGLES AND JACK IS NOT AT ALL HAPPY.

JACK: Why don't you bring them in Picasso and we can all get a good look at them.

VERN: Aaaah....

JO: Oh my, it's getting late. I guess I better get going. I'll see you later honey.

SHE GIVES JACK A KISS ON THE CHEEK.

JO: (To Jennifer) Goodbye.

JENNIFER: Bye Jo.

SHE POINTS TO JACK BUT HE CANNOT SEE HER DO IT.

JO: Good luck.

JO LEAVES AND VERN KEEPS STARING AFTER HER AND NOT NOTICING THAT JACK IS STARING AT HIM.

JACK: Vern.... VERN!

VERN: Oh, I have the current circulation figures for you.

JACK: Yes, you certainly do.

JACK GLANCES OVER THEM.

JACK: And they're not good.

VERN: No.

JACK: No, they're not, no. All right, this is top priority. We've got to come up with something. Something big. A police scandal, you know or something that brings in all those readers.

VERN: Well listen, why don't we.... why don't we do a story on how Jennifer was unjustly fired from her show. I mean it has human interest especially since she was fighting for child care.

JACK: I'm going to call the police. I'm sure we can get something from there.

JENNIFER CAN SEE HOW WORRIED JACK IS. WHILE HE IS BUSY SHE ASKS VERN IF HE CAN PULL THE FILE ON LISANNE GARDNER'S DEATH.

JACK: Lisanne Gardner. I thought that case was closed.

JENNIFER DOES NOT WANT TO TELL HIM THAT THE POLICE ARE BACK INVESTIGATING HER DEATH BECAUSE CARLY HAS TOLD HER THAT NICKY WAS THE PERSON WHO KILLED HER.

JACK: Why are you interested in Lisanne Gardner's case? I thought that was closed.

JENNIFER: Well, ah, I was talking to Carly and I was just wondering what was going on at the Alamain house and, ah, when Lisanne died I was busy with Abby and I just wanted to read about and see what really happened, you know.

JACK: Oh.

VERN: You know it might take me a few minutes to bring that file up.

JENNIFER: Well you know what, it's getting late and I really should get Abby home.

VERN: Well I tell you what Jenny girl. Next time you're here I'll have that file for you.

JENNIFER: Thanks Vern.

VERN LEAVES.

JENNIFER: Jack, I'll see you later.

JACK: All right.

JENNIFER: Oh, here. This is yours. Your personal ads.

JACK: Oh, I dropped them, yes. I've been studying every department these days. Every single one.
---
[Air date early February, 1993]
SCENE ONE: IT IS, A COUPLE OF DAYS LATER AND ABE HAS BEEN BACK OUT ON THE STREET WHERE HE'S BEEN SHOT. HE IS IN INTENSIVE CARE AT THE HOSPITAL.
---
SCENE TWO: CARLY HAS CALLED JENNIFER TO MEET HER AT THE MALL. IT IS RAINING AND THEY HAVE JUST MET WHEN JACK WALKS UP AND SHELTERS UNDER CARLY'S UMBRELLA.

CARLY: I hope Kim doesn't tell Bo my secret.

JACK: Secret! Ah, what secret?

JENNIFER: And you men say we women are gossips. We were talking about a secret recipe.

JACK: Recipe swapping in the rain?

JENNIFER: Yes.

JACK: Well, yes, of course, that's all right. I was just hoping it was going to be a little surprise scoop for my newspaper. Something to get the circulation going.

CARLY: Yes well I just hope they convict that bum who shot Abe Carver.

JACK: Yes, I hope so too. You know of course that The Spectator was the first to break that story?

JENNIFER: Jack I am so proud of you and I'm so happy that you're finally doing what you do best. So how come you're not in your office doing it?

JACK: Out of the rain you mean?

JENNIFER: Yes.

JACK: Well I decided to come out and wait for one of my reporter/photographers. Unfortunately he's not around. Then we're one our way over to the hospital to interview Dr. Turner. So if you'll excuse me I'll leave you to your recipe swapping.

JENNIFER: I'll see you later.

JACK: See you later.

JACK LEAVES.
---
SCENE THREE: ATER JENNIFER GOES DOWN TO THE STUDIO WHERE SHE MEETS HER REPLACEMENT, SANDRA, WHO IS A REAL DOMINANT AND AGGRESSIVE PERSON THAT EVERYBODY HATES. JENNIFER OVERHEARS SANDRA TALKING ON THE PHONE ABOUT A HOT NEW STORY ABOUT THE ALAMAINS. SHE IS SCARED THAT THE WHOLE LISANNE GARDNER MESS WILL BE DRAGGED UP ON THE SHOW. JENNIFER CALLS CARLY AND TELLS HER WHAT IT GOING ON AND TELLS HER TO GET TO THE STUDIO AS FAST AS POSSIBLE.
---
SCENE FOUR: MEANWHILE, JACK HAS GONE TO THE POLICE STATION WHERE HE FINDS ROMAN.

JACK: Got a minute?

ROMAN: Ah, not really Jack.

JACK: Good, good. I am working on a story. You know a follow up on the shooting of Commander Carver. You know, the people who knew him best, the people who operated on him, etc., etc., etc. I just need.... I need to.... I need a little more on the instance surrounding the shooting....

ROMAN: I've already told you everything I can Jack.

JACK: Which means there's much more to tell.

ROMAN: No comment.

JACK: Oh come on now, I mean everyone out there knows about this mystery witness. You know the one who fingered this Cash character as the gunman.

ROMAN: No comment Jack.

JACK: Which.... it's the truth, isn't it? That only proves.... it's the truth. We know it's the truth. Everybody out there knows it's the truth. I know it's the truth. You know it's the truth. Why don't we just say it's the truth?

ROMAN: Jack.... Jack.

JACK: Listen, give me something. Give me one little thing.ROMAN: It's been nice talking to you Jack. It's been real nice talking to you. Drop by again.

ROMAN PUSHES JACK OUT THE DOOR AS BILLIE ENTERS.

ROMAN: Thanks for coming Jack.

JACK: Ooooh, Miss Fender Bender 1993. Come on in. Reporting another accident? Who was the unlucky victim this time?

BILLIE: Why don't you get lost?

JACK: With pleasure.

ROMAN: Come in Billie.

JACK: I am not giving up on this. I am not....

ROMAN: Will you show Mr. Deveraux the door.

JACK: I want the name of that witness. The press must know. The press....

HE SHUTS THE DOOR ON JACK.
---
SCENE FIVE: ROMAN INTERVIEWS BILLIE WHO IS THE WITNESS TO ABE'S SHOOTING. SHE ALSO OVERHEARS ROMAN GET A CALL ABOUT THE GUY COMING BACK TO TOWN AND WANTING HIS MONEY THAT BILLIE HID IN THE BARN. SHE GETS SCARED. LATER CALLS THE SPECTATOR TO SEE IF THERE HAS BEEN A RESPONSE TO HER AD. SO FAR NOBODY HAS REPLIED.
---
SCENE SIX: AT THE STUDIO, CARLY ARRIVES AND THEY TELL PHILIP WHAT SANDRA IS UP TO.
---
SCENE SEVEN: JACK GOES BACK TO WORK WHERE HE HAS ALL THE STAFF ON CALL TO TELL HIM IF THERE IS ANY INQUIRY ABOUT THE AD. WHILE HE IS THERE, BILLIE CALLS AGAIN.

BILLIE: Hello, this is box 7030. I'd like to know if I've had any responses to my ad yet.

EDITOR: Just one moment and I'll check on that. (Beat) Mr. Deveraux, it's box 7030 again.

JACK: Oh, oh, great, great. Same one?

EDITOR: Yes.

JACK: Good, keep her on the line, keep her talking. Find out if she's representing herself or somebody else.

EDITOR: Okay, I'll try.

JACK: You do that.

EDITOR: Are you interested in running your ad again?

BILLIE: Well that depends on your answer.

EDITOR: Did we send that bill directly to you or to somebody else?

BILLIE: Neither, I paid in cash. Come on, have I had a response yet. It's just a simple yes or no, please.

EDITOR: Well, no, they....

BILLIE: Thanks.

BILLIE HANGS UP.

EDITOR: Sorry.

JACK: Damn, damn. If you want to do something right, you have to do it yourself. I'm sorry it's no reflection on you. I just have too much riding on this. (To himself) If I want to find out who's behind that box 7030 I'm going to have to answer that ad myself.
---
SCENE EIGHT:NOT LONG AFTER, JACK IS SITTING AT A DESK IN THE MAIN OFFICE WHEN JENNIFER ENTERS.

JENNIFER: Hi there.

JACK: Oh Jennifer, what a surprise.

JENNIFER: Yeah. I was just.... I had kind of a tough day. I was hoping you could cheer me up.

JACK: Cheer you up? Why, what happened?

JENNIFER: I did it. I went to the studio today. I brought the stage manager a wedding present like I said and I bumped into Sandra.

JACK: Huh, huh.

JENNIFER: She told me how the ratings kept going up since she replaced me and you wouldn't believe the cheap sleazy story that she's trying to do right now and I know it's none of my business but I shouldn't say anything but I couldn't help myself.

JACK: You're really missing it, aren't you?

JENNIFER: No, no.

JACK: No? Well if that's not it, then it's something else that's upset you. What's that?

JENNIFER: I don't know. Maybe I'm just tired.

JACK: Maybe you're just tired? All right, maybe you should just go home and get yourself a good night's rest.

JENNIFER: Actually I was hoping you would take me out to dinner tonight.

JACK: Dinner, tonight?

JENNIFER: Yes.

JACK: Aaaah.... .you know what? That wouldn't be a bad idea. What do you say to dinner for two at Wings?

JENNIFER: Oh, thank you. That sounds absolutely heavenly.

JACK: Yes I think so. You get yourself all ready. I'm going to finish up here and I'll get you at home.

JENNIFER: All right, I'll go home. I'll call a sitter and I'll set everything up, okay.

JACK: I can't wait.

JENNIFER: Oh I can't wait too. Thank you so much. I'll see you later.

JACK: Yes.

JENNIFER: Bye Jack.

SHE RUNS OUT AND IMMEDIATELY JACK GRABS HIS PAD AND RUNS OVER TO THE CLASSIFIEDS EDITOR.

JACK: All right, type this up. I'm going to dictate.

EDITOR: Okay.

JACK: Dear box 7030. Saw your ad. Very intrigued. Think we should meet first. Wings tonight. Wear a red carnation.

EDITOR: Hahah. Why are you doing this?

JACK: Huh, I don't pay you to ask questions. Just type it up and make it snappy. Deadline's in five minutes.
[Transcribed by Carol Vaughan
added material by Sally A. Wilson]
---
---