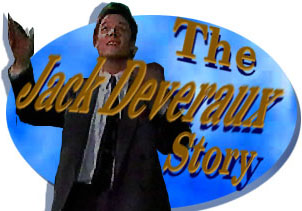 oldEpisode Four-hundred-ninety-nine: Jack
Continues to Investigate the Alligations
That Bo Beat Cash. Jennifer Sets up a
Romantic Evening, but Jack Is Busy with Billie.
---
[Air date late March, 1993]
SCENE ONE: IT IS, A COUPLE OF DAYS LATER, JACK IS ON THE PHONE AT HOME WHILE HE IS TRYING TO EAT A BAGEL.

JACK: Yes, yes, I'm looking.... I'm looking at them right now. Thanks, thanks a lot. You know, I know I'm supposed to stay out of the stock market but I'm telling you that these sugar futures, if you come in at the right time....

JENNIFER GIVES HIM A LOOK.

JACK: I don't know. What do think, what do you think?

JENNIFER: What do I think? I think you're crazy. That's what I think.

JACK: You're right, you're right. I have to forget about this. I have to focus on getting an interview with Cash Bowman while the man's still in the hospital.

JENNIFER: Jack, Jack.

JACK: Yes.

JENNIFER: I would like to talk to you about being alone once in a while.

JACK: Yeah.

JENNIFER: Without talking about work. Without rushing to work. Without having anything to do with work at all. Do you think that would be possible sometime soon?

JACK: Sure, when?

JENNIFER: Well I don't have any plans for tonight. How about you? Are you free?

JACK: Tonight? Tonight would be good. Tonight would be very good.

JENNIFER IS PLEASED.
---
SCENE TWO: PHILIP ARRIVES LATER TO WORK WITH JENNIFER AND THEY BOTH VIEW THE TAPE SHOWING THE FAKE BO BEAT UP CASH. THEY AGREE TO KEEP IT QUIET UNTIL THEY INVESTIGATE WHAT IS GOING ON.
---
SCENE THREE: THAT DAY JENNIFER HAS HER INTERVIEW WITH THE AUTHOR OF THE BOOK ON ROMANCE AND SEX. AUSTIN ARRIVES AND TELLS JENNIFER THAT PHILIP HAS ARRANGED FOR HER TO INTERVIEW HIM AS WELL. SHE IS NOT HAPPY BUT THERE IS NO TIME TO CHANGE THE PROGRAM.
---
SCENE FOUR: MEANWHILE JACK ARRIVES AT THE HOSPITAL AND THE OTHER PRESS CORP WANT TO FIND OUT WHAT JACK KNOWS.

REPORTER: There he is. Jack Deveraux!

JACK: Yes, there he is. Leave him alone.

REPORTER: Come on Jack. What's the story?

JACK: I don't know the story. Your guess is as good as mine.

REPORTER: Come on Jack. You broke the police brutality story.

JACK: That's right I did.

REPORTER: Now what's going on?

JACK: If you have any questions, please direct them to Mr. de Grab?

REPORTER: Who?

JACK: Mr. de Grab. He's the attorney representing Cash Bowman. That's a euphemism for mouthpiece. There he is right now. Mr. de Grab are we to assume the Cash Bowman is still unavailable for comment?

LAWRENCE IS WATCHING ALL THIS GO ON.

De Grab: If you look over my shoulder.

THE NURSE WHEELS IN CASH BOWMAN.

JACK: Of course, now that all the press is here.

THEY ALL POUNCE ON BOWMAN BUT HIS ATTORNEY READS A STATEMENT INSTEAD ABOUT THEM SUING A MEMBER OF THE SALEM PD.

JACK: I have a question. Cash, you have kind of a...shady reputation in this town, do you not?

De Grab: What are you implying Mr. Deveraux?

JACK: Oh I'm not implying anything. I'm just stating the fact. It's a matter of public record that Mr. Bowman's made some enemies in this town and to goes to follow that if someone is going to do something outrageous to his face it would probably be one of the gentlemen that he double crossed in his nefarious business dealings.

CASH: What the hell does nefarious mean?

REPORTER: Who beat you Cash? Come on give us a name.

CASH: It's not like he said. It was a cop.

BO ENTERS.

CASH: That cop.
---
SCENE FIVE: CASH HAS JUST ACCUSED BO OF BEATING HIM. BO INSISTS IT IS ALL A SCAM AND CASH'S ATTORNEY ACCUSES BO OF THREATENING CASH.

JACK: Excuse me Mr. de Grab. I do have another question. Do you really expect the people to believe your client Cash Bowman who's obviously a charter member of the scumbo club of Salem over Mr. Brady. He's got a good record.

De Grab: What record? Brady is a hot head with a long list of reprimands and suspensions.

BO: That is a lie.

JACK: I repeat my question. Do you honestly think that people are going to believe this man right here....

CASH: Bo Brady tried to kill me and he's going to pay for it. What's right is right.

THE ATTORNEY CALLS THE PRESS CONFERENCE OFF AND TAKES CASH AWAY.

JACK: (To Bo) Don't play into their hands. I mean this is a setup and obviously bad one.

BO: It's a joke.

JACK: I have no problem with that. You're right. Look I'm as big a fan of the media circus as the next guy but if this de Grab, if he thinks this is going to fly in court, he's a fool. This case is never going to make it.

LAWRENCE IS STILL LISTENING.
---
SCENE SIX: AT THE STUDIO, JENNIFER INTERVIEWS AUSTIN ON AIR AND THEY LOVE IT AND INSIST HE STAYS WHILE SHE INTERVIEWS THE AUTHOR. HE PROVES POPULAR WITH THE PHONE IN AUDIENCE AS WELL AND THE PRODUCERS WANT HIM TO BE THE CO-HOST FROM NOW ON.
---
SCENE SEVEN: JACK MEANWHILE GOES TO THE BRADY PUB.

BILLIE: Good you're here.

JACK: Yes I am here. I've been here the last half hour.... waiting.

BILLIE: Oh poor baby.

JACK: You know I'm really very busy back at the office so unless you're....

SHE UNWRAPS A PARCEL AND HOLDS UP HUNDREDS OF INSTANT LOTTERY SCRATCH TICKETS.

JACK: What is that?

BILLIE: Lottery tickets. I paid a thousand bucks for them.

JACK: A thousand!

BILLIE: That's right. I've got a thousand.

JACK: You have to be out of your mind.

BILLIE: Yep. No I'm not out of my mind. I'm scared. We need the money Jack. We need it now.

JACK: You know something?

BILLIE: What?

JACK: If I knew that you were going to take $25,000 from this advance from Titan and put it.... spend it on lottery....

BILLIE: Jack, sssshhhh, sssshhhh, sssshhhh, it's in the bank, it's in the bank. And it's only twenty-five grand. We need the rest of the kit and kaboodle. Now come on.

JACK: And you plan to get it from this pile?

BILLIE: Yes! I heard that a woman won a million dollars scratching these things.

JACK: Scratching?

BILLIE: Yes, that's what you do. You scratch them and if you get a match you can win a fortune. Isn't that great?

JACK: It's an interesting concept.

BILLIE: Here. Come on Jack. Don't be a jerk.

JACK: Oh I'm not the one who spent $1,000 on little cards and I'm the jerk, huh? You should have told me something before you went off and did this.

BILLIE: Well, if it weren't for me we wouldn't have any money, now would we Jack? Now come on, start scratching.

JACK GIVES HER A LOOK AND STARTS SCRATCHING WITH A SPOON.

JACK: I don't believe this.

BILLIE: Oh come on, this is great.

JACK CONTINUES TO GIVE HER LOOKS.
---
SCENE EIGHT: HOURS LATER THEY HAVE ALMOST FINISHED.

BILLIE: Oh I'm all scratched out. I can't scratch another one Jack.

JACK: I wouldn't say it was all for naught. We did make back.... $25.00.

BILLIE: What are we going to do? We need the money.

JACK: I'd say we better wait for the next wonderful idea to descend from the heavens. That is....

BILLIE: Ssssshhhhh.

SHE LISTENS IN TO A CONVERSATION AT THE NEXT TABLE ABOUT A BIG POKER GAME AT THE CHEAT'N'HEART.

BILLIE: That's it, that's it. Poker at the Cheat'n'Heart.

JACK: That's.... it?

SHE HEARS THAT ONE OF THE REGULAR PLAYERS CANNOT MAKE IT.

BILLIE: That's it. I can sit in for Joe.

JACK: I think you better stick with scratching.

BILLIE: No. Jack, I'm a killer poker player.

JACK: Billie, I think maybe it would be best if you stayed out of this game.

BILLIE: No.

JACK: Billie!

BILLIE: No. This is it Jack. This is the way.

JACK: Billie, please.

BILLIE: No I can go and I can get the thirty grand. That's it.

JACK: Billie, please.

SHE LEAVES THE TABLE.

JACK: If I wasn't under the watchful eye of the rest of this town, I'd show you a killer poker player. Damn.

HE GETS UP AND FOLLOWS HER.
---
SCENE NINE: AT HOME, JENNIFER HAS TAKEN THE ADVICE OF THE ROMANCE BOOK AUTHOR AND HAS SET UP A ROMANTIC DINNER FOR TWO WITH CANDLES AND CHAMPAGNE. SHE DIMS THE LIGHTS AND HEADS UPSTAIRS TO CHANGE.

JENNIFER: I am going to show the time of your life Jack Deveraux.
---
SCENE THEN: MEANWHILE THE GAME IS UNDERWAY AT THE CHEAT'N'HEART WHEN BILLIE ARRIVES AND WANTS IN ON THE GAME. SHE IS ABOUT READY TO START WHEN JACK ARRIVES.

JACK: Oh there you are Billie. Hello gentlemen. Don't mind me. I'm....

PLAYER: Who's he?

BILLIE: Nobody. He's with me.

JACK: Yes, I'm with her.

BILLIE: So what do you say fellas? Shall we?

PLAYER: Make room for the little lady.

BILLIE TAKES A SEAT.

BILLIE: Deal me in.
[Transcribed by Carol Vaughan
added material by Sally A. Wilson]
---
---