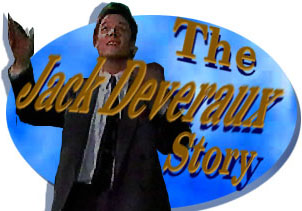 oldEpisode Five-hundred: Jack
Watches as Billie Plays Poker.
Jennifer Gets Angry When Jack
Does not Show up for their Romantic
Evening. Later, Jack Gets Busted.
---
[Air date late March, 1993]
SCENE ONE: THE POKER GAME IS WELL UNDERWAY AND JACK IS INTENTLY WATCHING THE WAY BILLIE PLAYS. SO FAR SHE IS WINNING AND WINNING WELL.

BILLIE: Hey Jack, why don't you join us?

JACK: No, no thank you. I don't want to jinx your streak.

PLAYER: She sure is on a streak.

BILLIE: That's right I am and the night's young and it's just going to keep on rolling and rolling and rolling.

BILLIE IS GOING WELL AND A GUY CALLS HER AND RAISES THE POT.

JACK: It seems to me that brings the pot to $6,000.

BILLIE: That's right. $6.000 exactly and with two that makes it eight.

THEY ALL THINK SHE IS BLUFFING BUT SHE WINS THE HAND.

JACK: It seems everyone at the table thinks she was bluffing.

PLAYER: Does he have to be here?

PLAYER 1: Yeah I'm getting tired of listening to this bozo.

BILLIE: Hey, my assistant stays, okay.

JACK: Thank you.

BILLIE: You're welcome. Ah why don't you get us some pretzels Jack and how about another beer for me?

JACK: Certainly. Could I have a word with you first?

BILLIE: Ah just deal me out of this hand.

PLAYER: Forget it. You have all our money.

JACK: She'll be right back.

JACK TAKES HER ASIDE.

BILLIE: What?

JACK: The natives are getting restless. I suggest if we want to get out with our scalps we go now.

BILLIE: Jack, I'm on a winning streak.

JACK: You certainly are and they couldn't be unhappier about it. You've won eight hands in a row. Do you want to push your luck?

BILLIE: This streak doesn't happen everyday. It doesn't.

JACK: True enough but do you care to lose it all back?

BILLIE: Jack, I can't lose. I can't lose tonight.

JACK: Billie, listen to yourself.

BILLIE: What?

JACK: Famous last words.

BILLIE: Jack we don't have the money we need. What about Tony? He's probably going to be coming. So?

JACK: All right. If you think you can do it I'll go get the beer.

BILLIE: All right and get some pretzels too. And thank you Mr. Good Luck Charm partner.

JACK: You're welcome.
---
SCENE TWO: AT HOME JENNIFER'S DINNER IS GETTING COLD AND SHE IS GETTING MAD.

JENNIFER: Stone cold. It's only been over an hour. So much for romance Jack Deveraux.

SHE BLOWS OUT THE CANDLES, TURNS OFF THE ROMANTIC MUSIC AND TURNS ON THE LAMP. THEN SHE KICKS OFF HER FEATHER MULES AND FLOPS ON THE COUCH.

JENNIFER: Except you should have called. Wait till you get home!

SHE PICKS UP THE REMOTE AND TURNS ON TV WHICH IS AIRING THE TAPE SHE AND PHILIP AGREED TO KEEP QUIET. SHE CALLS PHILIP AND HE SAID HE HAD NO CHOICE BUT TO HAND IT OVER TO THE NEWS DEPT. ACTUALLY HE IS BEING BLACKMAILED ABOUT HIS PAST AS A PORN FILM MAKER AND HE HAD NO CHOICE. LAWRENCE IS THE BLACKMAILER BUT HE IS USING A DISGUISED VOICE. JENNIFER DECIDES TO GO VISIT CARLY.
---
SCENE THREE: LATER, JENNIFER GONE TO SEE CARLY AND FINDS CARLY AT THE BRADY PUB. SHE EXPLAINS TO CARLY ABOUT HER PROBLEMS WITH JACK AND THE LOVELY DINNER SHE HAD SET UP.
---
SCENE FOUR: MEANWHILE, BILLIE IS REALLY WINNING NOW.

BILLIE: Jack, got those pretzels?

JACK: I certainly do.

WHILE BILLIE IS COUNTING HER CHIPS, JACK NOTICES ONE OF THE GUYS GLANCE AT ANOTHER AND THEN MARK ONE OF THE CARDS.

JACK: One bowl of pretzels.

HE DELIBERATELY TIPS THEM INTO BILLIE'S LAP AND SHE JUMPS UP.

BILLIE: Jack!

JACK: I am very sorry. Please excuse us gentlemen. I am very sorry. Here allow me.

HE WHISPERS TO HER.

JACK: The game just got dirty. I suggest we pack our bags and get the hell out of Dodge.

BILLIE: What?

JACK: Trust me. If you're ever going to trust me, trust me now. Just DO IT!

BILLIE: I'm sorry you guys. Gotta quit. Gotta go.

PLAYERS: You what?

BILLIE: Just gotta go.

PLAYER: How are we going to get our money back?

JACK: Next time it'll be one year. Allow me.

HE PICKS UP ALL THEIR WINNINGS.

JACK: You know, it'll be a wonderful time to do it. You know it's that old adage of card playing. No one hold 'em, no one fold 'em. Good evening.

BILLIE: Come on Jack. Goodbye.

PLAYERS: Hey, hey!
---
SCENE FIVE: BACK AT BRADY'S PUB, CARLY TELLS JENNIFER TO HANG IN THERE BECAUSE THERE IS NO DOUBT THAT JACK LOVES HER AND ABBY. JENNIFER HEADS OFF HOME.
---
SCENE SIX: OUTSIDE JACK AND JENNIFER'S HOUSE, BILLIE IS COUNTING THE MONEY.

BILLIE: Five hundred....

JACK: I believe you'll find $15,000 that we raised.

BILLIE: Yeah and it's pure profit.

JACK: Yes. It's good. It's a good start.

BILLIE: Yes it is and I could have doubled it if you'd let me stay.

JACK: I believe I already told you they were ganging up on you. One of them bent a card. The other one saw it. They were going to cheat to get their money back.

BILLIE: Yeah I know. People just can't play fair anymore.

JACK: Obviously. Let's not get started on that.

BILLIE: Oh, oh, your lights are on. Bet your wife's waiting up for you.

JACK: Yes, she....

IT SUDDENLY DAWNS ON JACK THAT HE SAID HE'D BE HOME IN TIME TO TALK.

JACK: Dammit. Oh damn.

BILLIE: What?

JACK: I told Jennifer that I'd be home for dinner and I forgot.

BILLIE: Did you forget to call her too?

JACK: Yes.

BILLIE: Oops.

JACK: If you'll excuse me, I need to think up something to say.

BILLIE: Jack, good luck.

JACK: Thank you.
---
SCENE SEVEN: JACK HEADS FOR THE FRONT DOOR. HE GOES INSIDE. JENNIFER IS LYING ON THE COUCH READING. THE TABLE IS STILL SET FOR DINNER.

JACK: Jennifer I know I missed dinner. I'm sorry.

JENNIFER: Where have you been?

JACK: Well I can explain the whole thing.

JENNIFER: Really, well that's good because I can't wait to hear your answer, Jack.

HE KNOWS THAT SHE IS REALLY MAD. HE GOES ON TO EXPLAIN.

JACK: So there I was in the middle of this meeting and I was so wrapped up I didn't look up and see the clock until it was too late. Now I realize I missed out on dinner and forgot the whole thing and I'm very sorry.

JENNIFER: You could have called.

JACK: Jennifer you know that I have been so wrapped up in trying to raise money for The Spectator that I haven't been able to think of anything else. But I'm telling you I am so close to getting the money together.

JENNIFER: So that's what your meeting was about, raising money?

JACK: (Beat) You don't believe that.

JENNIFER: Yes of course I do Jack. I know how important it is to you to keep this paper.

JACK FEELS WORSE NOW BECAUSE SHE REALLY BELIEVES HIS LIE.

JACK: Yeah. (Beat) You.... you did all this for me?

JENNIFER: Of course I did all this for you.

JACK: Of course you did.

JENNIFER: It doesn't matter now though. It's not important.

JACK: It is important. It is.... it's just.... it's going to get better. I'm telling you. Let's.... let's just start over. Let's just go to bed and.... we'll just start again in the morning.

HE STANDS UP BUT SHE DOES NOT MOVE.

JENNIFER: I'll be up in a minute.

JACK: Okay.

HE LEANS OVER AND KISSES HER.

JENNIFER: Did they serve drinks at that meeting?

JACK: Ah....

JENNIFER: There must have been some heavy smokers too.

JACK: I believe there were, yes.

JENNIFER: Well here, let me take your coat. I'll bring it to the dry cleaner for you tomorrow.

JACK: Oh thanks.

SHE HELPS HIM OFF WITH HIS COAT. AS SHE TAKES IT A COUPLE OF POKER CHIPS FALL ON THE FLOOR.

JENNIFER: What is that?

SHE PICKS THEM UP AND JACK'S SHOULDERS SLUMP.

JENNIFER: Poker chips?

JACK: I can explain....

JENNIFER: It must have been a very interesting meeting.

JACK: I can explain.

JENNIFER: I DON'T WANT TO HEAR ANY EXPLANATIONS JACK! I HAVE HAD IT. I HAVE HAD ENOUGH OF YOUR LIES. SHE THROWS THE CHIPS IN HIS FACE.

JACK: Jennifer, let me ex.... let me....

JENNIFER: DON'T! SHE RUNS UPSTAIRS.

JACK: DAMMIT!
[Transcribed by Carol Vaughan
added material by Sally A. Wilson]
---
---